Introduction: In this article, Melissa Davenport Berry writes about Carolyn Hart Wood, a descendant of one of the oldest families in Massachusetts, and two charming portraits she has of two children from her family's past. Melissa is a genealogist who has a blog, AnceStory Archives, and a Facebook group, New England Family Genealogy and History.
Last year I wrote a story on the Hart family of Massachusetts, who fell victim to the "the Grippe" (influenza and pneumonia) – a precursor to the 1918 flu epidemic known as "the Mother of All Pandemics." (See: Earlier Pandemic Nearly Ends Hart Family Line.)
The Hart family was one of Massachusetts' oldest blood lines. But the grippe nearly ended this family line, leaving only one member left alive: George Albert Hart.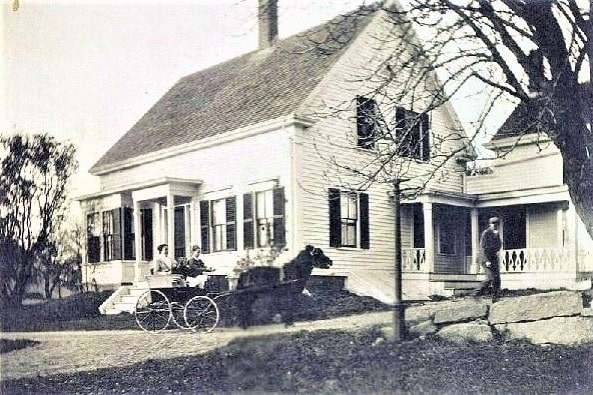 Besides a house in Essex, Massachusetts, George Hart also had charge of the historic Hart House in Lynnfield, Massachusetts, built in 1673 by his ancestor, Isaac Hart. The house remained in the family for ten generations.
Isaac's wife, Elizabeth (nee Hutchinson) Hart, was accused of witchcraft during the infamous Salem witch hysteria trials in 1692. Another ancestor, Mary Towne Esty, along with sisters Rebecca Towne Nurse and Sarah Towne Cloyce, were also accused.
Other notable pioneer ancestors of the Hart line include Massachusetts Governor John Endicott, Salem Massachusetts Captain John Putnam, and Revolutionary War soldier Gilbert Tapley, one of the Minutemen who marched from Danvers to Lexington on the alarm of 19 April 1775.
In January of 1917 George became seriously ill with the grippe, but he survived – along with his wife (Bessie Wilson Hart) and their three daughters: Grace Manning, Dorothy Endicott, and Mary Lois.
George and his family lived in Essex, Massachusetts, on Spring Street. I found all the family members in the 1920 U.S. Census. George is listed as a Provisions Dealer for Markets. He was the first butcher in New England to adopt the motor vehicle, and he had a successful enterprise.

Carolyn Hart Wood, a descendant of George's, has two original works signed and painted by American Impressionist artist Lee Lufkin Kaula. The subjects are two of George Hart's daughters: one is Carolyn's grandmother, Grace Manning Hart; and the other is her sister, Dorothy Endicott Hart.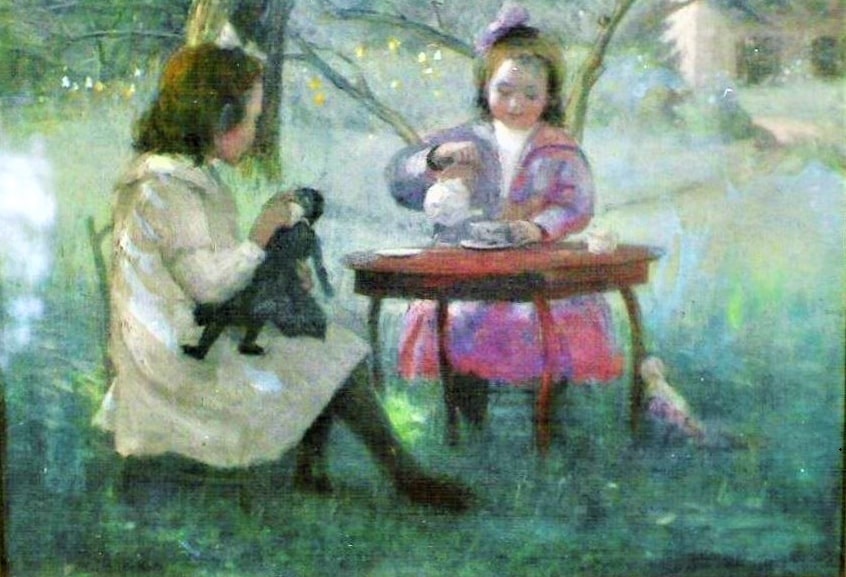 The scene of this lovely painting is from the outside field on the property of George Hart on Spring Street. The subjects are Grace Manning Hart and Dorothy Endicott Hart. There is a paper note in pencil from the artist: "To my friend Mrs. Hart – 1905 – Lee Lufkin Kaula – 'The Tea Party.'" "The Tea Party" is listed in "The Boston Art Club: Exhibition Record, 1873-1909," and in "Record of the Carnegie Institute's International Exhibitions: 1896-1996."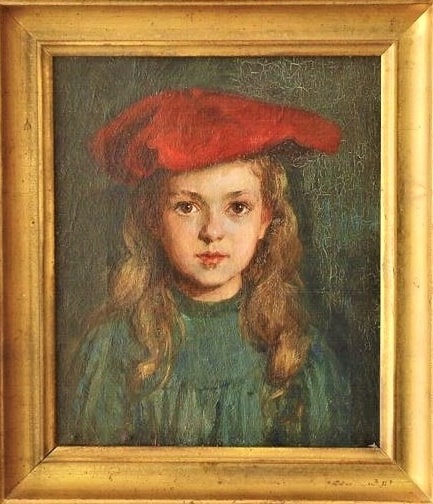 The subject of this portrait is Dorothy Endicott Hart. According to a letter in the Hart family collection, Dorothy was a model for Lee Lufkin Kaula from 1904 to 1910.
I did some digging on the artist and found a Boston Herald 1909 article entitled "Landscapes from Essex Sketches. Interesting Work Done by W. J. Kaula and His Wife."
This article goes on to describe some of Lee Lufkin Kaula's work.
The portrait described in this article depicts a charming girl with her grandmother's white satin wedding bonnet. Yellowed by time, it sports pink and yellow bride's roses, blue bachelors, and flowered strings; a cashmere shawl with a flowered boarder drapes her shoulder. This portrait was part of a 2018 exhibit, "Two Lives, One Passion," at Springfield Museums.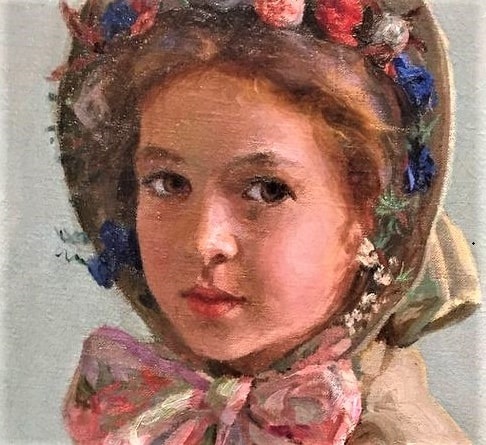 After more sleuthing I discovered that Lee Lufkin Kaula (1865-1957) and her husband William Jurian Kaula (1871-1953) summered, painted, and taught art classes together in Essex.
I found another article in the Boston Globe from 1908 describing the Kaula's perfect locale for painting, the quaint shipyard village of Old Essex, Massachusetts, where they rented an enchanting studio known as "the chapel." The couple created some of their most successful and inspired work there. That summer in 1908 William J. Kaula produced over 50 sketches, and by August over half had already sold.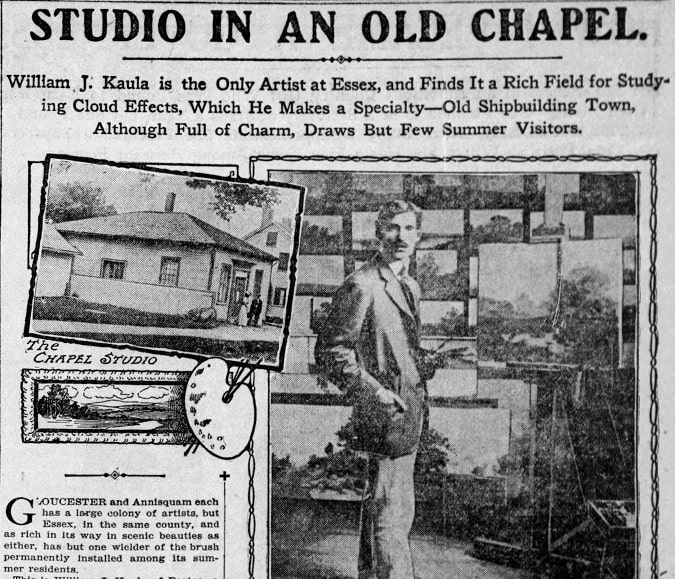 "The cloud effects here are among the best in the world. I have never seen better evening skies than those in Essex," William told the Boston Globe.
Census records, other records, and newspaper archives show that the Hart and Lufkin-Kaula families were acquainted. Both traveled in the same social circles and attended the First Congregational Church in Essex.
Carolyn treasures these portraits and other relics passed down to her. She has a family Bible that I plan to write about soon.
Note: Just as an online collection of newspapers, such as GenealogyBank's Historical Newspaper Archives, helped tell the stories of William and Lee Kaula, they can tell you stories about your ancestors that can't be found anywhere else. Come look today and see what you can discover!
Related Article: