In 1831 William Lloyd Garrison began publishing his powerful anti-slavery newspaper, the Liberator. His paper became the preeminent abolitionist organ of 19th-century America, printing many articles, letters and editorials denouncing the cruelty of slavery.
One of the most dramatic stories Garrison ever published is told in the following letter. Union Captain Daniel Foster wrote this letter directly to Garrison, telling his remarkable story of leading detachments of "colored" soldiers into the Southern countryside to free slaves and restore black children to their aggrieved mothers.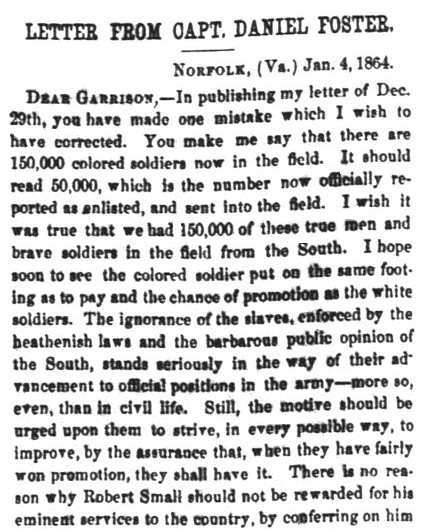 Here is a transcription of this article:
Letter from Capt. Daniel Foster.
Norfolk, (Va.) Jan. 4, 1864.
Dear Garrison,
In publishing my letter of Dec. 29th, you have made one mistake which I wish to have corrected. You make me say that there are 150,000 colored soldiers now in the field. It should read 50,000, which is the number now officially reported as enlisted, and sent into the field. I wish it was true that we had 150,000 of these true men and brave soldiers in the field from the South. I hope soon to see the colored soldier put on the same footing as to pay and the chance of promotion as the white soldiers. The ignorance of the slaves, enforced by the heathenish laws and the barbarous public opinion of the South, stands seriously in the way of their advancement to official positions in the army – more so, even, than in civil life. Still, the motive should be urged upon them to strive, in every possible way, to improve, by the assurance that, when they have fairly won promotion, they shall have it. There is no reason why Robert Small should not be rewarded for his eminent services to the country, by conferring on him rank as an officer in our glorious navy. Such an act would honor and help the country and the navy quite as much as it would the brave and capable recipient of these deserved honors and emoluments.
I have had a soldier under my command, in my late expeditions, who was, till recently, a slave in North Carolina, who would make a very superior officer – a man of great character, capacity and courage. I hope soon to see the door to promotion opened to such men from the ranks of the colored soldiery.
On Wednesday of last week, Gen. Wild directed me to take a party of colored soldiers, and proceed to the house of a Mr. White, who resides beyond Deep Creek, in Norfolk county, and assist a mother to get her daughter and her effects, which were kept from her by said White. After the war broke out, the mother made an effort to escape, for which offence, she was punished by being forced to wear a ball and chain upon her ankles. In spite of all, however, she escaped, but could not get her child. I found Mr. White at home when I reached his house, just at the close of the day – told him my errand, and set the boys to helping the colored woman get her few things together. Mr. White and his wife were excited to a white heat by the spectacle of this woman, who had been their slave, talking to them and collecting her things as a free woman who had not the fear of the Dred Scott decision before her face. In an unguarded moment, he raised his fist, called the woman "a d–d nigger," and threatened to strike her down; for which characteristic display of Southern valor and Southern chivalry, I ordered four of the boys to fix bayonets, and put him in arrest. So I brought the truculent slave-driver along with his whilom slaves back to Deep Creek, where I encamped for the night, putting my men, the woman and child, myself and my prisoner, into a house where we could have good warm fires. One of the gentlemen residing at Deep Creek furnished, on my requisition, quarters, fuel and food. After supper, Mr. White expressed himself as very penitent for what he had done, and humbly sued for pardon. I gave him a good sound abolition discourse, and dismissed him with a copy of the Liberator containing Wendell Phillips's Cooper Institute speech; and with a very manifest leaning to the Millerite doctrine, that the world is indeed near its end!
The next day I returned to Norfolk, and on Friday started with another party and ten women who wanted help to get their children and effects. On this expedition I was gone four days, and brought back from slavery into freedom some thirty persons. One of these women had been tied up with a strong rope, at night, for a long time, to prevent her escape. But she got away at last, came to Norfolk, and, strange to say, wanted her little girl, and with the help of my party, she got possession of her own child.
I fear the Copperheads will despair of "the Union as it was, and the Constitution as it is," when they learn that such things are matters of daily occurrence since Gen. Butler took command of this department, and that he sustains Gen. Wild in all his measures for helping the slaves to their freedom, and bettering their condition by putting them upon the farms which the secessionists have forfeited by joining the rebel army. But so it is; and the poor Copperheads have nothing left but the old privilege of Babylon, to bewail their fallen condition.
Aunt Sally – another of the women who accompanied me – had escaped from Caleb Etheridge, her master. Her five children had been sent to Richmond, and sold, by way of illustrating the beauties of the patriarchal institution, when conducted on Christian principles. She wanted to get her things away, and so went along. When we reached the house, Mr. Etheridge was not at home. I presume he had seen us coming, and thought he had better retire. Aunt Sally talked to the mistress with indignant eloquence about her cruelty and wickedness in sending her children and selling them down South, after she had slaved for her all her life. Mrs. Etheridge appealed to me to protect her, and make that "saucy nigger shut her mouth." I said to her, "Is it indeed so strange that a mother should call you to account for the damnable and most cruel crime of selling away from her own sight and protection her own children? Madam, you hear from her now the very accusation which will be hurled against you in the Judgment of eternity. I advise you to repent, and repair, as far as possible, the wrong you have done this poor broken-hearted mother, while you have the time and power to do it."
In safety we went, and in safety we returned with some poor heavy hearts made glad by our work.
I have now been with Gen. Wild just about two months. I should judge that not less than 3,000 slaves have been released from bondage under his administration in that time, by the parties he has sent out, and through the expedition to Elizabeth city, which he commanded in person. From five large and populous counties, the guerrillas have been scattered and routed most effectually, during the same time, by his energy and repeated blows. Hundreds, if not thousands of stubborn secessionists have been so moved upon by Gen. Wild's colored soldiers, through these constantly repeated expeditions, that they have come forward, and taken the oath of allegiance; and daily they come in. Let our army everywhere work as vigorously and thoroughly against the rebels as Gen. Wild's command has done, and the rebellion would be short-lived indeed.
Gen. Butler's administration is, in all respects, most admirable and statesmanlike. His whole heart is in the work of crushing the rebellion, of destroying slavery, and elevating the colored man. He is proving himself the friend of the slave. He shows himself a statesman of the first order by his thorough comprehension of this great problem of lifting four millions of slaves to the condition of self-respect and prosperity of freedom. Thank God for such democracy as Gen. Butler now illustrates! Give us such men as Gen. Butler and Gen. Wild at the head of our armies, and all difficulties will vanish from the grand question of the hour, and our future will open upon us and our children glad with the brightest promise.
Yours for the Union as it is to be, and the Constitution applied, "to secure for us and our children the blessings of liberty."
–Daniel Foster
Note: An online collection of newspapers, such as GenealogyBank's Historical Newspaper Archives, is not only a great way to learn about the lives of your ancestors – the old newspaper articles also help you understand American history and the times your ancestors lived in, and the news they talked about and read in their local papers. Did any of your ancestors serve in the Civil War? Please share your stories with us in the comments section.
Related Articles:
(Visited 424 times, 1 visits today)