Introduction: In this article, Mary Harrell-Sesniak searches old newspapers to find toasts given by our ancestors to mark special occasions or honor individuals. Mary is a genealogist, author and editor with a strong technology background.
A long-honored tradition – but sadly, one that is fading with time – is the art of giving a toast when people are gathered together, often in celebration.

For a very long time now, toastmasters and guests have honored important people, commemorative events, birthdays, anniversaries, etc., by raising a glass and giving a toast.
I was interested in finding historical toasts, so I searched GenealogyBank's Historical Newspaper Archives to see what and why our ancestors were toasting. Some of the toasts I found were serious, and some – such as this Irish toast to the King – were hilarious.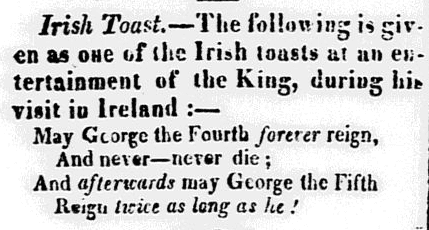 The Origin of Toasting
You may be interested in the origin of toasting. How far back does this tradition go? It turns out nobody really knows; the origin of toasting is an interesting question that elicits different answers.
An anecdote from this 1867 newspaper article tells one version of the origin story. In the early 18th century in England, it was popular to float pieces of spiced toast (browned biscuits) in bowls of punch. It was also fashionable for bathers to lounge in public pools, "flirting in the hot water," partaking of chocolate on floating cork slabs, or reading their newspapers.
One day, a "fair nymph" (bathing beauty) entered the water "in the most coquettish of dresses." Several gentlemen took notice:
 The fine gentlemen, especially, did her honor, according to the rough humor of the times. They dipped their cups into the water nearest to where the delighted nymph herself stood, and drank the liquid off to her honor and glory.
Then a bit of a rogue did something that startled everyone in the pool, and may have given the tradition of "toasting" to the ages. He declared that he didn't care to drink the liquor in the punch bowl, but:
…he was resolved to have a taste of the toast in it. This was meant for the lady in the bath, whom the rude gallant thus likened to the browned biscuit that in those days crowned the punch.
The other gentlemen protested this bold and suggestive advance, but the "loud-voiced gallant" avoided trouble; he "swaggered saucily off."
The newspaper anecdote concludes with this:
…the story spread through the city, and from that day the word 'toast' was applied to a lady to whom drinking honors were rendered, till it gradually came to mean the words in which the honor was paid.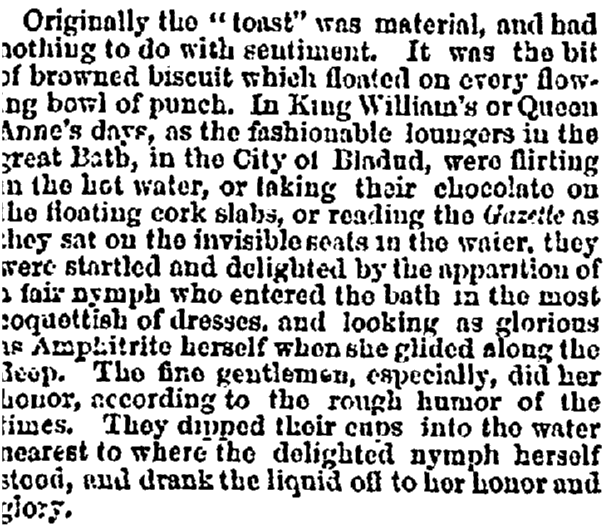 Three Bs & the H (Old English Toast)
There are so many toasts in the old newspapers, it's hard to make selections.
This one intrigued me, because without reading the text, you'd probably never guess what the" three Bs and the H" stood for. Turns out it's bread, beer, bed & heaven. It's rather a quaint old saying, don't you think?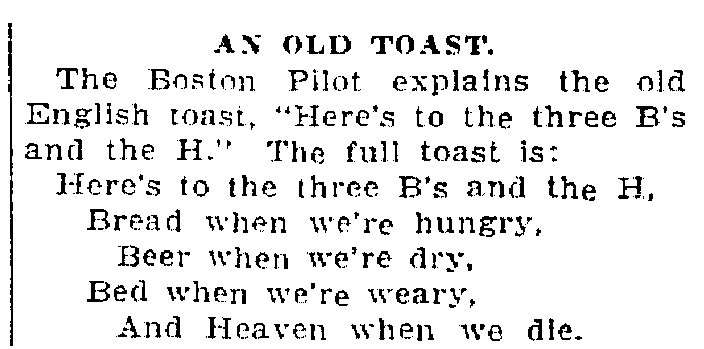 Blessing of the Crops (16th Century)
Another ancient English toast was "God speed the plough and bless the corn mow," which evolved into variations including "Here's a health to the barley mow. Here's a health to the man who very well can both harrow and plough and sow." [Note: a "mow" is a stack of grain.]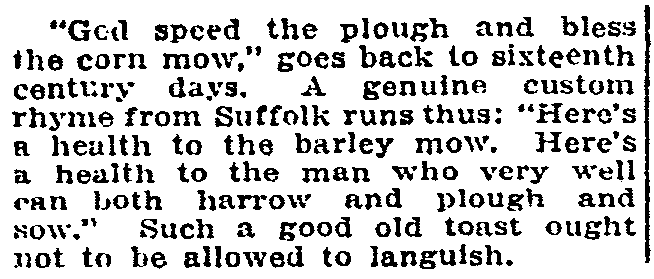 Quaker Toast on Love
Even the Friends (i.e., Quakers) had toasts. Here's a sweet one expressing love to friends and folks.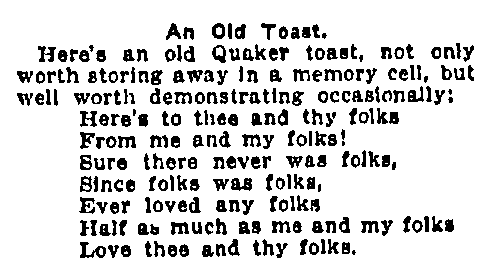 Playwrights & Poets
Shakespeare and other playwrights and poets have written many toasts into their works over the years. This 1934 newspaper article presented some of these toasts, including this one from Jonathan Swift:
May you live all the days of your life.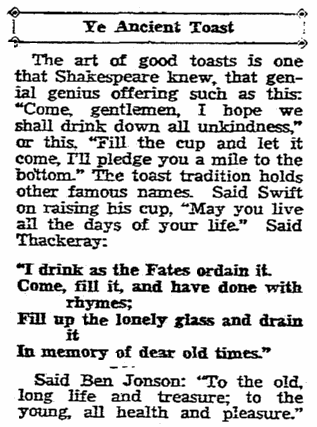 War & Veterans
For soldiers and veterans, toasts are a staple at gatherings to celebrate victories and share reminiscences. This 1910 newspaper article reports on a meeting between a former Confederate and Union soldier – and how the Confederate shared a toast he wrote and gave on 10 April 1865, the day after General Lee surrendered to General Grant. It begins with these lines:
Success to Grant, and General Lee;
As they stood beneath the apple tree,
Says General Grant to General Lee:
"Your failure is just a victory."
Fourth of July
Perhaps no celebration produced more ancestral toasts than our country's birthday bashes on the 4th of July. Toasts were the prerequisite centerpiece to banquets and speeches – many remembering Washington and honoring our country. This 1837 newspaper article reported on the many speeches and toasts given at a Fourth of July celebration near Baltimore. I particularly like the one by W. J. M. Franciscus, a guest who gave this Irish toast:
May our future forefathers be as great and illustrious as we are.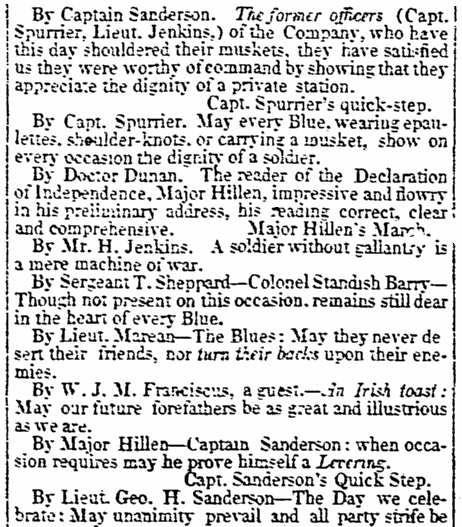 Perhaps one of your ancestors gave a toast at a special occasion, and it was published in a newspaper. Search GenealogyBank's Historical Newspaper Archives to see if any were published, and be sure to let us know in the comments section below.