If a genealogist falls in the forest—does she make a sound? What are you doing to ensure that your decades of family history research are preserved and passed down so that others can build on your expertise?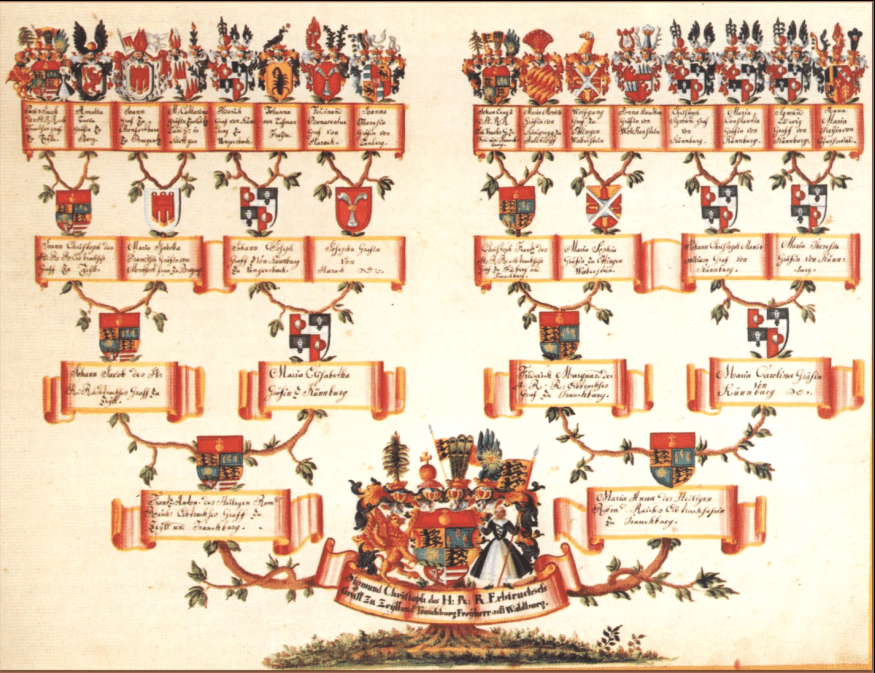 For centuries genealogists relied on family tree charts that were carefully prepared on paper, a time-consuming and laborious process. These paper documents were then copied and distributed to other members of the family. Paper tree charts were costly to prepare, and their reproduction and distribution added to the expense.
In more recent times, genealogists have moved on from typewriters and copy machines to the Internet as the mechanism for distributing copies of their ancestry research to interested family members around the globe.
Here are the basic tools you need to share and distribute your family history research online.
Computer-Based Family History Software
There are dozens of family history software programs that genealogists use to organize their research. These programs make it easy to incorporate photographs, research notes and commentary into one family tree that can easily be printed in whole or in part and distributed to others—or simply shared online.
Three of the leading family history programs are:
With any one of these family tree software programs it is easy to record your information and then, with a few clicks, print out the standard family tree charts or reports you need to communicate your family's history to the other members of the family.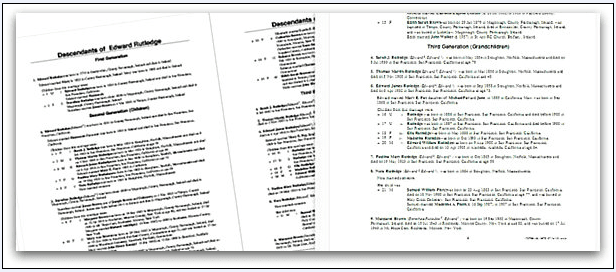 These genealogy software programs easily prepare and print out family history reports that name all of the descendants of a designated ancestor up to the present day. Or you can do the process in reverse: start with a person from today and lay out the preceding generations one by one, going back in time through both sides of that person's family tree.
These printed paper family tree reports can be given to relatives at family gatherings. Alternatively, you can save these genealogy reports electronically as PDF or Word files that can be easily emailed to interested relatives.
Family History Websites
There are a number of good social media sharing websites where genealogists can store, collaborate, share and distribute their family history research. Here are a few of these online sites where you might consider uploading your own family history.
Scribd.com
Genealogists use online sites like Scribd.com as convenient free sites where they can upload, share and preserve their genealogy research findings.
Genealogy Tip: Before using a site like Scribd.com, be sure to set the reporting features on your genealogy software so that your family history report will not include any information about still-living members of the family. Use that edited report when you upload it online. That way the privacy of your living relatives is protected.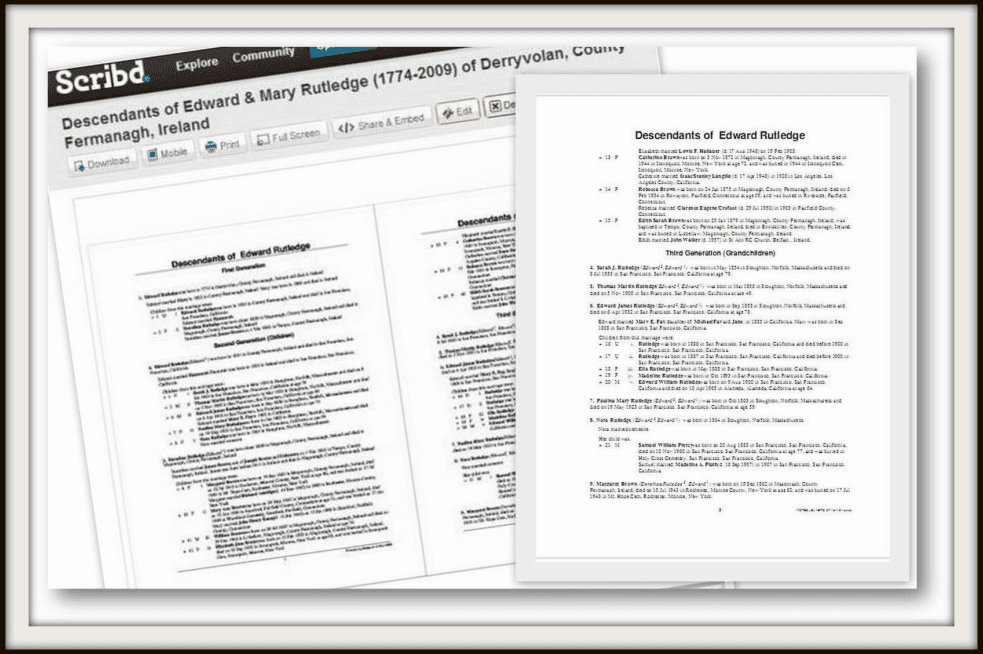 Scribd.com lets you upload your family history report and present it as an online version of your family history. Online sites like this are easily searched from any computer, smartphone, iPad, or any other device. The Scribd.com report uses the standard genealogical report styles so that this document has a professional, clean look. And, since it is online, every name—in fact every word­—of the report is then searchable online.
Genealogists often find that as they continue their research, or receive feedback from relatives, they discover additional details to add to the family tree. With new family information in hand they might regret having already published and distributed their research as expensive paper documents. That is not a problem with Scribd.com.
With just a few clicks on Scribd.com, genealogists can update their family history reports and have the current, most accurate version of their family history online. Or if you prefer you can designate this updated report as a "2nd Edition" with a new publication date. However you post it, your latest findings will be instantly available to all genealogists and, importantly, preserved online.
Pinterest
There are other online sites that make it easy to present and share your family history.
Pinterest.com is an excellent site for sharing photographs about your family and where they lived.
With Pinterest you can create separately-themed "Boards" that illustrate part of your family's story. I organize my boards by places where the family has lived or by topics that are important to our story.
Visit Thomas Jay Kemp's profile on Pinterest.


Credit: Pinterest
I then use the notes field to describe each old family photograph, including the details of why this picture is significant to the family.
Pinterest is a handy way for me to illustrate my family history in an organized way, all shared online. By adding notes, I can update and add more context to these images—sharing them through this Wikipedia-like source of online photographs.
Online Family Trees
As technology has improved, genealogists have moved to the next step and are sharing their family trees online. Genealogists welcome the opportunity to permanently store their information in the "cloud" of online family trees. This protects your family history information from any unexpected loss, such as your home computer suddenly failing, and puts the information securely online where the rising generation can find it. There are many websites where you can post your family tree online: FamilySearch.org, MyHeritage.com, OneGreatFamily.com, Ancestry.com, and other sites.
Perhaps the most popular is FamilySearch.org.
This free family history site makes it easy to post your family tree online, along with your genealogy data, photographs and reports.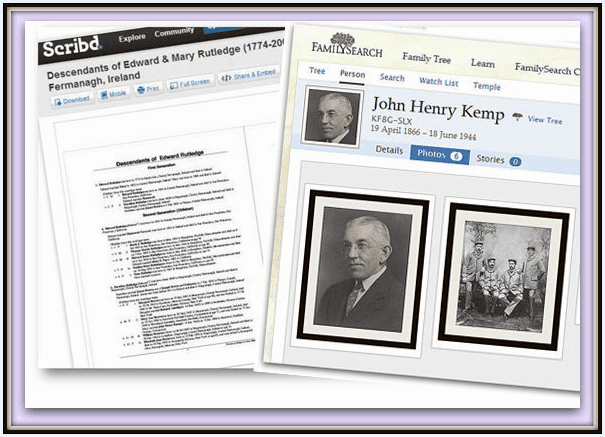 With just a click you can easily bring together your genealogy research reports, along with your old family photos, and link them to your ancestor's page on the FamilySearch Family Tree.
By putting your genealogy online you make it easy to update, ensuring that your latest research is accurately recorded, permanently online, and easily accessible to you and all of your cousins around the globe 24/7.
By adding digital copies of your old family photos, documents and reports, you are able to share these one-of-a-kind items with your cousins without risking the original copies.
Genealogy Tip: Posting your family tree online is a smart way to share and preserve your family history information, making your research findable by your children, grandchildren and their children. They are expecting to find online information rather than the paper copies genealogists have relied on in the past.
As genealogists we enjoy researching and documenting our family history. These modern tools allow us to quickly share our research with the rest of the family, in paper formats as well as digital copies posted online.
Make every effort to share your family history online. It will make your own genealogy work easier, and future generations will thank you for it.
Make sure the family history records you organize and leave to posterity make a sound.
Related Articles about Sharing Your Ancestry:
[bottom_post_ad]