After doing family history research for awhile, genealogists reach the point where they ask themselves: I have gathered all this information—now, what do I do with it?
Genealogists are the family hunter/gatherers, sifting through family obituaries, photographs and birth certificates. We take that information and organize it on our home computers in family tree software programs like PersonalAncestralFilePAF, LegacyFamilyTree and RootsMagic.
These family tree software programs designed for personal use at home are excellent ways to manage and organize your genealogical data.
But, at the end of the day, they are only the first step in compiling and sharing your family history.
As genealogists we want to share the family's information with the rest of the family, to preserve it for the rising generation. We must find a way to make this family history information "permanent" with today's tools and resources.
What are the storage options open to us?
Storing Genealogy Records at Home
We can protect and keep our genealogical data on a home computer, being careful to make back-up disks and giving copies of those disks to relatives near and far. I have done that for over a decade. The downside is that right now my relatives just are not interested enough in our family history to upload that data. They simply—on a good day—take the disks I sent them and put them in a drawer. The family data is preserved but it is still at the one-off level: it is preserved but only accessible to a few people.
We have seen genealogists spend 40+ years gathering family data, carefully managing it in their paper or computer files—only to have it all discarded as the person dies and the family downsizes, consolidates and moves to warmer climates. The pattern has been that the genealogy records gathered by each generation are known only to a few and are seldom preserved.
It is urgent that genealogists use the report function on their genealogy software programs to print and share their research. These reports can be targeted to report on all descendants of specific parts of the family and can even be personalized so that each person has a copy of their family tree—starting with themselves and going back in time.
Storing Family Records in the Online Cloud
Are there ways that we can preserve our family history information and at the same time widely disseminate it?
Yes.
This is important. Now that we all live in an interconnected world we can easily share and preserve our information with family members we have never met.
Genealogy Tip: For security reasons, only put information about deceased members of your family online. Make that information "public" so that it seamlessly becomes a part of the global family tree being built by millions of genealogists worldwide. If you add what you know—and I add what I have discovered—a much stronger and accurate family tree is built, permanently available online.
Where do I plant my tree online?
You want to use the standard "family tree" websites: FamilySearch.org and Ancestry.com
FamilySearch.org. This free site has multiple options for uploading family trees. Their "new" family tree site is still in limited release but is expected to be fully open to the public later this year. Register now to get an invitation. Users can personalize and view this information in multiple languages, including all of the expected European, Scandinavian and Asian languages.
Ancestry.com. This commercial site has millions of family trees with documentation and photographs. It is essential that you make your tree "public," making the information easily findable by genealogists worldwide.
What about using Facebook, a blog, or other sites?
Earlier I noted that you can print a family tree report from your home-based family tree software—but notice that you can also print these as PDF reports.
Be careful to adjust your settings so that none of the current, living generation of your family is printed in the report.
Then you can easily upload a copy to your Facebook page, blog or similar sites.
Scribd.com
One terrific online resource is Scribd.com.
This free website encourages everyone to publish their reports online. I regularly post copies of my genealogical reports here, and this has paid off. I have heard back from relatives in the United Kingdom and around the world who never would have found me on a "genealogy" site.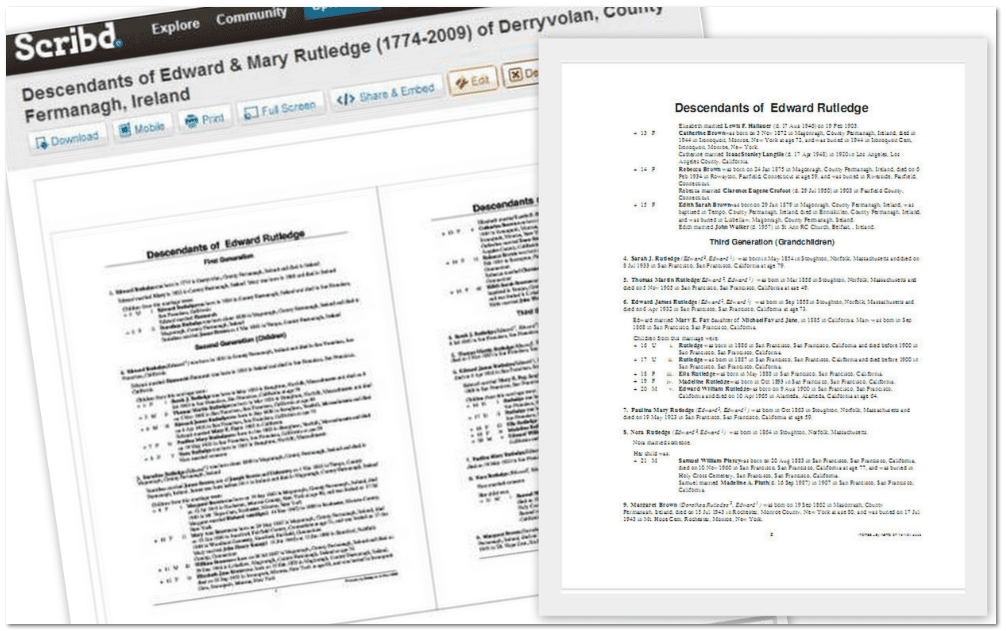 How did they find me on Scribd.com? Easy—that site makes every word, every name fully searchable on Google and the other search engines. So—when my cousins decided to start looking at our family tree they searched using Google and Bingo!—they found my family tree report.
One nice feature of Scribd is that I can update my family history information, then upload and overlay the original version of my report. So all links are preserved and the information available will be the most accurate version of my research data.
Take time this summer to find ways to permanently preserve and disseminate your genealogy research. Doing so will inform and entertain your family members—and help your own family history research by getting others involved.