It was a sunny day in Sonoma, California, on April 6, 1940, and census taker Alice Davis was off on her rounds enumerating the people of Sonoma, California, for the permanent 1940 census records. Little did she know that she was about to become "the first census-taker casualty in northern California."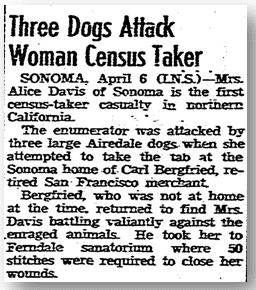 As this old news article reports: "The enumerator was attacked by three large Airedale dogs when she attempted to take the tab at the Sonoma home of Carl Bergfried, retired San Francisco merchant.
"Bergfried, who was not at home at the time, returned to find Mrs. Davis battling valiantly against the enraged animals. He took her to Ferndale sanatorium where 50 stitches were required to close her wounds."
Published in the San Diego Union (San Diego, California), 7 April 1940, page 11.
The determined Alice completed the enumeration, and Carl Bergfried and his wife Ida were recorded in the 1940 census records. But the formal, dry federal census pages do not tell us of the sacrifice that Alice Davis made that day.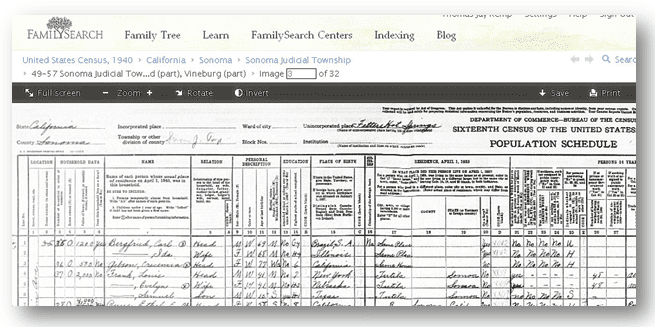 1940 Census. Sonoma, California. FamilySearch.org https://familysearch.org/pal:/MM9.3.1/TH-1961-27793-626-28?cc=2000219&wc=MMRS-PP1:786740582
Fortunately, the census enumerator's story was recorded in the pages of a local newspaper. And thanks to GenealogyBank the pages of the San Diego Union have been indexed, digitized and put online—so we can learn that despite three vicious dogs and 50 stitches, Alice Davis saw it through and got the job done.
When doing your family history research, don't rely just on the data provided by census and other government records. To really get to know something about your ancestors' lives and the times they lived in, read their stories in the millions of newspaper articles contained in GenealogyBank's historical newspaper archives.