Introduction: In this article, Gena Philibert-Ortega searches old newspapers to learn more about the legendary jazz trumpeter Louis "Satchmo" Armstrong. Gena is a genealogist and author of the book "From the Family Kitchen."
Jazz. It's a uniquely American style of music – and one of the kings of jazz was trumpeter, composer, and singer Louis "Satchmo" Armstrong.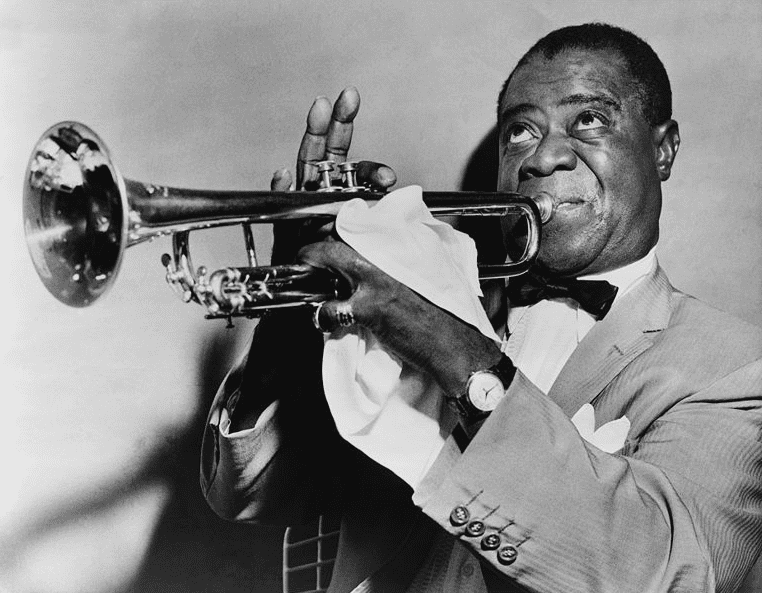 Born in New Orleans on 4 August 1901, Armstrong's early troubled life included the absence of his parents, poverty, and a stint in a home for boys after he fired a gun into the air on New Year's Eve. But like some mistakes, that one changed his life for the better. It was while he was in that boy's home that he learned how to play the trumpet. Eventually, his jazz career would lead to roles in movies and accolades like "best hot trumpet" and "the country's top jazz singer."
The 1920s
Armstrong's career in jazz was a long and successful one. He began his five-decade career in the jazz scene of 1920s Chicago. It was there that he played with the famous King Oliver Creole Jazz Band, followed by a succession of jazz bands. Newspaper articles of the time raved about Armstrong, as in this example from Walter Winchell's "On Broadway" column with the heading "Things I Could See and Hear Again." Winchell ends the column remarking that one of the things he would like to see and hear again was Louis Armstrong's "horn-tooting and warbling of 'Ain't Misbehavin' from the pit during the 'Hot Chocolates' intermission." Winchell was referring to the popular Hot Chocolates All Black Music Review.

You can listen to Louis Armstrong play and sing "Ain't Misbehavin'" on YouTube here: https://www.youtube.com/watch?v=ztwugWeK0fQ
Jazz Hits
Two of Louis Armstrong's most memorable songs are the 1964 recording of "Hello, Dolly!" and the 1967 single "What a Wonderful World." But those are just two of the dozens of Armstrong's hits that continue to be played today. He was a prolific artist who released over 29 albums; additional albums have been released after his death.
This Texas newspaper article provides a posthumous look at his career and hits.
The Last Note
Louis Armstrong never stopped working. After playing a two-week engagement at New York's Waldorf Astoria in July 1971, Louis "Satchmo" Armstrong died of a heart attack.
Numerous articles reported on his death and eulogies were printed in newspapers long after his funeral. One newspaper article printed just days after his death speaks to the love people had for him and the colorblindness of music:
The diverse turnout proved what Satchmo used to preach: that music has no color line, that it discriminates not between the rich and the poor and that where Armstrong and his music are concerned there is no generation gap.
Lilian Armstrong
An interesting side note to the death of Louis Armstrong is the death of Armstrong's second wife, a jazz musician in her own right, Lilian Hardin Armstrong. (Married to Hardin from 1924-1938, Louis Armstrong was married a total of four times). The couple met while playing in the King Oliver band and their collaboration resulted in Satchmo's early success.
Though divorced in 1938 the pair remained friends. On 27 August 1971, just seven weeks after Louis died, Lil Armstrong was playing in a tribute to her legendary ex-husband when she collapsed and died from a heart attack.
As this Kansas newspaper article reports:
She died as she would have wished – swinging the blues at a piano, leading some of those 'cats' who made the Chicago style of the 1920's the great sound it was – and the jazz world today mourned.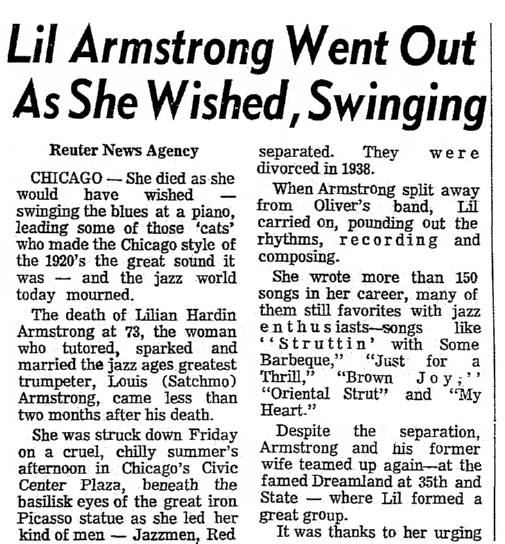 Louis Armstrong's Legacy
Armstrong's legacy lives on and he continues to be an influence on jazz musicians today. His song "What a Wonderful World" was not popular in the United States when it was released, but grew in popularity after Armstrong's death and was featured in the movies Good Morning Vietnam and the new movie Finding Dory. A new generation of music fans is being introduced to the great Satchmo even today.
Do you have a favorite Louis Armstrong song? Tell us about it in the comments section below.