Ellen Canning O'Rourke (1910-2011) was born in Anskert, near Mohill in County Leitrim, Ireland. She died in Hamden, Connecticut, on 16 December 2011 at age 101. As a little girl she lived through the "Irish Troubles" in County Leitrim, and had keen memories of those events – and her coming to America and finding work here. Her recollections were recorded in her obituary.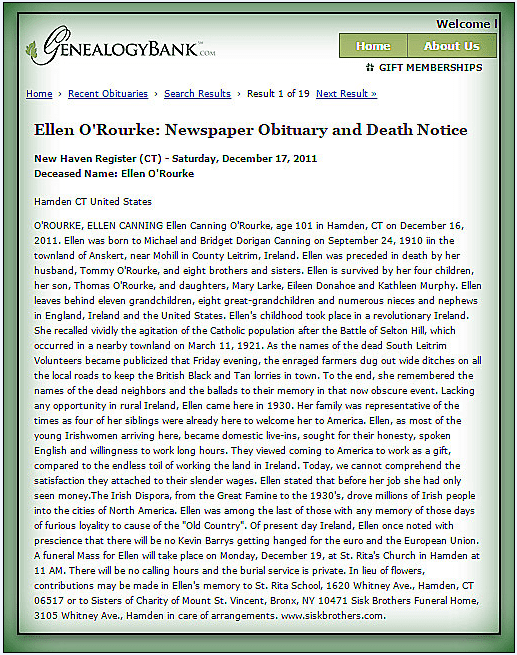 She and her family emigrated in 1930 and she went to work as a "domestic live-in."
"Ellen stated that before her job she had only seen money" – not actually had any of her own.
Think of that.
She "viewed coming to America to work as a gift."
[search_box]
As a ten-year-old, "she remembered the names of the dead neighbors and the ballads to their memory" from the Battle of Selton Hill, 11 March 1921. According to Wikipedia, British troops had "surrounded and then attacked the IRA camp on 11 March. Six IRA volunteers were killed. The RIC suffered no losses. The IRA dead were Connolly, Seamus Wrynne, Joseph O'Beirne (or Beirne), John Reilly, Joseph Reilly, and Capt. ME Baxter."
You owe it to yourself and your family to dig through GenealogyBank's Historical Newspaper Archives to find the obituaries and news stories about your family. If you have Irish ancestry, try searching our special Irish American newspaper archives first.
Document them.
Don't let your family's stories be lost.
Note: FamilySearch International (FamilySearch.org) and GenealogyBank are partnering to make over a billion records from historical obituaries searchable online. The tremendous undertaking will make a billion records from over 100 million U.S. newspaper obituaries readily searchable online. The newspapers are from all 50 states and cover the period 1730 to the present.  Find out more at: https://www.genealogybank.com/family-search/
Related Irish American Articles:
[bottom_post_ad]