On 28 March 1953, in a modest house trailer in Lomita, California, a broken-down, impoverished alcoholic died, ending the life of arguably the greatest athlete in American history. Jim Thorpe, a Native American of the Sac-Fox nation, was an Olympic champion track star and an amazing athlete who played professional baseball, basketball and football.
Yet despite his remarkable athletic prowess and success in various arenas, fields and courts, Thorpe died a tragic figure, in ill health, financially broke, and largely forgotten. On 18 January 1983, the International Olympic Committee (IOC) added some much-deserved luster to Thorpe's faded legacy by returning to his family the Olympic gold medals it had unjustly stripped from him in 1912.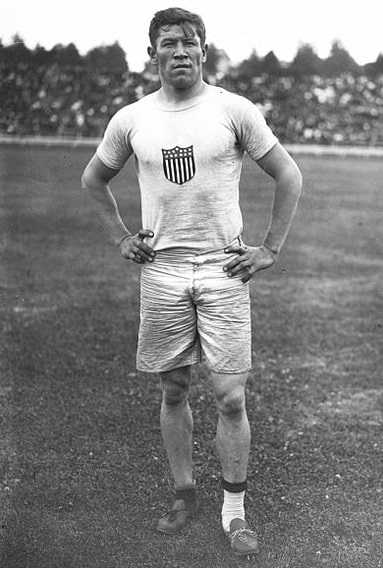 Jim Thorpe, half Caucasian, was raised an American Indian in Indian Territory (Oklahoma) and attended the Carlisle Indian Industrial School in Pennsylvania. It was there that famed football coach Glenn "Pop" Warner discovered his astounding athletic gifts.
Without any formal training or preparation, Thorpe became the school's one-man track team and the greatest football player (both offensive, defensive – and a kicker) that anyone had ever seen. He also played baseball, basketball, lacrosse, and even won the inter-collegiate ballroom dancing championship in 1912!
During the 1912 Olympic Games in Stockholm, Sweden, Thorpe won the gold medal for both the pentathlon and decathlon competitions. In awarding Thorpe his medals, King Gustav V remarked "You, sir, are the greatest athlete in the world." Few, if any, would dispute the king's assertion. Thorpe received great acclaim, and was honored with a ticker tape parade on Broadway upon his return to the United States.
Half a year later, things soured for Thorpe when the IOC stripped him of his two gold medals on a technicality. For two summers during his college days, Thorpe had played for a semi-professional baseball team, which paid him $2 a day to cover his expenses.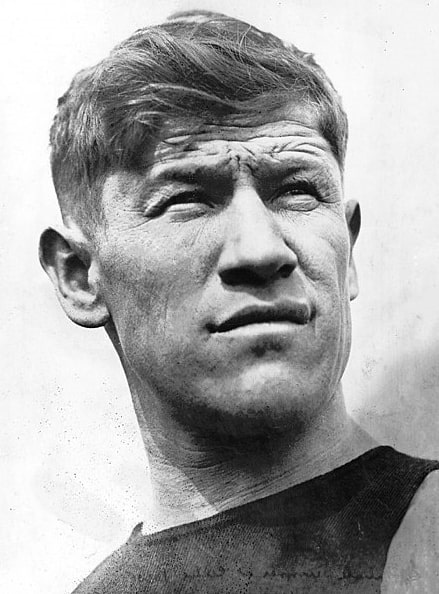 When it found out about this, the IOC decided to make an example of Thorpe. It pounced on this minor infraction, declaring he had broken the IOC's rules on amateur eligibility, and took away his gold medals and wiped his achievements from the record book.
In its zeal to punish Thorpe for breaking its rules, the IOC broke its own rules: the procedures in place specified that any investigation into an athlete's amateur status must begin within 30 days of the competition. The IOC took action against Thorpe half a year after his competition ended, a punitive action made improper by its own rules.
But the austere IOC was unyielding – the medals gone, the records expunged, and the immeasurable hurt to Thorpe's pride and dignity left to fester for the rest of his life.
Thorpe fought this injustice but to no avail. Others carried on the fight with him, and for 30 years after his death. Finally, in a ceremony at the Los Angeles Biltmore Hotel in 1983, the IOC presented Thorpe's family with two replacements for the gold medals he won back in 1912, and the injustice was finally redressed.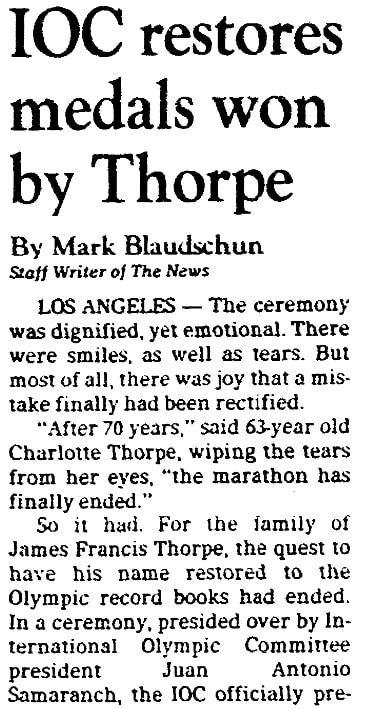 Here is a transcription of this article:
IOC Restores Medals Won by Thorpe
By Mark Blaudschun
Staff Writer of The News
LOS ANGELES – The ceremony was dignified, yet emotional. There were smiles, as well as tears. But most of all, there was joy that a mistake finally had been rectified.
"After 70 years," said 63-year-old Charlotte Thorpe, wiping the tears from her eyes, "the marathon has finally ended."
So it had. For the family of James Francis Thorpe, the quest to have his name restored to the Olympic record books had ended. In a ceremony, presided over by International Olympic Committee president Juan Antonio Samaranch, the IOC officially presented the members of the Thorpe family with replicas of the gold medals their father won in the 1912 Stockholm Olympics.
"On behalf of the Olympic movement," Samaranch said, "I should like to say how happy we are on this unique occasion to pay tribute to a man whose name is famous in the history of Olympism."
Thorpe, the Indian from Carlisle, Pa., generally was regarded as the greatest American athlete of his time. When he won the decathlon and pentathlon in the 1912 Olympic games in Stockholm, his reputation became worldwide.
Thorpe's reputation was tarnished a year later, however, when a newspaper reported that he had been paid a salary of between $60-100 a month while playing minor league baseball in the summers of 1909 and 1910.
Thorpe acknowledged his professional past to the Amateur Athletic Union, which, along with the United States Olympic Committee, stripped Thorpe of his amateur status and made him return his medals and trophies.
"It is impossible to enumerate all those who protested against this decision and made every effort in order to reverse it," Samaranch conceded.
Much of the effort was exerted by Thorpe's seven children, six of whom were present at Tuesday's ceremonies. The USOC adopted a resolution in 1975 to restore Thorpe's status, but it was up to the IOC to make it official. Finally, last Oct. 13, the IOC returned Thorpe's amateur status.
"You don't know what this means," said William Thorpe, one of Jim's four sons. "It's just fantastic. After all these years, it finally happened."
William Thorpe, 54, who lives in Arlington, says his father, who died in 1954 at the age of 64, never really talked a great deal about what had happened to him. "He would discuss it only if someone brought it up," said Thorpe, one of seven children, 13 grandchildren and 16 great-grandchildren.
William Thorpe heard about the IOC's decision while driving to work. "It came so suddenly," he said. "I was just stunned."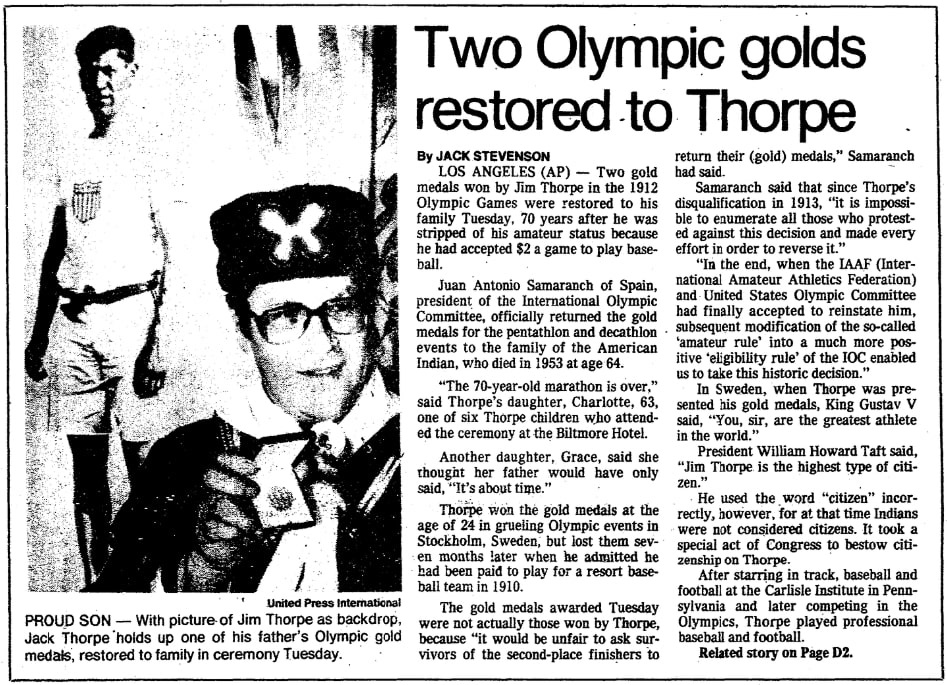 Here is a transcription of this article:
Two Olympic Golds Restored to Thorpe
By Jack Stevenson
LOS ANGELES (AP) – Two gold medals won by Jim Thorpe in the 1912 Olympic Games were restored to his family Tuesday, 70 years after he was stripped of his amateur status because he had accepted $2 a game to play baseball.
Juan Antonio Samaranch of Spain, president of the International Olympic Committee, officially returned the gold medals for the pentathlon and decathlon events to the family of the American Indian, who died in 1953 at age 64.
"The 70-year-old marathon is over," said Thorpe's daughter, Charlotte, 63, one of six Thorpe children who attended the ceremony at the Biltmore Hotel.
Another daughter, Grace, said she thought her father would have only said, "It's about time."
Thorpe won the gold medals at the age of 24 in grueling Olympic events in Stockholm, Sweden, but lost them seven months later when he admitted he had been paid to play for a resort baseball team in 1910.
The gold medals awarded Tuesday were not actually those worn by Thorpe, because "it would be unfair to ask survivors of the second-place finishers to return their (gold) medals," Samaranch had said.
Samaranch said that since Thorpe's disqualification in 1913, "it is impossible to enumerate all those who protested against [that] decision and made every effort in order to reverse it."
"In the end, when the IAAF (International Amateur Athletics Federation) and United States Olympic Committee had finally accepted to reinstate him, subsequent modification of the so-called 'amateur rule' into a much more positive 'eligibility rule' of the IOC enabled us to take this historic decision."
In Sweden, when Thorpe was presented his gold medals, King Gustav V said, "You, sir, are the greatest athlete in the world."
President William Howard Taft said, "Jim Thorpe is the highest type of citizen."
He used the word "citizen" incorrectly, however, for at that time Indians were not considered citizens. It took a special act of Congress to bestow citizenship on Thorpe.
After starring in track, baseball and football at the Carlisle Institute in Pennsylvania and later competing in the Olympics, Thorpe played professional baseball and football.
Note: An online collection of newspapers, such as GenealogyBank's Historical Newspaper Archives, is not only a great way to learn about the lives of your ancestors – the old newspaper articles also help you understand American history and the times your ancestors lived in, and the news they talked about and read in their local papers. The same is true of more recent news.
Related Article: