Introduction: In this article, Gena Philibert-Ortega shows a genealogy methodology for trying to prove if an old family story is true. Gena is a genealogist and author of the book "From the Family Kitchen."
Do you have a family story that has been passed down through the generations? Does the story involve your family's connection to a famous, or infamous, person? Maybe the story has your ancestor doing something remarkable.
Virtually everyone has one of these stories. The question is: is the story true? It may be tempting to assume that family stories are always true, but even the most seemingly plausible story may not be entirely fact-based.
A larger-than-life story in my family tree involves the Mexican Revolution, Pancho Villa, and my family's sudden departure from their home in Mexico.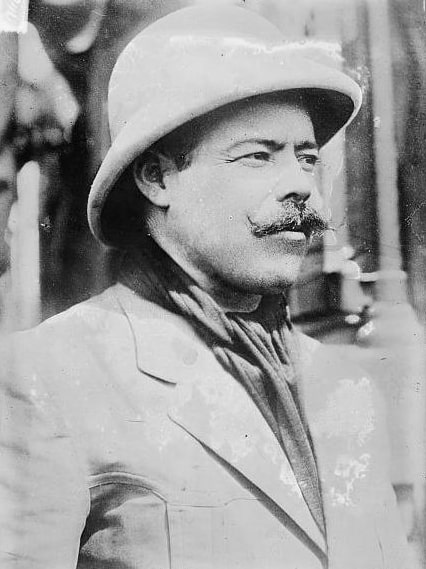 In a nutshell, my maternal grandmother's family lived in Mexico in the early 1900s but had to flee to the United States for one reason: they were chased out of the country by Pancho Villa. But again, the question is: can I prove this family story?
Proving the Story
So how do we prove or disprove family stories? There's a methodology we can use to sift genealogical fact from fiction. Even though it can be tempting to assume a story told by grandma is true, it still needs to be verified.
One way to test a story is to use a methodology described by genealogist Connie Lenzen which includes the following steps: (1)
Consider the Source: First, evaluate the source of the story. How did the storyteller know what happened? Were they a first-hand participant or did they hear it from another person? Did they cite their sources? If they participated in the story, how far removed were they from it? Was it something that happened a few years prior or are they remembering details from decades ago?
Determine the Probability That the Event Occurred: Could the incident really have happened? Does historical research verify the possibility?
Place Individuals in Time and Location: Research the genealogy of the family to place them in the event's time and location.
Thoroughly Comb Extant Records: Extant records are records that still exist for a time and place. Extant records might include U.S. censuses, vital records, newspapers, and land records.
Was my family driven out of Mexico by Pancho Villa, or is this just a good story?
Consider the Source
My source for the Pancho Villa story was my maternal grandmother, Clara McNeil Nikolaus (1905-1992). She was born in Colonial Morelos, Sonora, Mexico, where she lived with her parents Benjamin McNeil (1880-1956) and Edith Petersen (1884-1947).
This story of Pancho Villa involves my grandmother and her family leaving Mexico because they were chased out by Pancho Villa, who did not want Americans living in Mexico. My grandmother wrote in her personal history: (2)
"When the [Mexican] Revolutionary War broke out, the Saints [Mormons] had to leave Mexico… Dad couldn't sell his home, or farm, he just had to leave everything, except what he could put in a covered wagon. They had five children when they left… The family came to Show Low, Arizona."
There's no doubt that my grandmother was a reliable source. She was the family historian, and genealogy was important to her. She spent decades tracing and documenting her family history. However, when she told me this story, she was remembering an event that happened when she was about seven years old, more than 60 years prior.
Since she was a young child when this occurred, there could have been errors in her recollection. There's no doubt that such an occurrence would leave an impression on her, but since she was a child she may not have been privy to all the details.
The Probability
My grandmother's family was part of the community of American Mormons that made Northern Mexico their home in the early 20th century. Mormon prophet Brigham Young had sent missionaries to Mexico in 1875. By 1885, 400 members of the Church of Jesus Christ of Latter-day Saints had left the United States to travel to the Northern Mexican states of Chihuahua and Sonora, where they established nine colonies.
By the time of the Mexican Revolution, which started in 1910, the colonies' population had grown to 4,000 members. (3) Mexican President Porfirio Díaz viewed the Mormons as an ideal immigrant population and encouraged their migration. As the colonies prospered, other American Mormons, including my grandmother's family, moved south.
But the coming of the Revolution meant unrest for those living in Mexico during this time. The new Mexican president, Victoriano Huerta, who grabbed power in a coup, vowed a scorched-earth policy using "gun and torch" to combat rebels in Northern Mexico, as this chilling headline in the El Paso Herald-Post declared:
As this article made clear, the Mormons in the area were not to be spared: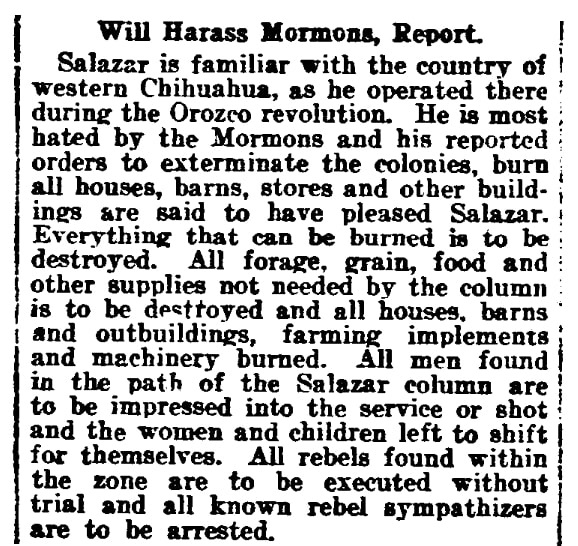 The Mexican Revolution lasted roughly from 1910 to 1920 and had its foundations in opposition to President Díaz's regime. Those opposed to the president included rebels such as Pancho Villa, who in 1912 was imprisoned and faced execution, but survived. In 1913, Villa went on to become governor of Chihuahua.
But, here's the problem with my family story. The exodus from the Mormon colonies began in July 1912 after they had been subject to hostilities from both sides of the Revolution. Pancho Villa spent most of 1912 in prison. Genealogical records that I found for my family support the notion that they were living in the United States by summer 1912 – which means that Pancho Villa was probably not personally chasing them from their homes. So, while the Revolution was the catalyst for their departure, Villa was probably not physically present.
Extant Sources, Time, and Place
In August 1912, Clara's father Benjamin McNeil is found on the Navajo County, Arizona, voting rolls, where he's listed as a 31-year-old farmer. In a 1913 school census for Show Low, Arizona, my grandmother is listed with her parents, Benjamin and Edith, and her siblings. This particular census asks if the children and their parents are native-born or foreign; all four McNeil children are listed as born in Mexico.
In addition, a search of GenealogyBank's Historical Newspaper Archives shows Ben mentioned in newspaper articles in January 1913. These mentions have to do with a homestead claim that is detailed more fully in a newspaper article from March 1913 in the Holbrook News: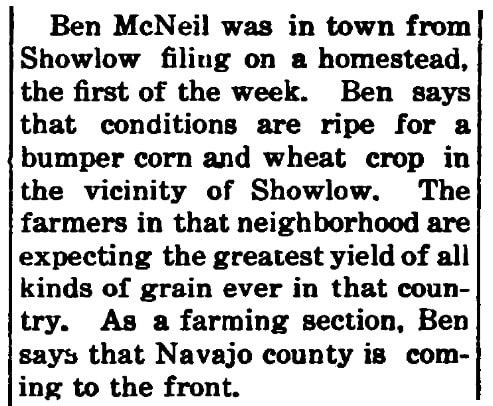 It should also be noted that in a family tree prepared by my grandmother, there is a gap between the last McNeil child – Tessie, born in Mexico in 1910 – and the next – Emery, born February 1913 in Show Low, Navajo County, Arizona. A baby, Estella, died in 1911 in Mexico from a snake bite.
There is no one document that I've discovered that says "the McNeils were back in Arizona on this date due to the Mormon Exodus," but genealogical records seem to support their return to the United States in the summer of 1912.
Next Steps
What's exciting about family history research is that there is always something new to discover. I'm still on the lookout for other records about the McNeil family's time in Mexico, and their lives as they fled their adopted home. I also need to do additional reading on the history of the Mexican Mormon colonies and the Mexican Revolution.
My grandma's story is true in that the family did flee Mexico as a result of the Mexican Revolution. Adding Pancho Villa's name might have been a way for a family historian to help a curious future genealogist better remember the lives of her ancestors!
_______________
(1) Heritage Books and Family Lore: A Jackson Test in Missouri and Idaho (National Genealogical Society Quarterly, March 1998).
(2) In the possession of Gena Philibert-Ortega.
(3) Mexico. The Church of Jesus Christ of Latter-Day Saints Newsroom, http://www.mormonnewsroom.org/facts-and-statistics/country/mexico.