Introduction: In this article, Gena Philibert-Ortega writes about a phenomenon of the 1950s and 1960s: housewives hosting Tupperware parties. Gena is a genealogist and author of the book "From the Family Kitchen."
A recent episode (Season 4, episode 3) of the Netflix series The Marvelous Mrs. Maisel featured Mrs. Maisel (Midge) hosting a Tupperware party. This season of the series, set in 1960, would have been a decade into women holding Tupperware parties. Tupperware provided women a chance to earn money selling a product that everyone could use, and the flexibility they needed to conveniently earn some money long before telecommuting and online meetings were a thing.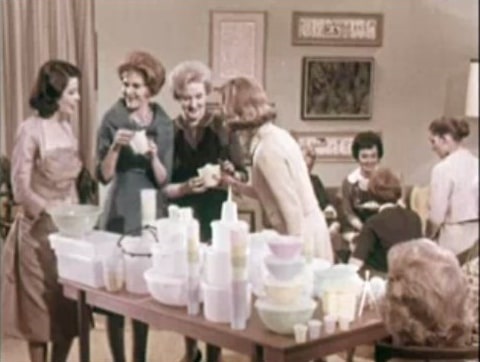 Tupperware was invented in 1946 by chemist Earl Tupper. His idea for non-breakable plastic containers included a lid that was based on a paint can lid and allowed a seal that guaranteed nothing would leak. The rest, as they say, is history. The following five facts tell more of the Tupperware story.
(1) Not Every Plastic Container Is Tupperware
Tupperware, named after its inventor Earl Tupper, is synonymous with plastic kitchen storage containers. Today, people refer to almost any kitchen container as Tupperware, like they refer to all photocopy machines as Xerox. But in reality, there are other companies that manufacture plastic storage items. At the time that Tupper invented his containers, food leftovers were stored in non-sealable containers made out of glass and other breakable materials, or metal.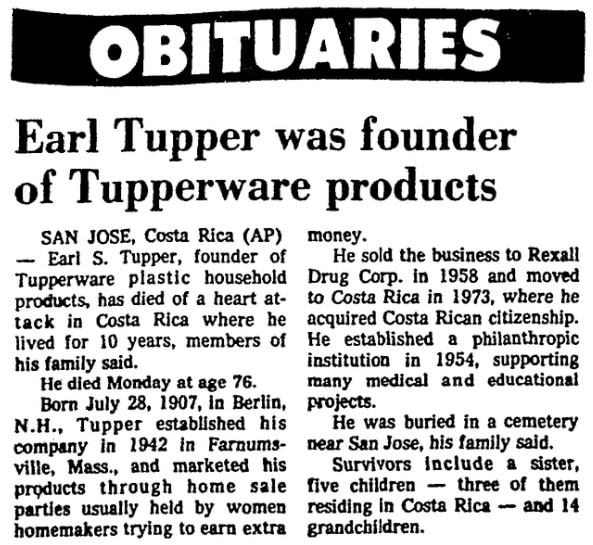 (2) Tupperware Was Originally Sold in Stores
Most people are familiar with Tupperware parties – but before the home parties, Tupperware was like any other retail item: it was sold in stores. Unfortunately, it wasn't a success. Independent saleswoman Brownie Wise started offering Tupperware at home parties and selling the plastic containers directly to consumers. This allowed her to demonstrate the product and show women how the containers benefitted them, in their home.
Learning of her success, Earl Tupper collaborated with Brownie and the Tupperware party sales force was born. But the success of the long-standing home parties doesn't mean that Tupperware didn't find itself back in stores at some point. In 2001 Tupperware could be found at some Target stores, but by the Fall of 2003 the program stopped.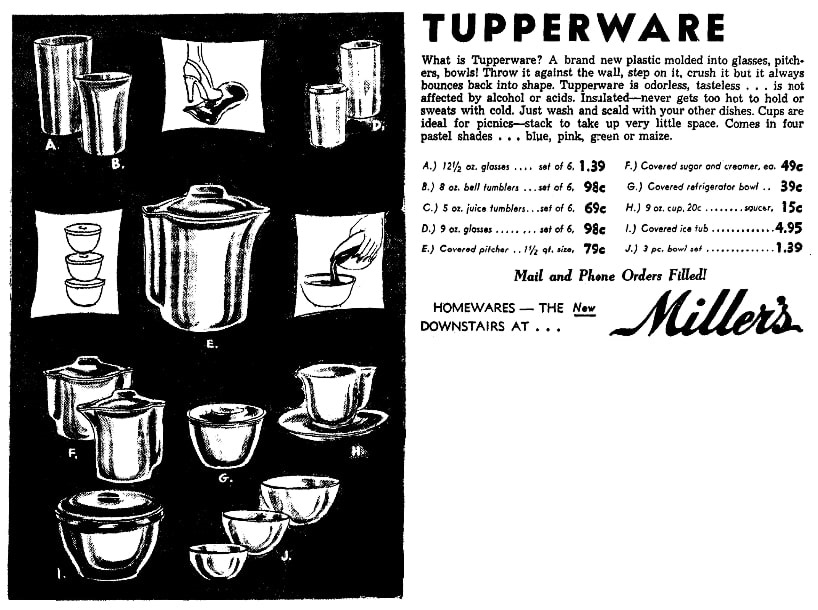 (3) Help Wanted
Today, you might become a Tupperware consultant by contacting Tupperware or talking to another consultant – but in the early days, help wanted ads in the newspaper helped Tupperware get its start. These advertisements for business opportunities invited interested parties (women weren't always specified) to contact Earl Tupper and provide information about qualifications. The mention of a possible income of $500 a week, equivalent to over $5,000 today, must have been quite inviting in post-war 1949.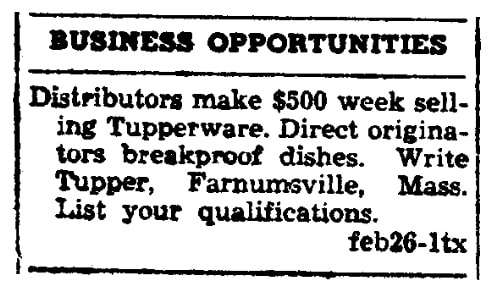 As mentioned above, Brownie Wise began giving home parties selling Tupperware. She also placed newspaper advertising looking for women to help build her party business idea.

Brownie used all kinds of tactics to show the usefulness of Tupperware, including tossing a bowl filled with water at her parties to demonstrate the lid's unique seal.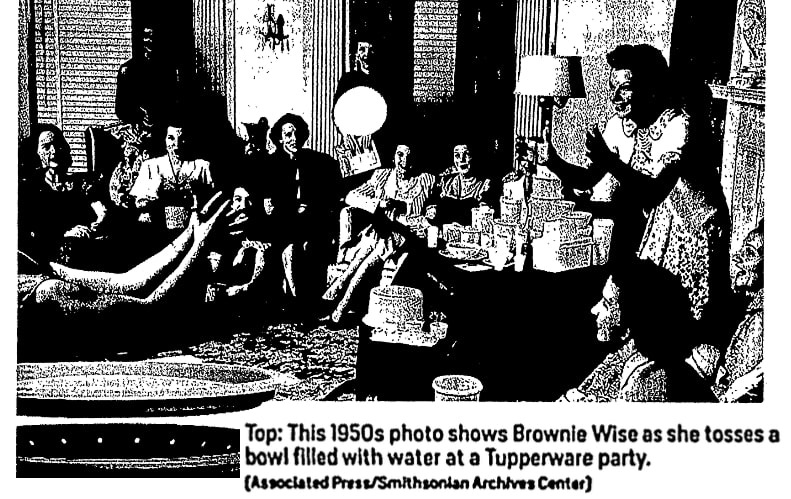 Because of her success in selling the product, Earl Tupper invited Brownie to join the company in 1951.
(4) The Party Has Gone from the Home to Social Media
The first Tupperware parties were held in homes, but today you can choose a home party or a virtual one via social media. Anyone can attend an online party, and best of all you don't need to clean your house. The only bad part is you miss out on the food and demonstrations of how different pieces can be used.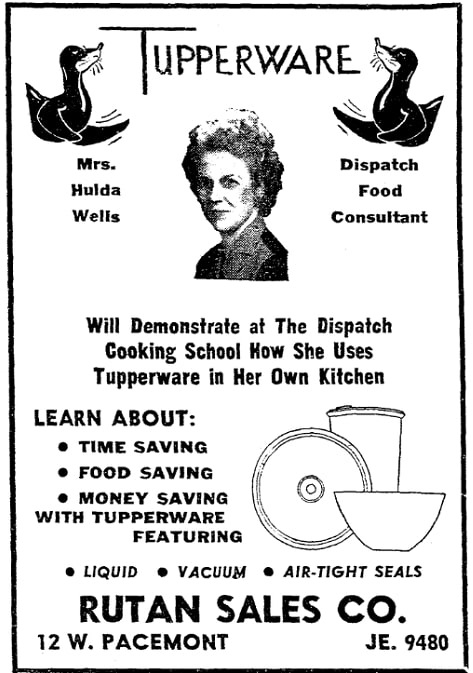 (5) There's a Tupperware Code
Newer Tupperware has coded bottoms that help you know what is dishwasher, freezer, microwave, and food safe. This article from "Taste of Home" explains what symbols to look for and what they mean.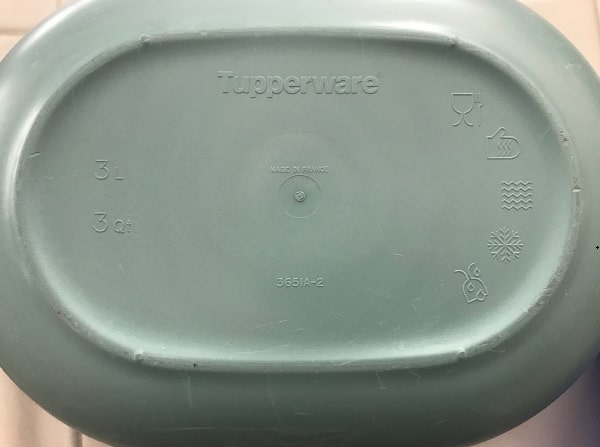 My Favorite Tupperware Piece
I'm a big fan of Tupperware and have some favorite pieces. Probably the one I love the most is called the "Pick-A-Deli Keeper," but most likely you, like me, refer to it as the pickle keeper. The selling point of this product is that you don't have to reach into the cold juice of a pickle jar to fish out that one pickle you want for lunch. This product allows you to pull the pickles out of the juice and then place them back again. Although you might think of it as a pickle keeper, you can use it for olives, mozzarella, tofu, jalapenos, or really any marinated foods. You can also use it to store snacks like carrot or celery sticks.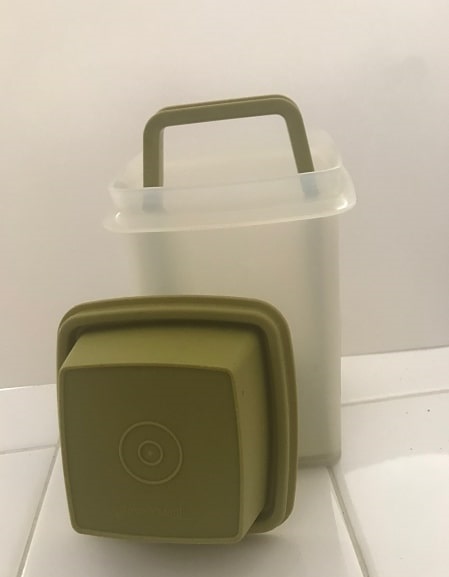 What's your favorite Tupperware piece? Did you ever host a party? Did you sell Tupperware? Tell us about your experience in the comments below.
Note: An online collection of newspapers, such as GenealogyBank's Historical Newspaper Archives, is not only a great way to learn about the lives of your ancestors – the old newspaper articles also help you understand American history and the times your ancestors lived in, the activities they engaged in, and the news they talked about and read in their local papers.