Newspapers recorded every day of our ancestors' lives – and that is a good thing for genealogists.
Time and time again old documents, from death certificates to the census, simply state that someone like John Clifford was born "in Ireland" – and never tell us where in Ireland. Often it is newspapers that are critical to our finding the name of the community or the county in Ireland where our Irish immigrant ancestors were born.
For example, this old 1800s obituary for John Clifford tells us where in Ireland he was from.

Thanks to GenealogyBank's Historical Newspaper Archives, we know that he was born in Killeshandra, County Cavan, Ireland.
Government and other official passenger lists routinely list that the waves of Irish immigrants were born in "Ireland" without any further details – but it is in newspapers that we can find two other key facts (origin and destination) that were not recorded in the passenger lists genealogists are familiar with.
[search_box]
I am just amazed every time I read these Irish American passenger lists in online newspapers and see that they tell me where these new arrivals had lived in Ireland, and where they were going to live in America.
How in the world did the editors of New York City's Irish American newspapers find the time to interview and document the incoming Irish immigrants, and keep doing it for over a century?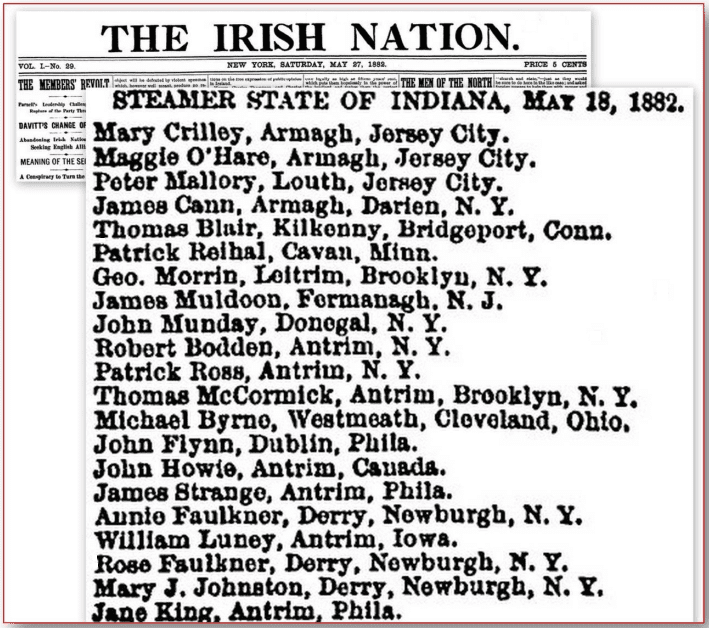 Irish American newspapers were diligent about reporting the great migration of Irish immigrants to America in the 19th and 20th centuries. Newspapers like the Irish Nation and Irish World regularly published lists of Irish passengers that came over on the passenger ships each week.
These published ship passenger lists did not include every Irish immigrant – but for the tens of thousands that were interviewed and documented by the newspapers, these lists give us the critical place of origin and where they were heading after their arrival in America, valuable information that is just not found in any other genealogical source.
One of my colleagues, Duncan Kuehn, closely compared some of the passenger lists published in newspapers to the corresponding federal passenger lists. She found that for the passengers interviewed and listed by the newspapers, their names were often more complete – and often, additional names of accompanying family members were given in the newspaper account that did not appear in the federal lists.
It would be even better if the newspapers had interviewed every single passenger, but we're grateful for the excellent job they did on the ones that were documented.
Genealogists must use these newspaper passenger lists to learn more about their ancestors' stories.
Start searching GenealogyBank's Historical Newspaper Archives and begin documenting and recording your family history. If you have Irish ancestry, try searching our special Irish American newspaper archives first.
Related Irish American Genealogy Articles:
[bottom_post_ad]