I have read thousands of strange stories in America's oldest newspapers.
But this has to be the most unusual – and cruelest – one I've seen.
I have heard of "hermits" that separate themselves from society and live remote lives in the woods or in wilderness areas.
But I had not heard of professionals shunning one of their own – until I found this article recently while doing family history research in GenealogyBank's Historical Newspaper Archives.
It's the story of James Pelosi, a second lieutenant in the U.S. Army. While a cadet at West Point, Pelosi endured 19 months of a now-outlawed punishment called "silence," in which he was completely shunned and ignored by his fellow cadets – a treatment he was still being subjected to even after graduating West Point.
Pelosi had been convicted of cheating at West Point – but then "the charge was dismissed by the West Point superintendent on grounds that a staff officer had prejudiced the case."
Not satisfied with this outcome, Pelosi's "classmates voted to invoke the silence" treatment, "a rarely used punishment exacted by cadets who believe a classmate has escaped just punishment on a legal technicality."
The punishment lasted 19 months, right up to the time Pelosi graduated from West Point.
"Pelosi became a nonentity to his classmates. They did not talk to him or associate with him. He was forced to live and dine alone. He could not take part in class activities."
Since it was "West Point tradition that silence lasts forever," Pelosi was still being punished by fellow graduates as they attended Ranger school with him at Ft. Benning.
The article does report two positive development, however. One is that:
"Last week West Point's cadet honor committee, a target of criticism over the Pelosi incident, abolished the tradition of silence."
The other positive outcome was:
"[Pelosi] said he has been emotionally bolstered by hundreds of letters from people applauding his behavior at West Point.

"One was from Mrs. Benjamin Davis, the wife of a general who was silenced as a cadet in the 1930s because he was black."
Wikipedia says this of General Benjamin O. Davis Jr. (1912-2002):
"After attending the University of Chicago, he entered the United States Military Academy at West Point, New York, in 1932. He was sponsored by Representative Oscar De Priest (R-IL) of Chicago, at the time, the only black member of Congress. During the four years of his Academy term, Davis was racially isolated by his White classmates, few of whom spoke to him outside the line of duty. He never had a roommate. He ate by himself. His classmates hoped that this would drive him out of the Academy."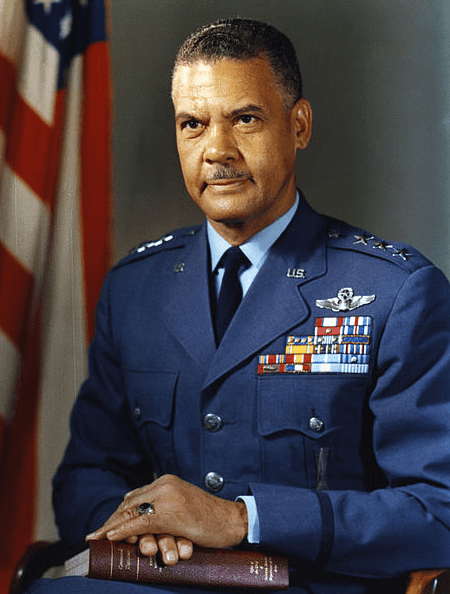 In her letter, Davis' wife Agatha gave advice to 2nd Lt. Pelosi:
"You will forgive but never forget what your classmates did. Don't resent them. Feel sorry for them"
The article concludes:
"'I've taken her advice,' Pelosi said."