Introduction: In this article – in honor of March being Women's History Month – Melissa Davenport Berry writes about Camilla Nelsen Mays Frank, a WWII heroine who stayed active and committed for the rest of her long, remarkable life. Melissa is a genealogist who has a blog, AnceStory Archives, and a Facebook group, New England Family Genealogy and History.
Captain Camilla Nelsen Mays Frank (1899-1985) was the ideal "American Dame" for March (Women's History Month). She was a true patriot, preservationist, and pioneer. Her life was one devoted to the service of her community and country.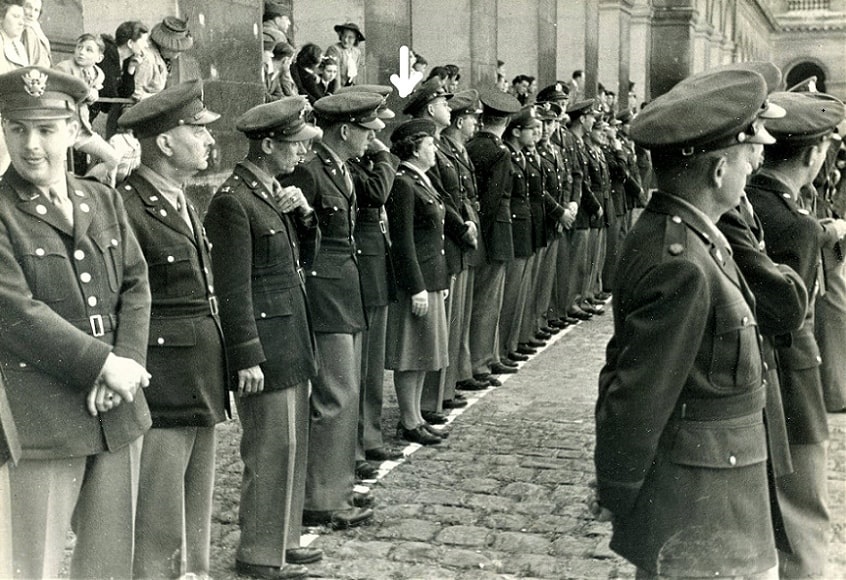 GenealogyBank's Historical Newspaper Archives have many articles chronicling Camilla's numerous achievements, as well as detailing her 17 hereditary society memberships and her dedication to preserving the French Quarter in New Orleans.
This 1972 newspaper article featured Camilla receiving a Civil Service award from the New Orleans Chapter of the WAC (Women's Army Corps) Veteran's Association, an organization she both founded and resided over as president.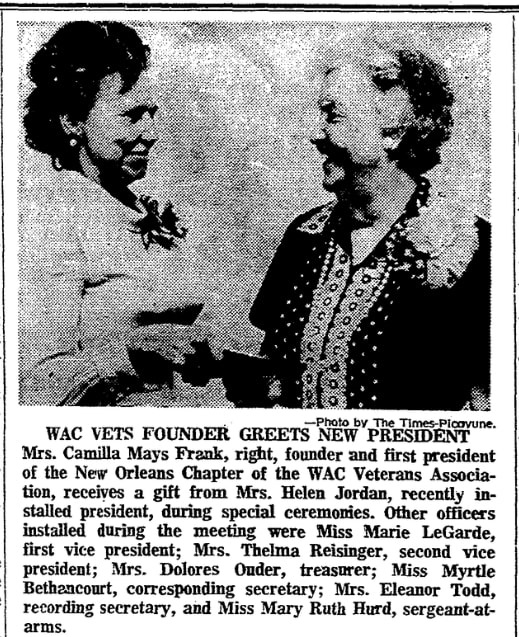 This article reported:
"Mrs. Frank, whose energy and enthusiasm belies her 73 years of age, organized the New Orleans Chapter of the WAC Veterans Association, the Vieux Carre Chapter of the Daughters of the American Revolution, and helped organize the Louisiana Company of the Jamestown Society, La Louisiane Chapter of the Colonial Dames of the XVIII Century and the Louisiana Council of the Vieux Carre."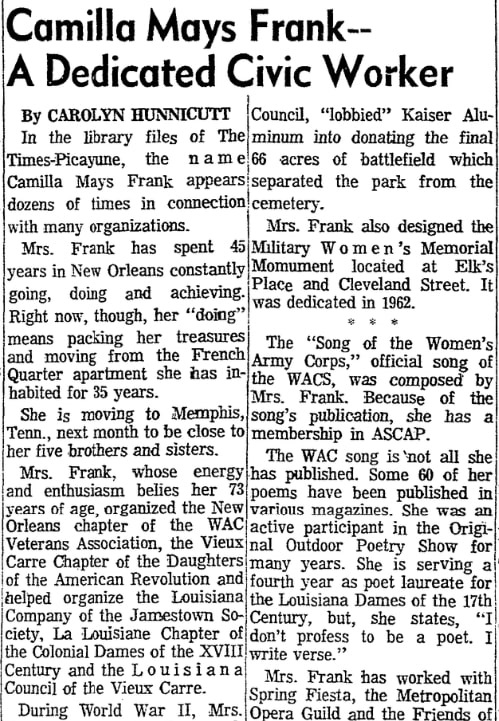 The article reported on her service and achievements during WWII:
"During World War II, Mrs. Frank served on the Commander General's Staff of Special Services in the European Theater. 'I started out as a private,' she says, 'and was real lucky and stepped up to the captaincy.' Mrs. Frank laughs as she reminisces about those four years in Europe. 'I was the only woman on that staff and the men really resented me… at first,' she says with a twinkle. She doesn't smoke or drink and the men 'from colonels on down' would come by at the end of the month to wheedle a pack of cigarettes from her share of the rations.

"Capt. Frank received three battle stars and the U.S. Army Commendation medal for her service during the war. She was one of six WACs to receive the French Croix de Guerre, which was given for her participation in the liberation of Paris."
This 1958 newspaper article covered Camilla, who along with two other women (Mrs. G. G. deColigny and Mrs. William I. Little) organized a Louisiana Company of the Jamestowne Society. Camilla was a direct descendant of Lt. Colonel Walter Chiles Sr., who sailed to Virginia on his own ship in 1638 and was a member of the House of Burgesses. Camilla was already a member, but Richard Blackburn Tucker, governor of the Jamestowne Society, appointed her organizing president of the new chapter.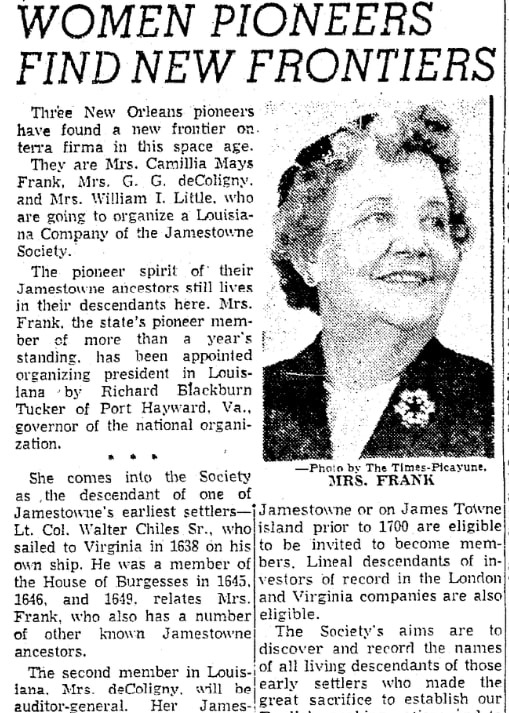 This 1966 newspaper article spotlighted Camilla, along with other American poets, who composed verse to salute Westminster Abbey. Camilla paid homage to her ancestor King Henry III who ruled England from 1216-1272. She sported her medal of the Colonial Order of the Crown, a genealogical organization of members who are descended from English royalty.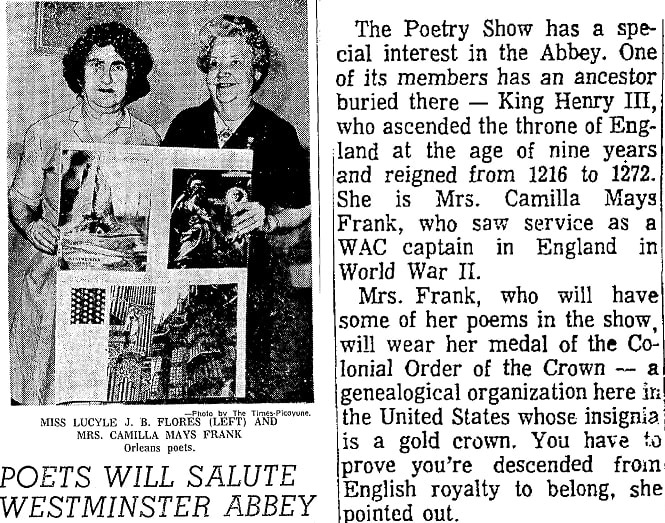 I also found several news clips where Camilla was a guest speaker on genealogy, history, and civil defense. She wrote poetry on such subjects as the Space Age and antiques, and was an expert calligrapher. Her wartime recollections were published in her book Far from Eden in 1982, a year before her death. She composed the songs "Never Wave at a WAC" (the "WAC Song") and "Song of the Women's Army Corps" in 1945.
The headline of this 1981 newspaper article summed up Camilla the best: "Veteran WAC 'worked like a man, behaved like a lady.'" She was 82 when reporter Janet Wallfisch interviewed her. Camilla traveled from Memphis, Tennessee (where she moved in 1972 to be near her siblings after 45 years in New Orleans) back to New Orleans to attend a 25th anniversary celebration tea hosted by the Vieux Carre Chapter of the Daughters of the American Revolution. The chapter presented their past founder and regent an honorary award for her lifetime dedication to the organization.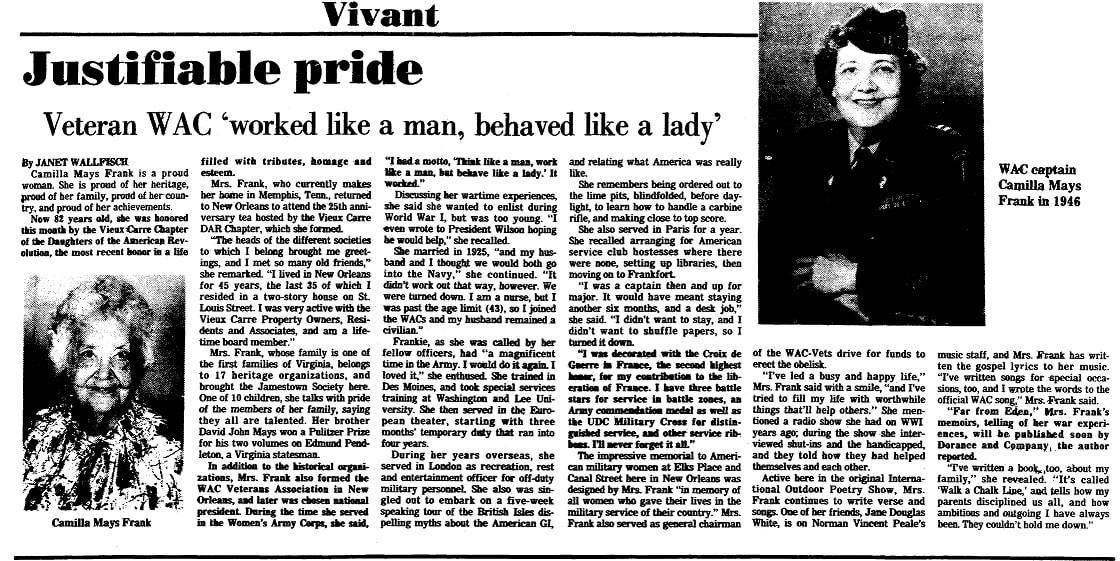 Camilla was one of ten children born to Harvey James Mays and Helga Christine Nelsen. She married Frank Theodore Frank in 1925.
She told Wallfisch:
"I've led a busy and happy life, and I've tried to fill my life with worthwhile things that'll help others."
Among her many contributions was a radio show in which Camilla interviewed shut-ins and the disabled, who shared how they helped themselves and each other. Also, she erected the impressive memorial to American military women at Elks Place and Canal Street in New Orleans.
In addition to her memoirs about the war, Camilla wrote another book about her family:
"'I've written a book, too, about my family,' she revealed. 'It's called Walk a Chalk Line, and tells how my parents disciplined us all, and how ambitious and outgoing I have always been. They couldn't hold me down.'"
A great "dame" indeed!