Introduction: In this article, in honor of March being Women's History Month, Jane Hampton Cook searches old newspapers to learn more about Nancy Green, the original Aunt Jemima, and the times she lived in. Jane is a presidential historian and author of ten books, including Resilience on Parade: Short Stories of Suffragists & Women's Battle for the Vote. She was the first female White House webmaster (2001-03). Her works can be found at Janecook.com.
Nancy Green (1834-1923), an African American woman born into slavery in Kentucky, later became the original Aunt Jemima. GenealogyBank's Historical Newspaper Archives provide insight into Green's life and the changes in technology that fueled her success.
Green came to Chicago after the Civil War. She was employed as a caretaker who raised a prominent judge and doctor.
A remarkable aspect of Green's story is that her celebrity didn't begin until she was 59 years old, when she made her debut at the 1893 World's Columbian Exposition in Chicago. She was hired by a milling company to promote their pancake mix by playing the character of "Aunt Jemima" (a "Mammy" slave stereotype) to cook pancakes at the Expo.
As the Negro Star explained in her obituary in 1923 (Note: the article gets one detail wrong: the pancake recipe mix was not her own):
"Mrs. Green first came to fame at the Chicago's World Fair in 1893, when, in a pancake booth, she tickled the palates of visitors as well as amused them with pancake turner gymnastics."
Her skill was not merely cooking. She was also an entertainer. Visitors to the pancake exhibit walked through a large-scale theatrical flour barrel and received a silver dollar-shaped pancake on the other side. Green's skill at flipping pancakes and entertaining her audience was a hit. She was the original celebrity chef, akin today to a hit TV show on the Food Network.
As the obituaries above and below reported, the 89-year-old Green was struck and killed by a wayward automobile while walking along a Chicago sidewalk on 30 August 1923.
Old newspaper articles about the 1893 World's Columbian Exposition in Chicago provide additional context about America's culture and technology at that time.
The 1893 World's Fair was centered upon electricity and star inventor Thomas Edison – who was also lured by the smell of Green's pancakes.
As the Morning Star reported:
"Thomas A. Edison, by whose genius the fair has been made as glorious by night as by day, visited the exposition. At one time during the day, he became separated from his friends and, when found, was in the Agricultural building. In one hand was a pancake, in the other a cracker spread with jelly. Thomas A. Edison had discovered the 'lunch route' of the Agricultural building."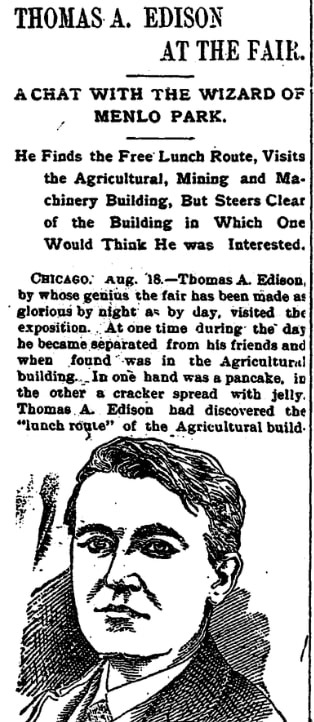 Electricity was the new technology behind the latest food craze. The Philadelphia Inquirer reported that the World's Fair showed a "novel application of electricity to the daily needs of men and women": cooking.
The technological pride of the cooking show was the electric pancake griddle. As this article reported:
"But the pride of Aleck's heart is the pancake griddle, three disks on one frame, with the wire coiled in the bottom side of each section.

"'I can heat that in one minute,' said he, 'and can turn out the prettiest flapjacks you ever saw, even, brown, and no muss.'"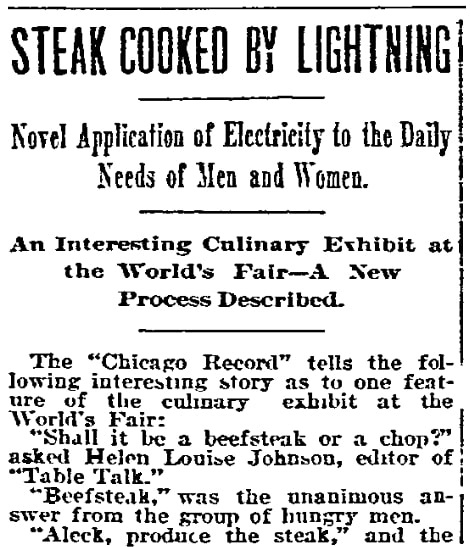 Other newspapers picked up on the excitement of the new invention, an electric pancake griddle. As the Trenton Evening Times reported:

This technology, along with Green's winning personality and showmanship, earned her fame and employment as "Aunt Jemima." Green continued to perform at many exhibitions, including the World's Fair in San Francisco in 1915. At the time, three packets of Aunt Jemima pancake flour mix sold for $0.25.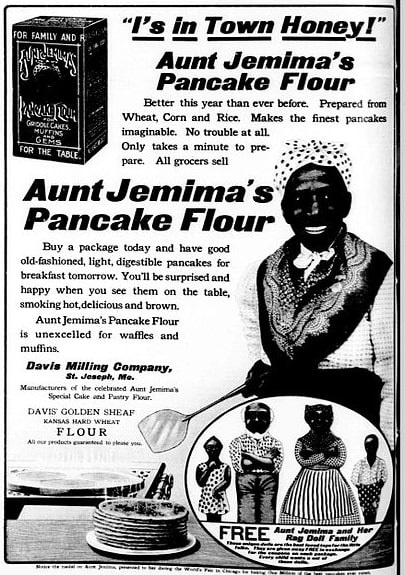 Last year Quaker Oats announced that they are rebranding and renaming Aunt Jemima because of racial stereotypes. To honor Nancy Green in response, a Chicago woman arranged for Green to receive a headstone in September 2020. Green is buried in Chicago near the greats of her era, Ida B. Wells and Jesse Owens.