Lawrence E. Lincoln's life was filled with American history. He and his wife Shirley were both Mayflower descendants, he served in the U.S. Navy as a radar man on the USS Huntington during WWII, he attended Brown University, and he belonged to several Masonic chapters in New England.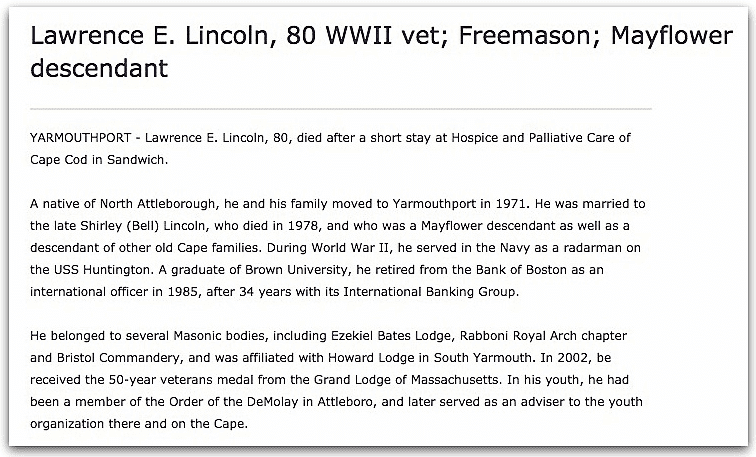 I discovered Lawrence's life story using GenealogyBank's U.S. Obituary Search. This handy search tool archives obituaries from 1977 onward, and is a great resource for finding family obituaries – or, in this case, finding the stories about recent Mayflower descendants.
I began by searching GenealogyBank using the keywords "Mayflower" AND "descendant."
Lots of obituaries matched this search, but Lawrence's caught my eye because it had so many other interesting details in the headline: he was a WWII vet, a Freemason, and a Mayflower descendant.
I did notice, however, that Lawrence's obituary didn't give me his exact birth and death dates, so I went back to GenealogyBank, this time to the Social Security Death Index (SSDI). There, I entered Lawrence's information from his obituary.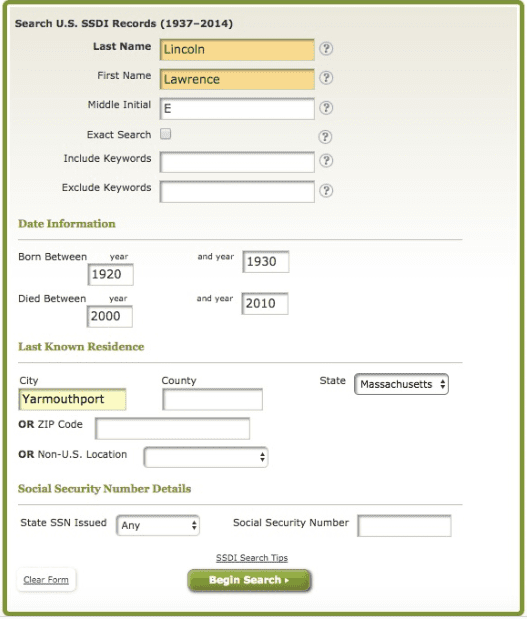 Sure enough, this SSDI search pulled up Lawrence's record.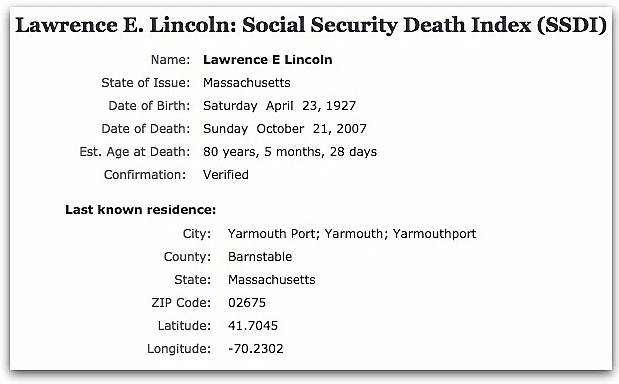 Lawrence's obituary gave me his age and hometown, but now, thanks to the Social Security Death Index record, I now have his exact birth and death dates, as well as his last known residence.
Genealogy Tip: Using the Social Security Death Index in conjunction with the other records in GenealogyBank can be a great way to find missing information about close family members, including exact dates of birth and death.
Related Articles:
(Visited 133 times, 1 visits today)