Introduction: In this article, Melissa Davenport Berry writes about Joseph Short's key invention during the Civil War: a knapsack that didn't wreck Union soldiers' backs and shoulders. Melissa is a genealogist who has a blog, AnceStory Archives, and a Facebook group, New England Family Genealogy and History.
Civil War soldiers carried a lot of baggage: an average of 50 pounds. The initial knapsack issued by the U.S. government was not designed to support heavy weight. Soldiers suffered severe injuries from the pressure of the straps. However, "necessity is the mother of invention," and one Salem, Massachusetts, man known for his innovative spirit designed a solution: the "Short Patent Knapsack."
Joseph Short received his first patent for his knapsack on 28 January 1862.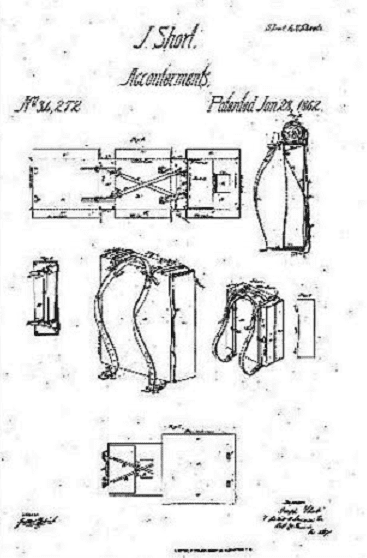 Short developed a truly ingenious invention. I researched diaries, personal letters, and newspaper articles, which all confirm just how invaluable these knapsacks were.
On 11 May 1863, Short sent a letter to President Abraham Lincoln along with testimonials supporting his knapsack invention:
"I respectfully submit for your examination the enclosed testimonials of my improved mode of Slinging Knapsacks."
Within a few months, the deal was in the bag! For example, Massachusetts Governor John Andrew ordered 14,000 knapsacks to be dispersed to the state's troops. By the following year, the Short Patent Knapsack was a universal staple for the Boys in Blue.
In April 1863 Short's invention had won the endorsement of the Executive Committee of the U.S. Sanitary Commission, whose member, Captain Benjamin Collins, wrote:
"Agreeably to your request the Executive Committee of the Commission have carefully examined and tested your knapsack, and would express the opinion that it combines more qualities of a good character than any knapsack previously seen by them. The method of supporting the weight without a breast-strap seems to be perfect, and the use of the supporting-straps for light marching purposes supplies a great desideratum [i.e., "something desired"]. We hope that Government may be induced to place such a knapsack as yours upon the back of every National Soldier."
Two months later, U.S. Surgeon General William A. Hammond also gave Short his endorsement, writing:
"…[I] am of [the] opinion that the mode of slinging is a very decided improvement over those heretofore in use."
Short ran this advertisement for his knapsack and included the endorsements from Collins and Hammond.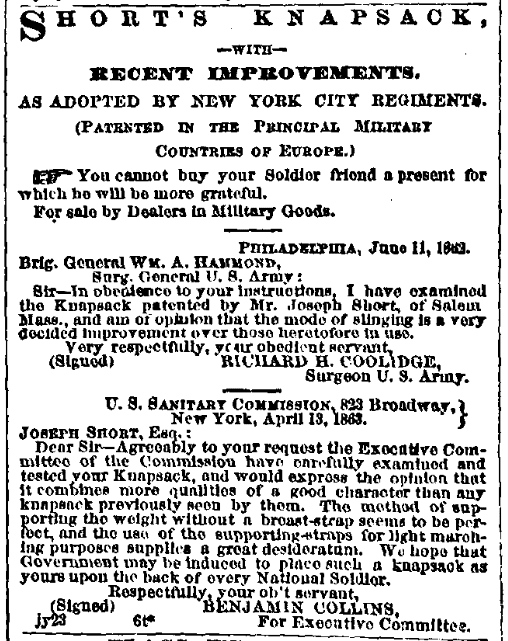 In July 1863 several soldiers from Camp E. V. Sumner in Wenham, Massachusetts, wrote Short praising his knapsack:
"We, the undersigned, have examined the knapsack invented by you, and beg leave to say that we consider it superior to any we have heretofore seen, and we believe its introduction throughout the army would be the means of alleviating the suffering caused by the wearing of the Regulation Knapsack."
Short included their endorsement in another newspaper ad he ran.
An entry from 28 March 1862 at Camp Meredith reads:
"Gloomy spirits were lifted by the arrival of the Paymaster. The boys under General Long Sol had previously voted to purchase Short Patent Knapsacks for two dollars each," and "Some 200 men plunked down their money and paid off their bill in full."
Colonel John P. Reynolds of the Salem Light Infantry recorded in his diary in May of 1862:
"Mr. Short had just manufactured a new knapsack that is justly celebrated for its many improvements from all others."
Captain Jacob Lombard was presented with Short knapsacks from the firm J. M. Beebe & Richardson Co. of Boston. He noted:
"The strapping is so adjustable to the shoulder allowing a much better ease than that of the government's [knapsack]."
He confirmed that all regiment commanders wanted to supply their men with the knapsack. The price agreed upon was "$2.50 per man."
The Massachusetts 55th Infantry under Captain Thomas F. Ellsworth, cousin to Joseph Short, was furnished with the knapsacks and "not one man fell from the ranks after a long march."
In October 1864, George Wingate, historian of the Twenty-Second Regiment of the National Guard of New York, noted that the regiment adopted Short's Patent Knapsack and stated it "was the only comfortable knapsack ever carried."
Addison A. Center, a young chap from Wenham, Massachusetts, was a drummer boy for the 40th Massachusetts Co. K and received a knapsack for Christmas. He wrote to Short from Virginia:
"The old knapsack was too heavy and hurt me so, but I marched here from Miner's Hill and found my new knapsack to be easy. I only wish it was a little smaller – do you make any smaller ones for drummer boys?"
Tragically, Center died of fever a year later. He was 17 years old.
The Short Patent Knapsack was displayed throughout the country and at the Paris Exposition in 1867. Joseph Short died in South America of yellow fever on 7 February 1869.
Many Short Patent Knapsacks remain in private collections and museums, and can be found offered in auction catalogs.
Today companies are reproducing the Short Patent Knapsack, which retails around $200. Bryan Okeefe of Salem purchased one from Nick Sekela of Butler, New Jersey. Okeefe asserts that Sekela "has managed to create an outstanding rendition of one of Short's finest pieces; proving once again that no reproduction is beyond reach."
Note: An online collection of newspapers, such as GenealogyBank's Historical Newspaper Archives, is not only a great way to learn about the lives of your ancestors – the old newspaper articles also help you understand American history and the times your ancestors lived in, and the news they talked about and read in their local papers. Did any of your ancestors serve in the Civil War? Please share your stories with us in the comments section.
Special Thanks for Contributing to This Article:
Theresa Embrey, Chief Librarian, Pritzker Military Museum & Library, Chicago
Ronald Guilmette
Lauri Short Jarvis
Laraine Daily Jones, Museum Collections Manager, Arizona History Museum
Michael J. McAfee, Curator West Point Museum
Sources & Further Reading:
Todd, Frederick P. American Military Equipage, 1851-1872: A Description by Word and Picture of What the American Soldier, Sailor, and Marine of These Years Wore and Carried, with Emphasis on the American Civil War. New York: Scribner, 1980.
Molly's Canopy. Killer Knapsacks
J. Sekela. Short's Patent Knapsack
"Record of the Service of the Forty-Fourth Massachusetts Volunteer Militia in North Carolina, August 1862 to May 1863." (Boston: Privately Printed, 1887), p. 223-232.
Reynolds, John P. Camp of the Salem Light Infantry (1868). Books & Pamphlets, 26.