Here's a 19th century mystery concerning a certain Matthew Brayton, who disappeared as a small boy, was held an Indian captive for 34 years, then one day reappeared.
But, was it really him?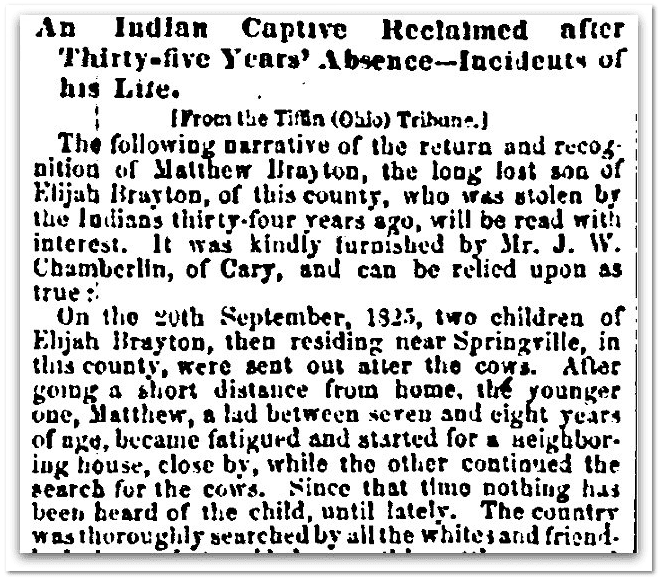 This is a gripping story about a young boy being kidnapped and then returning home as an adult. You will want to read all of An Indian Captive Reclaimed after Thirty-five Years' Absence – Incidents of his Life in the Evening Post (New York City, New York), 3 December 1859, page 1.
On 20 September 1825 Matthew Brayton set off from home to gather the family's cows. He was about eight years old—and wouldn't be heard from again for 34 years. Kidnapped by the Indians, he was one of thousands of Indian captives in America from the 17th to 19th centuries.
Imagine his family's joy when he finally turned up again!
A great, heartwarming story of a missing boy finally returned home, except—it apparently isn't true.
Digging deeper into genealogy records we find Matthew Brayton's obituary and even his photograph—and the true story comes to light.

Matthew Brayton's old obituary, printed in the Salem Register (Salem, Massachusetts), 23 February 1863, page 2, gives us the rest of the story.
After returning from his long Indian captivity, Matthew Brayton lived with his supposed father, Elijah Brayton, for the next nine months. Then in June 1860 he told his "father" that he really wasn't Matthew Brayton at all. Was this a 19th century scam? Perhaps—but Matthew Brayton didn't give any further details of why he had lied about who he was.
Perhaps he simply didn't want to "manage the farm that Mr. Brayton had promised to give him." After telling the Braytons the truth, Matthew left their farm and joined the 4th Michigan Cavalry as "Matthew Brayton." He died a few years later in 1863 in Murfreesboro, Tennessee.
Here is a photograph of him in uniform.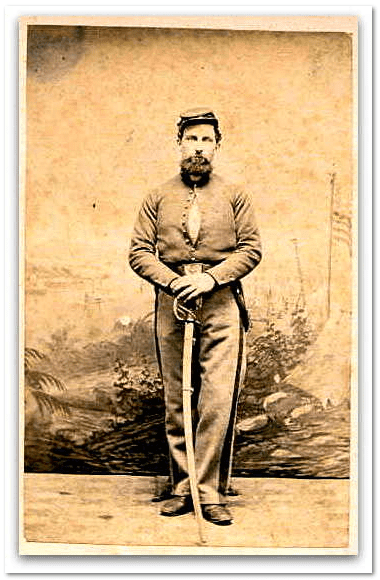 Genealogy Search Tip: Just because something is in print doesn't make it true.
Don't stop at the first story you find about your ancestor. Keep digging and make sure you uncover all of the facts.
Find the stories of your family's history. Document them, preserve them and pass them down.
(Visited 714 times, 1 visits today)