Introduction: In this article, Melissa Davenport Berry concludes the bizarre story of an American who began digging up a graveyard in England in 1923 looking for the bones of Pocahontas. Melissa is a genealogist who has a blog, AnceStory Archives, and a Facebook group, New England Family Genealogy and History.
Today I conclude my story about the Chicago archeologist Edward Page Gaston, who dug up hundreds of graves in 1923 in Gravesend, England, to search for the remains of Pocahontas. A Native American from the Powhatan people, she married John Rolfe of Jamestown, Virginia, traveled with him to England in 1616, and was buried in the parish church at Gravesend on 21 March 1617.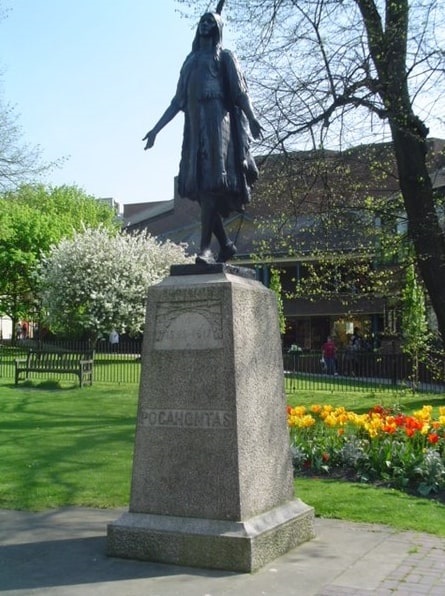 In addition, I add two more instances when Americans wanted to return the bones of Pocahontas to America.
Gaston, widely scrutinized, created great indignation in the village of Gravesend – which spread across the globe.
Here are a few more passages from the Dallas Morning News article I featured in the first two parts of this story (see links at the end of this article).
This article reported:
He [Gaston] claims that he and his associates are not working on sacred and carefully marked graves, but on nothing more than a sort of charnel house of mixed up bones of people and animals that were thrown hastily there two centuries ago after the Gravesend Parish Church was overrun by fire…

"The fact that I secured written permission from all the descendants of the Princess, both in America and Great Britain, and had the approval of the British Home Office, to exhume the remains, will absolve me from any charges of private or mercenary designs," says Mr. Gaston. "The enterprise has cost me many years of effort and much money, and I intend to see it through in spite of misguided and unreasoning protests."
There is no evidence about how much backing Gaston received from the many descendants of Pocahontas. Plus, he lied about his own lineage (he claimed to be one of her descendants), which further discredits him.
He clearly disrespected the wishes of many not to disturb the graves of their ancestors. As far as the souls put to rest in Gravesend, he showed total disregard.
However, this is not the only attempt to recover the bones of this great historical figure, which seemed to be coveted by many!
I found an article in the Richmond Times-Dispatch from 1950 entitled "Historical Societies Work to Bring Back Pocahontas to Virginia" written by Helena Lefroy Caperton – the subject of my next "Jamestown Who's Who" series. Her family was responsible for the 1914 Pocahontas memorial in St. George's Church: two stained-glass windows.
Caperton noted that the Rev. Dauton-Fear, rector and rural dean of St. George's Church, believed the resting place of Pocahontas was threatened. He stated the following:
"The cost of maintaining such a building is entirely beyond the few people who continue to worship there. We cannot make bricks without straw."
The article concluded: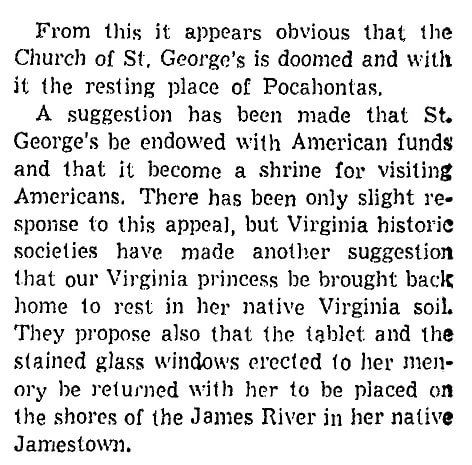 This obviously never happened, and Pocahontas is still resting in peace as well as the memorials at Gravesend.
In 1975 Rev. Colin Pilgrim, the vicar of St. George's Church in Gravesend, put his foot down on any efforts to unearth Pocahontas' bones to bring to America's Bicentennial celebration.
The Dallas Morning News recorded the protests by Reb. Pilgrim, who was aware there was a resolution being introduced by the U. S. House of Representatives calling for Pocahontas to be returned for America's celebration.
This article reported an interesting exchange between Rev. Pilgrim and Rep. Whitehurst, sponsor of the congressional resolution to return Pocahontas' remains:
"I think it would not be her wish," the Rev. Colin Pilgrim said. "She is on record as being very reluctant to return to Virginia."

…Told of Rev. Pilgrim's remarks, a spokesman for the resolution's sponsor, Rep. G. William Whitehurst, R-VA, said, "It's interesting that he says she was so reluctant to leave England because she died as she was about to leave for America."

…In a pamphlet written for church visitors, the Rev. Pilgrim quoted a member of King James I's court as saying the princess was "sore against" returning to the colonies.
As much as I agree with Rev. Pilgrim – to leave Pocahontas in peace – I do not buy the hearsay from some member of King James I's court that she didn't want to return to America.
Note on the header image: a portrait of Pocahontas engraved by Simon van de Passe in 1616. It is the only known representation of her made during her lifetime. Credit: National Portrait Gallery; Wikimedia Commons.
Related Articles: