Most genealogists use newspaper birth notices, marriage announcements, and obituaries in their family history research—but there are many other good sources of family information in newspapers, such as tax lists.
For example, the town of Tamworth, New Hampshire, took out this ad in the Sun (Dover, New Hampshire), an area newspaper, in 1816. It was an advertisement to publish their local real estate tax list as a public notice that taxes were due, who the taxpayers were and how much each person owed. In addition to all that, this list describes the property owned and the buildings thereon.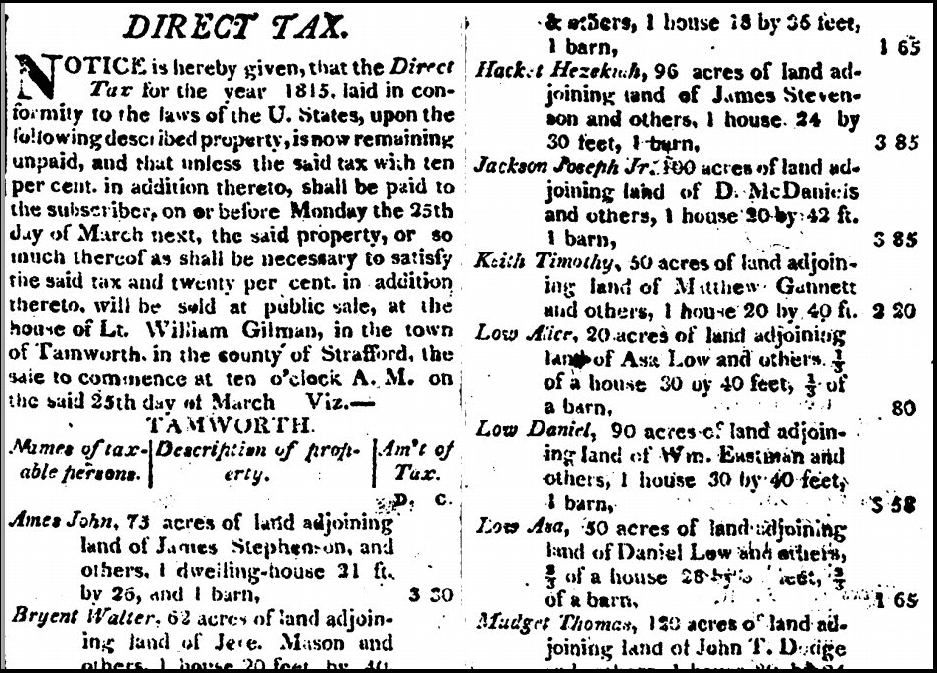 Click here to see the original newspaper article: http://bit.ly/1lDvFzx
This is a great find for family historians.
For example: we see that John Ames owned "73 acres of land adjoining land of James Stephenson, and others."
That is good—now we know the name of one of his neighbors. This is a helpful clue that could come in handy, since it is very true that young men and women did marry the girl/boy next door.
The property description continues, stating that Ames had "1 dwelling-house 21 ft. by 26 [feet], and 1 barn."
Amazing—now we can really start to visualize life there in Tamworth.
The dimensions of each home are given, and we are told if each family had a barn or other out buildings on their property.
John Ames' home was 21' x 26' and he had a barn, all on 73 acres of land.
Andrew Brier had 30 acres of land, a 15' x 16' home and a barn.
Isaac Medar had 100 acres of land, a 30' x 40' home and a barn.
You can quickly get a sense that they lived a rural life there in Tamworth. They lived on large parcels of land. We know how big the homes were. We can see whether or not they had a barn or other buildings on the property. Notice too that both men and women are listed as land owners.
Every landowner in the town is listed.
The list of property owners is so long it is printed on pages 3 and 4.
Bottom Line: These published tax lists are an extra census of the town, with the bonus that it describes each home, other buildings and acreage owned.
Related Articles about Tax Records for Genealogy:
[bottom_post_ad]