Introduction: In this article, Melissa Davenport Berry continues the astonishing tale of Stephen Hopkins, a man who was shipwrecked in Bermuda, survived near-starvation in Jamestown, then later came back to the New World on the "Mayflower." Melissa is a genealogist who has a blog, AnceStory Archives, and a Facebook group, New England Family Genealogy and History.
Today I continue with the story of the Sea Venture shipwreck of 1609, as told by historian and author Edward Rowe Snow (1902-1982), whose ancestor Stephen Hopkins (1581-1644) was a passenger. (Passenger list for the Sea Venture: Americana-Archives) After the passengers and crew were marooned on Bermuda (uninhabited at the time), Hopkins was later charged with mutiny and sentenced to death.
However, Hopkins dodged execution, made it off the island (with the rest of the group), endured the hardships of Jamestown, returned to England, and later came back to the New World onboard the Mayflower. There are many Hopkins scions today who can claim membership to both the Jamestowne and Mayflower Societies.
Snow included the shipwreck of the Sea Venture in one of his "Sea and Shore Gleanings" articles, this one entitled "Early Wrecks of Bermuda."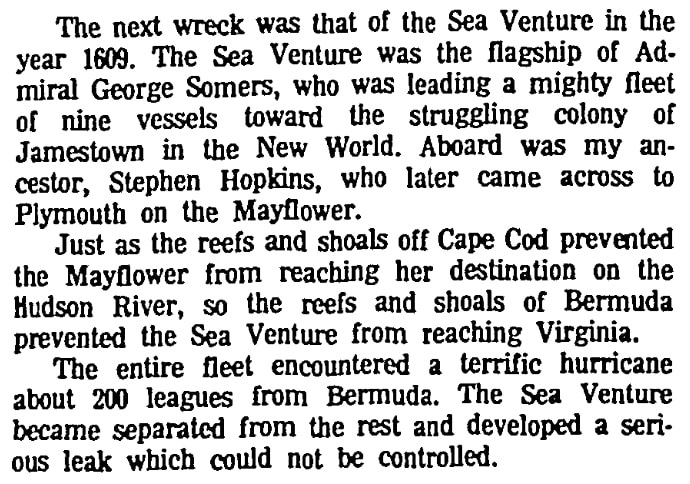 In this article, Snow included a first-hand account of the hurricane:
A passenger, William Strachey by name, described the incident:

"Wind and seas were so mad as fury could make them. For mine own part, I have been in storms before, as well upon the coast of Barbary and Algiers in the Levant and in the Adriatic Gulf.

"Yet all that I had ever suffered gathered together might not hold comparison with this. There was not a moment in which the sudden splitting, or instant overturning, of the boat was not expected.

"Howbeit this was not all, it pleased God to bring a greater affliction yet upon us, for in the beginning of the storm we had received a mighty leak. And the ship, in every joint almost, having spued out her Okam [caulking], before we were aware, was grown five foote suddenly deep with water above her ballast, and we almost drowned within, while we sat looking when to perish from above."
You can read more at "A True Reportory."
In Part 1 of this story, I featured another article from Snow, this one entitled "Bermuda Adventure," that I referenced to tell the beginning of the Bermuda shipwreck. I return to that article now for the conclusion of this tale.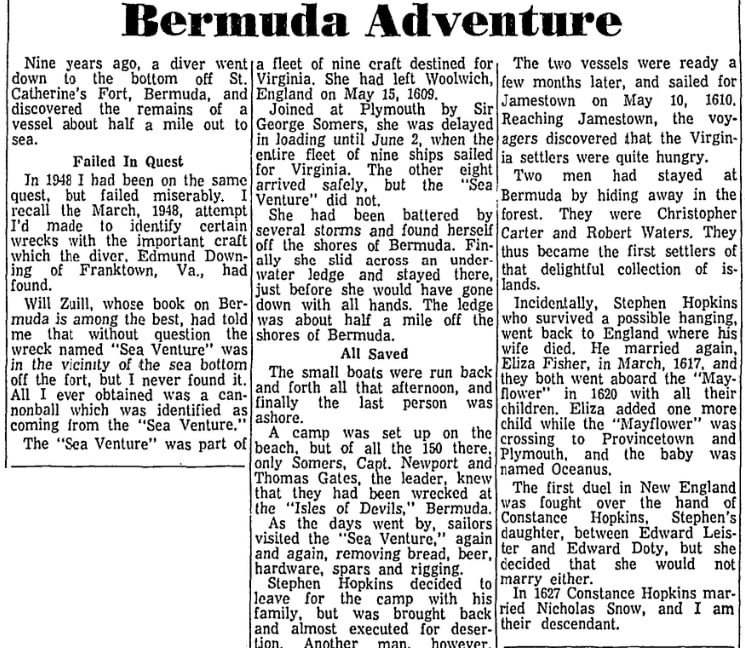 In this article, Snow wrote:
The weeks went by and finally it was decided to construct two sloops from the timbers of the "Sea Venture," leaving a shell of the [shipwrecked] craft, which soon slid off the [underwater] ledge into deeper water facing the beach.

The two vessels [Deliverance and Patience] were ready a few months later, and sailed for Jamestown on May 10, 1610. Reaching Jamestown, the voyagers discovered that the Virginia settlers were quite hungry. [The Starving Time]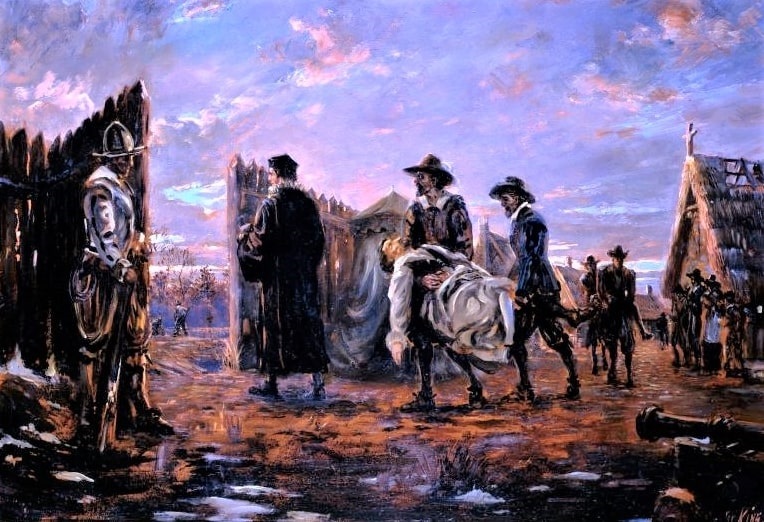 Two men had stayed at Bermuda by hiding away in the forest. They were Christopher Carter and Robert Waters. They thus became the first settlers of that delightful collection of islands.

Incidentally, Stephen Hopkins, who survived a possible hanging, [went first to Jamestown and then] went back to England, where his wife died. [Hopkins had left his wife and three children in England when he departed for Jamestown on board the Sea Venture in 1609. His wife, Mary nee Kent, died and was buried in May 1613. Their children Elizabeth (died about 1620), Constance, and Giles were placed in the care of Thomas Syms. Sources believe Hopkins stayed in Virginia until 1616 and returned to England on the same ship which brought another survivor of the Sea Venture, John Rolfe, and his wife Pocahontas/Rebecca.]

He [Hopkins] married again, Eliza Fisher, in March 1617, and they both went aboard the "Mayflower" in 1620 with all their children [Constance and Giles from his first marriage, and their son Damaris]. Eliza added one more child while the "Mayflower" was crossing to Provincetown and Plymouth, and the baby was named Oceanus.

The first duel in New England was fought over the hand of Constance Hopkins, Stephen's daughter, between Edward Leister and Edward Doty, but she decided that she would not marry either.

In 1627 Constance Hopkins married Nicholas Snow, and I am their descendant.
Some famous descendants of Stephen Hopkins: signer of the Declaration of Independence Robert Trent Paine; Brigadier General Major Leonard Wood; Civil War leader featured in the film Glory, Colonel Robert Gould Shaw; writer Tennessee Williams; and famous entertainers including Linda Ronstadt, Paul Giamatti, and Ethan Hawke.
Many experts believe William Strachey's narrative of the wreck of the Sea Venture was the inspiration for Shakespeare's play The Tempest, and some believe the character Stephano is based on Stephen Hopkins. Andrew Buckley, a direct descendant of Hopkins, created a documentary Stephano: The True Story of Shakespeare's Shipwreck.
Stay tuned for more Hopkins and family adventures in Plymouth Colony…
Explore over 330 years of newspapers and historical records in GenealogyBank. Discover your family story! Start a 7-Day Free Trial
Note on the header image: "Wreck of the Sea Venture off Bermuda, 28th July 1609." Courtesy of  Christopher M. Grimes, Bermudian artist.
Related Article:
Here are two links to explore: