My cousin Marion Morgan Kemp (1862-1963) lived a comfortable life with villas in New York City, Rome and France, where she died.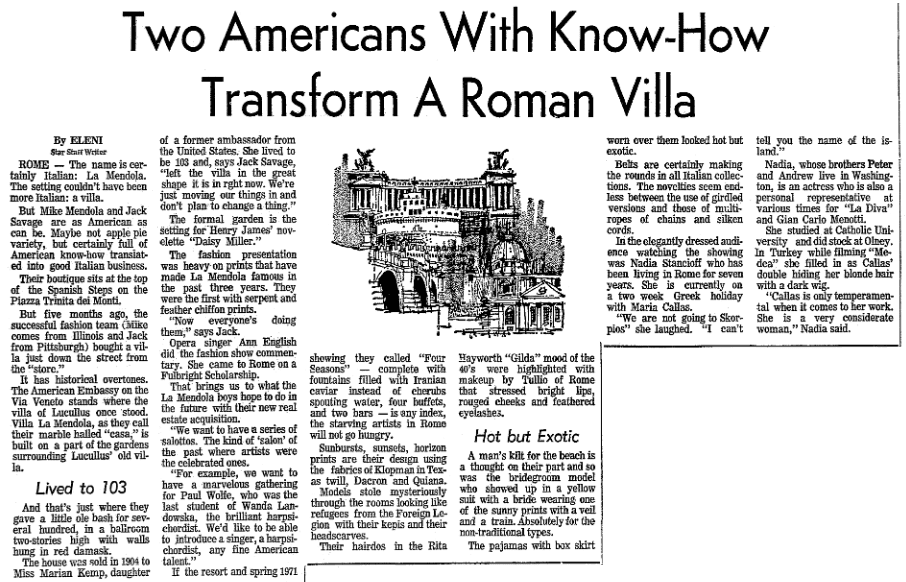 Her "simple" home in Rome was at 22 Via Gregoriana.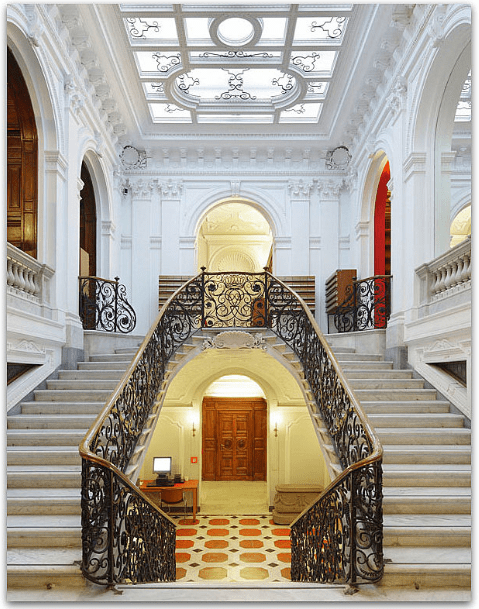 I decided to search GenealogyBank's Historical Newspaper Archives, using the street name, to see what articles I could find about the street and neighborhood where she lived in Rome.
I quickly found nine articles that seemed to be about her – but the information wasn't quite right.
Where will this mystery take us?
Will we find a new relative or are these articles actually about my cousin?
What are the clues?
In article after article she was named "Marian Kemp." OK, that was pretty close, but we know my cousin was Marion with an "o."
Multiple articles like the one above described her as "the daughter of a former ambassador." I can see how this confusion might have happened.
Her villa, on the Via Gregoriana in Rome, became the residence of Myron Taylor, the U.S. Representative to the Vatican when the Allies retook Rome in 1944. She requested him to use her home as his residence and "had known [him] for many years."

Several of the articles referred to her as an heiress whose fortune came from the "Morgan family." We are not related to the Morgans so perhaps there really was another person named "Marian Kemp" living on the Via Gregoriana in Rome, the daughter of a U.S. Ambassador, who was a Morgan family heiress.
I can also guess how this misunderstanding crept into multiple articles. My cousin's middle name was "Morgan" – and while she is not related to the J.P. Morgan family, the family had intermarried with the equally well known Vanderbilt family.
Another article mentioned that the villa had been the home of a Russian count. Now, that fact had a familiar ring to it.
I knew that Marion Morgan Kemp's home had previously been owned by "the Russian count Grigory Sergeievich Stroganoff [1829-1910] who bought the building in 1881 and converted it into a grand residence." (Source: Bibliotheca Hertziana.)
At first I was skipping over and rejecting these articles as not pertaining to my family because the facts didn't completely fit with our family history – but one by one the clues from each article started to fit together, and it became clear that these articles really were about my relative.
When I saw the subheading printed in the Evening Star article above, stating that she "Lived to 103," I knew it had to be her. So I went back through each of the articles to see what more I could learn about her. Several of the newspaper articles included interior photographs from her villa.
Here is an important clue I need to follow up on: her "formal garden is the setting for Henry James' novelette "Daisy Miller." I'll have to read that book.
Hmm…
Marion Morgan Kemp died 18 September 1963. I was already working at the Family History Department of the Ferguson Library by then.
I remember when an elderly woman came into the library and introduced herself by telling me that she was a "Kemp" and wondered if we were related. I asked her where her family was from – and she told me New York City. I responded that no, our family was from Connecticut.
A rookie mistake.
As a "newbie" genealogist I knew about our Kemp family – at least, all 19 of them that I had charted in our family tree at that time. Since then I've worked through the family tree more, made the connections and expanded our tree to tens of thousands of relatives from around the world – and of course found Marion Morgan Kemp and the cousins in New York City.
I've always wondered if the woman who had stopped by the library that day was Marion Morgan Kemp.
Probably not, but it would have been nice to have met her.
Now, through the newspaper archives of GenealogyBank, I can "meet" Marion Morgan Kemp and learn more about my cousins and the lives that they lived.
Related Articles: