Introduction: In this article, Scott Phillips shows how tiny clues in old newspapers can lead to big family history discoveries. Scott is a genealogical historian and owner of Onward To Our Past® genealogy services.

Every genealogist I have ever met seems to be a combination of Perry Mason, Jessica Fletcher, Columbo, Christine Cagney, Mary Beth Lacey, Thomas Magnum, and Sherlock Holmes—searching everywhere for clues, following each one (no matter how small or seemingly insignificant), and putting together the strongest case they can.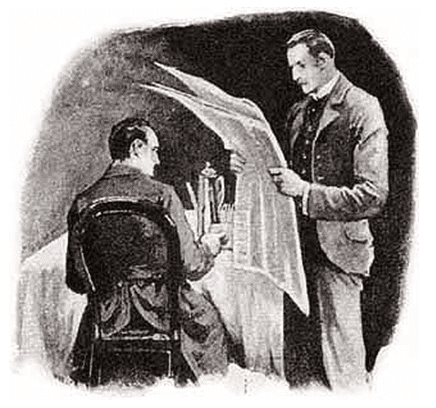 One of my favorite places to hunt for clues in my genealogy and family history is the online collection of GenealogyBank's Historical Newspaper Archives. There always seems to be some new discovery for me to delve into in order to make our family tree more complete.
Sleuthing for Clues in the News
Sometimes these genealogical clues are truly tiny—but when pursued, can lead to valuable information and additions to our family trees. Such was the case when I came across a small, three-sentence article in an 1897 newspaper.
Having already identified that I had a couple in our family tree of Joseph and Mary Lisy, I decided this was worth investigating further. It certainly seemed to have all the elements of a highly interesting genealogy story. So my work began.
Investigating Joseph & Mary Lisy
In another Ohio newspaper the very next day was an even shorter article, this one containing only one sentence.
Now I had some nice pieces of information to further my ancestry research. First I learned that the court that heard this case was the Probate Court, and, second, that this Mary Lisy was a patient in a facility named Cleveland State Hospital.
I began to look for Mary Lisy in the Census records of the time and sure enough, in the 1900, 1910, 1920, and 1930 United States Census records is listed "Lisy, Mary, Inmate" at the Cleveland State Hospital for the Insane. I then continued to look in GenealogyBank's newspapers to see if there might be something I could learn about the institution itself.
My initial archive search returned hundreds and hundreds of search results. Many, like this 1909 newspaper article, detail terrible conditions and chronic overcrowding in the Cleveland State Hospital.
Then in the 1940 United States Census returns I discovered Mary Lisy, who—while still listed as an "inmate"—was now at Hawthornden State Hospital (Insane) and had been at this facility at least since 1935. While I was not familiar with this facility from any of my prior research, it didn't take me long to find this 1941 newspaper article, which contains a lot of good information on the system of insane asylums in Ohio, including Hawthornden.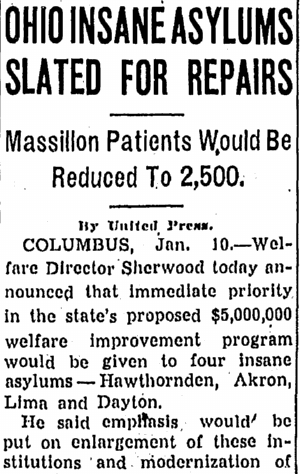 Genealogy Sleuthing Stumbling Block
Then I had one of those "uh-oh, I knew this was going too smoothly" moments in my genealogy research. As I continued researching Joseph and Mary Lisy, I discovered that there were at least two men in Cleveland named Joseph Lisy who had almost identical birth years. Both also happened to have married women with the given name of Mary, who also had similar birth years. To make this matter even more confusing, all these folks were Bohemian as well.
One of the couples seemed to have had a fairly "normal" life, but the other couple had a darker life together—including this Mary having been in an asylum for decades, as shown in this 1901 newspaper article. This article detailed a court case in which Joseph Lisy was found guilty of failing to provide for his four minor children and was sentenced to the workhouse.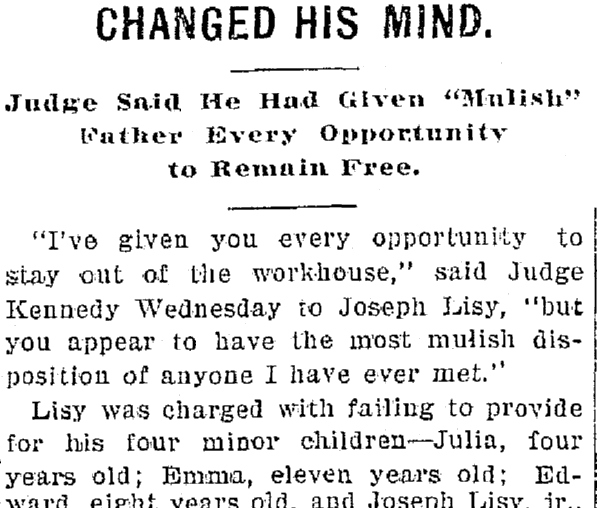 This complication of multiple Joseph and Mary Lisy couples was a great learning experience for me and a good example of the need to get as much definitive documentation as we can find to ensure that our family trees are true and accurate.
Expanding My Genealogy Search
I branched out my research to include records from Cuyahoga County, the Ohio Probate Court, the Ohio Department of Mental Health & Addiction Services, several local genealogical and history organizations, the diocese of Cleveland, several cemeteries, and, much to my luck, a cousin who was also struggling with this same dilemma. As they say "two heads are better than one," and we all know this is certainly at its truest when it comes to genealogy and family history research.
It took some time to sift through all of the death listing for each Mary Lisy that we could find, but that is what we did. As we winnowed them down, one was discovered from 1960 that placed her death at the "Millcreek Psych. Ctr" in Knox County, Ohio. Of all the death listings for women named Mary Lisy, after the 1940 Census, this was the only one with any hint of an institution as the location of her death. It was from 1960, which means Mary had lived in Ohio insane asylums for over 60 years of her life, which was a sobering thought all by itself. Both my cousin and I agreed this was the most promising lead we had, so it was picked to be our first to pursue.
Then almost all at once the genealogy research started falling into place like dominos.
Pieces of the Family Mystery Come Together
Our first break came when a very helpful priest in the diocese provided a copy of the parish register for the marriage of Joseph and Mary, which gave us her maiden name of Bolf (Wolf).
Second, the archivist from the Cuyahoga County Probate Court sent me the files on the insanity hearings for Mary Lisy. Pages and pages of information—then in about the middle, penciled in the margin of one of the records was this: "nee Wolf."
My cousin called to say that when she was speaking to her husband about this mystery, he mused aloud about why Mary would have been transferred to Hawthornden—which was not in Cuyahoga County, but rather in Summit County, Ohio. She said this didn't click right away, but then like a bolt of lightning it struck her.
She recalled that the only children of Mary Lisy who were still alive in 1960 had been listed as living in Cuyahoga County, according to the 1940 Census. However, there was a cemetery listing in one obituary for a cemetery in Summit County, Ohio. The obituary for Edward Votypka was in a 1944 newspaper and nicely mentioned the cemetery by name.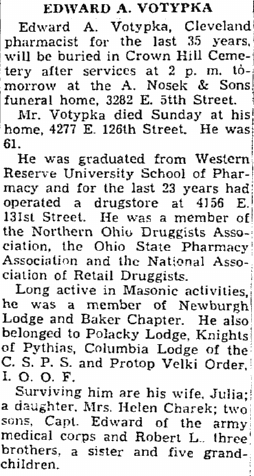 It was, as she said "a tenuous connection," but she placed a call to the cemetery. There a wonderfully helpful staff member was able to verify that a family member had purchased 12 graves for a family plot. Not only were several of the children and other family members of Mary Lisy interred there, but one grave was the final resting place of Mary Lisy herself!
We are now tidying up the rest of our genealogy research on Mary and Joseph Lisy. And to think—this all came about from a three-sentence article in an 1897 newspaper!
What is the best and biggest genealogy and family history discovery you have made from a newspaper article? I'd love to learn about them so please leave your story in the comments here. Thanks for reading and Godspeed in your genealogy sleuthing!