Introduction: Gena Philibert-Ortega is a genealogist and author of the book "From the Family Kitchen." In this guest blog post, Gena uses old newspaper articles—and a friend's photo collection—to reminisce about the 1964 World's Fair.
Have you been to a World's Fair? Did you or a family member go to the 1964 World's Fair in New York? World's Fairs, also known as World Expos, originated with the first fair held in 1851 in London. That fair, known as "The Great Exhibition," was visited by an estimated 6 million people—and it was just the beginning of great events that showcased countries, industries, and cultures.
The 1964 World's Fair was the largest one held in New York, which also hosted the World's Fair in 1853 and 1939. The fair was the brainchild of businessmen who had fond memories of attending the 1939 fair and wanted that same experience for their families.*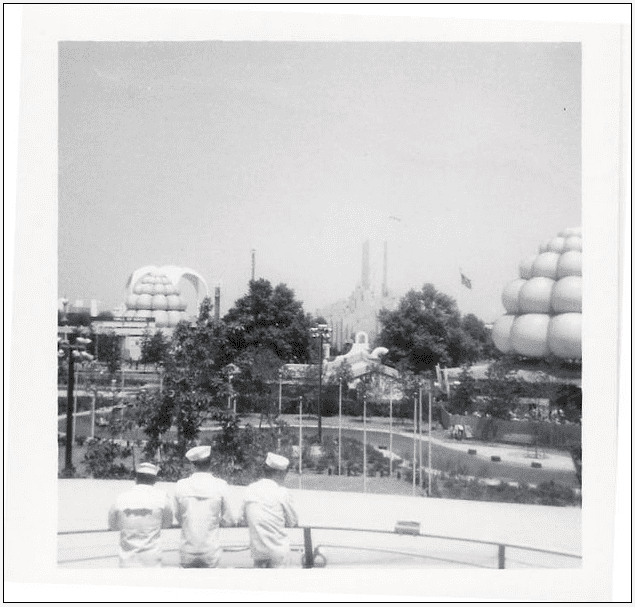 Tourism
The World's Fair was not only an event in and of itself, but out-of-state families may have used it as an opportunity to tour other nearby American sights. In this Louisiana newspaper advertisement, bus tours of nearby attractions like Washington D.C., Monticello, and Canada are advertised. For example, a friend of mine who went to the 1964 World's Fair with his family also visited New York's Central Park and the newly renovated John F. Kennedy International Airport. The World's Fair would have been a good excuse for families to drive cross-country and visit several famous attractions to make it a memorable vacation.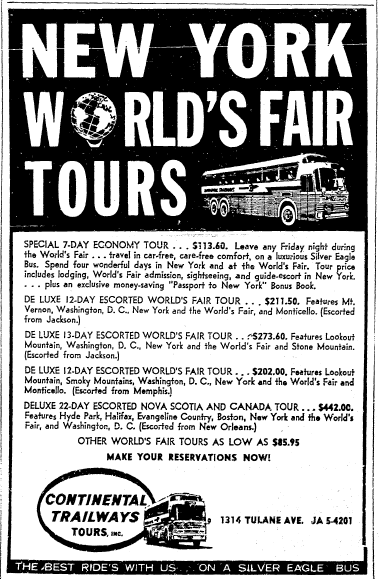 Futurama
Some of this World's Fair exhibits showed visitors what life would be like in the future. Glimpses they could have witnessed included the IBM building with its technology demonstrations, including a computer quickly translating Russian text to English. General Electric provided a nuclear fusion demonstration, and General Motors provided attendees with a vision of what the future would look like in their Futurama show. And not only could families take a glimpse into the future, they could also experience it firsthand with fair rides such as the monorail.** In some ways the fair was a combination of The Jetsons meets Disneyland (three exhibits marked the debut of what would be future Disneyland attractions).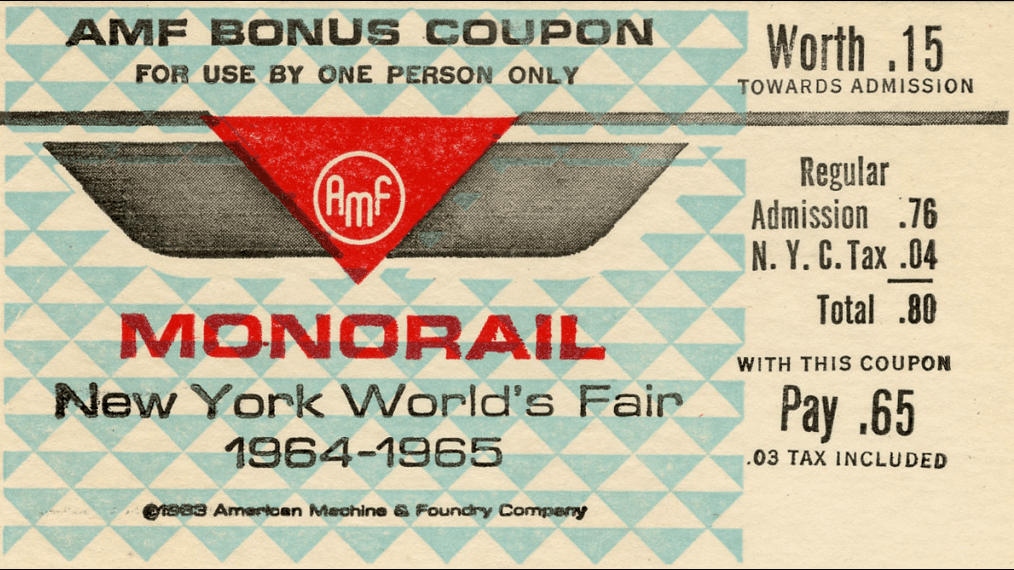 World's Fair TV Special
Not everyone could attend the World's Fair—but even those who couldn't travel to New York may have experienced it from the comfort of their homes, by watching it on television. This newspaper article about a World's Fair TV special remarks that Helovision would be used, a system that allows footage to be filmed from a helicopter, showing the entire fair and its attractions.
1964 World's Fair Memorabilia
Maybe you're too young to have experienced the 1964 World's Fair? Maybe you didn't have the opportunity to attend? Chances are that you may have had a later (even a very recent) experience with retired exhibits or materials from the fair. Aside from some of the structures still remaining at the site of the fairgrounds in Flushing Meadows-Corona Park in New York, some structures, such as the Unisphere, have been immortalized in movies including Men in Black, Iron Man 2 and Captain America.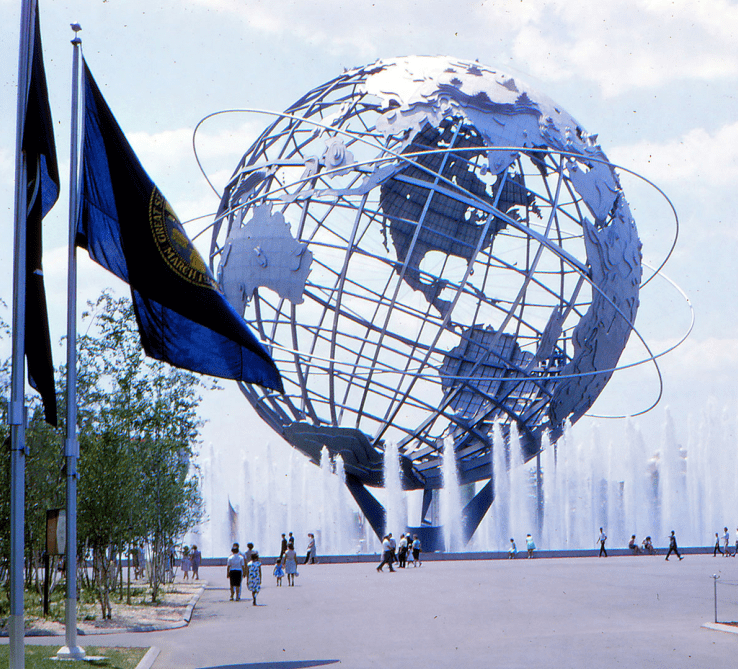 Other structures and displays from the 1964 World's Fair can be found throughout the United States today. Been to Disneyland in Southern California? If you have and you've ridden on "It's a Small World," you've experienced a World's Fair attraction. "Great Moments with Mr. Lincoln," another Disneyland attraction featuring an animatronic Abe, was originally featured in the Illinois State Pavilion at the fair.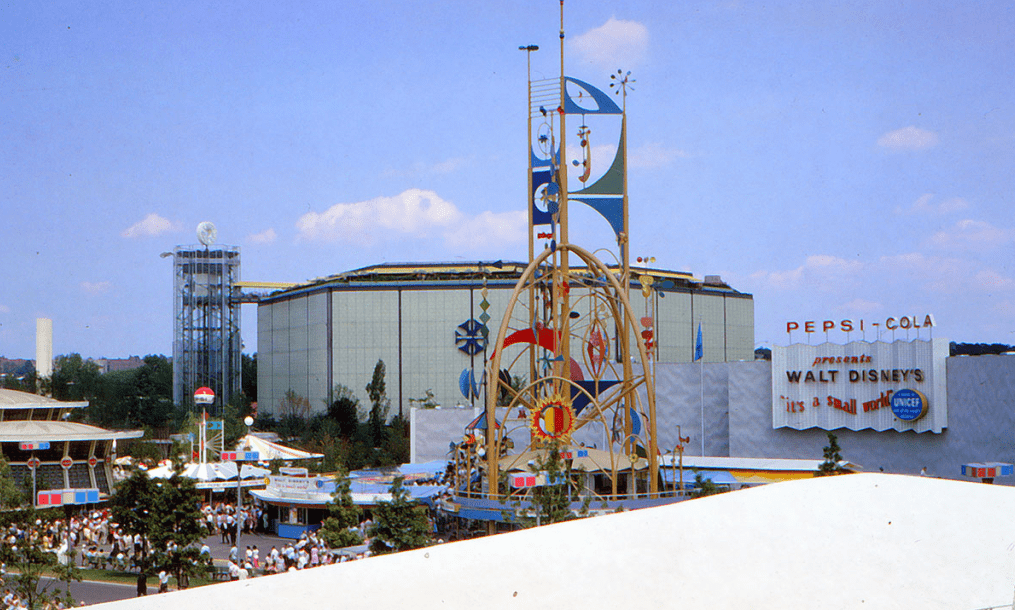 Dinosaurs Popular
Judging from the old newspaper articles I've read about the fair, and the family photos I've seen, it would seem that the Tyrannosaurs Rex found in the Sinclair Dinoland exhibit was the most popular dinosaur to pose by.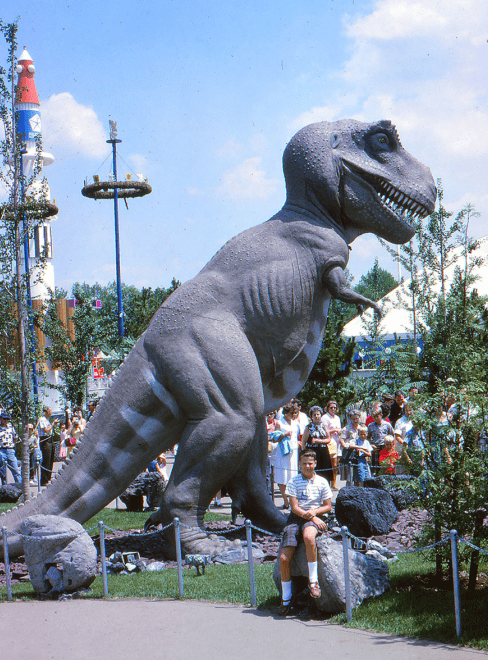 This pre-fair newspaper article even encourages photographers to take a "wide angle lens for full length shots and a telephoto lens for portraits."
Those dinosaurs from Dinoland can still be seen today, found in several states: T Rex and Brontosaurus are found at the Dinosaur Valley State Park in Texas; the Cleveland Zoo has Ankylosaurus; and Stegosaurus can be found at Dinosaur National Monument in Utah, just to name a few.
Another Popular Exhibit
Dinosaurs aren't the only exhibits that found a permanent home elsewhere. The US Royal Tire Ferris Wheel currently resides in Allen Park, Michigan, as a static display.
Old newspapers, such as GenealogyBank's online Historical Newspaper Archives, are a great place to look for articles that can help enhance your family's story of going to the World's Fair.
Genealogy Tip: When searching GenealogyBank for events your family attended, utilize the keyword search and indicate the words that you want the search to include—and even the words to exclude. Then narrow your search by a date or date range as well as a place. However, in the case of a large event like the World's Fair, it would be featured in newspapers all over the United States—so don't limit the location for your initial search.
To learn more about the 1964-65 fair, also check out the book The 1964-1965 New York World's Fair by Bill Cotter and Bill Young.
—————–
* The Story of the 1964/1965 New York World's Fair by Bill Young on nywf64.com. Accessed 20 May 2014. http://www.nywf64.com/fair_story01.shtml
** You can read more about the fair's attractions at the nywf64 website: http://www.nywf64.com/index.html
[bottom_post_ad]
(Visited 596 times, 1 visits today)