A great find.
This isn't just any Family Bible – it turned out to be the Family Bible of my cousin Sarah Jane Card and her husband Michael Patrick Mallon.
I didn't know that when I located this Bible in a library in Mystic, Connecticut. Now I have the family history pages digitized and added to our online family history.
The front title page of this Bible does not have a publication date on this page or on the verso.
The same is true for the New Testament title page.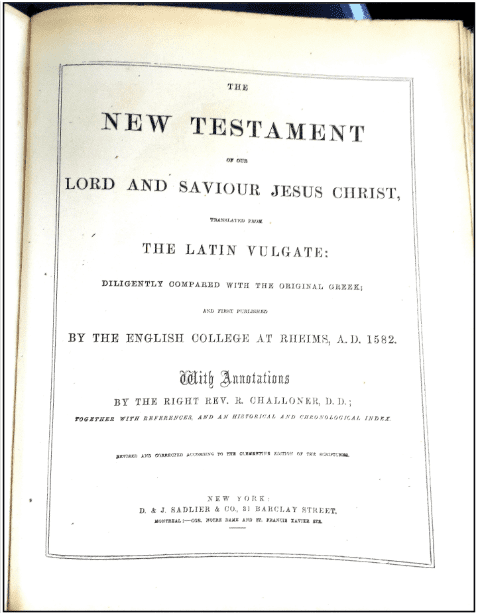 The publication dates are important as a baseline for determining the accuracy of the handwritten family information in the Bible.
In this case we have something even more important – a signed and dated inscription "Oct. 10th 1881" on one of the blank pages at the front of the Bible.
This is likely the date that the couple began using this as their family Bible.
This page gives information on their marriage – and here is a key piece of information. This inscription says that he was "of Londonderry, Ireland." It is always difficult to find exactly where Irish immigrants came from in Ireland.
It also gives information on the marriage of George Willard Sherman and Helena M. Barry. More valuable information – he is also my cousin.
This page gives us additional information – Michael Mallon's date of birth, "July 25th 1844."
Invaluable.
Examine old family Bibles for every page of handwritten genealogical information.
Genealogy Tip: Family Bibles are invaluable. They are a one of a kind family record. Take the time to preserve them – and scan each page of documentation, including the title pages (both sides) and handwritten family genealogical information, and upload these images to your online family history website.
Related Articles: