Introduction: In this article, Mary Harrell-Sesniak searches old newspapers to find puzzles that challenged our ancestors – and provides the answers so that you can play and see if you're correct! Mary is a genealogist, author and editor with a strong technology background.
I'm starting to realize there is a link between genealogy and puzzle solving, and it turns out I'm not alone. This article from a 1938 Texas newspaper reports that genealogy research is like solving a crossword puzzle.
So in the spirit of genealogical puzzle solving, I decided to query GenealogyBank's Historical Newspaper Archives to see what puzzle solving was all about in the past.
First Crossword Puzzles
If you only browse the Web, you'd believe that crossword puzzle solving originated with Arthur Wynne of Liverpool when he published his grid-like puzzle on 21 December 1913. He didn't copyright it, so as the fad took over the world it was copied far and wide.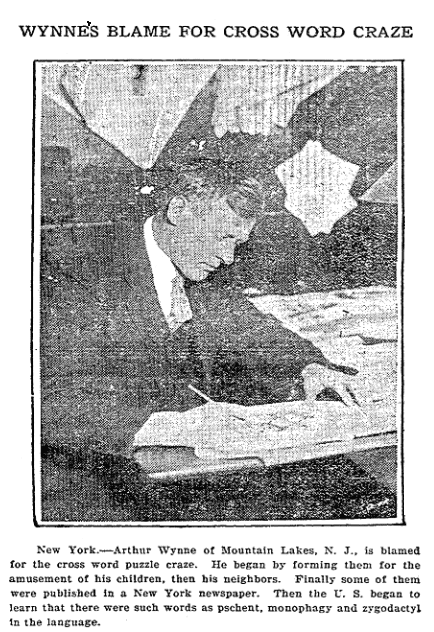 However, the truth is that crossword puzzles started thousands of years earlier.
Ancient Puzzles
Evidence of ancient puzzles starts from around 2000 B.C. with the Phaistos Disc from a Minoan palace in Crete, discovered in 1908.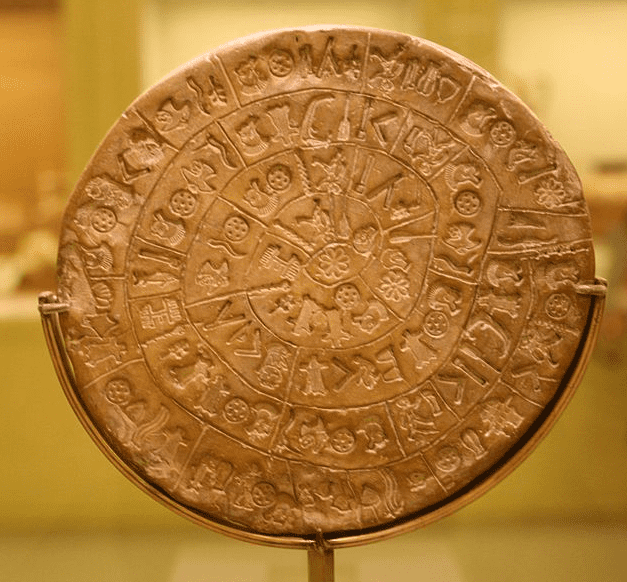 Made out of fired clay, the puzzle contains a spiral of stamped symbols. Some argue that it was not a word puzzle, but a type of movable type. See the Wikipedia article at https://en.wikipedia.org/wiki/Phaistos_Disc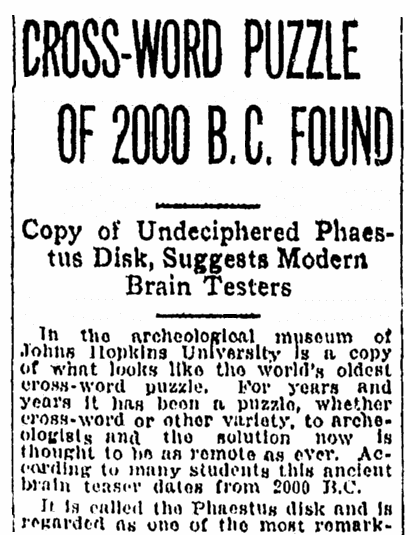 19th Century Puzzles
During the 19th century, some newspapers published activity pages with varying types of word puzzles.
Many are quite different from what challenges us today. In addition to anagrams, you'll find acrostics and other types of word puzzles.
In this 1872 New Hampshire newspaper article, a series of puzzles were published – a regular feature of the newspaper. Readers would submit their answers by mail and after two weeks, the correct answers would be published. Here we present two of these puzzles, with the answers following. Have fun challenging yourself as your ancestors did!
Puzzle No. 528: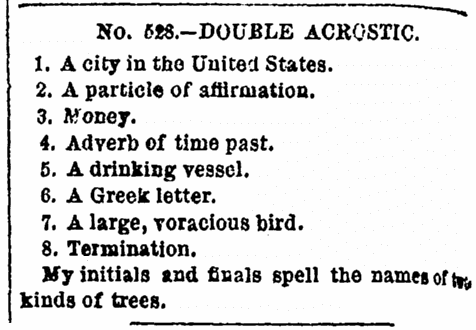 Answer to Puzzle No. 528: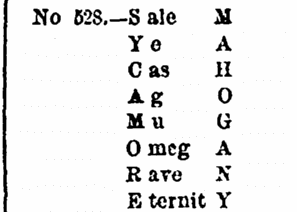 Puzzle No. 529: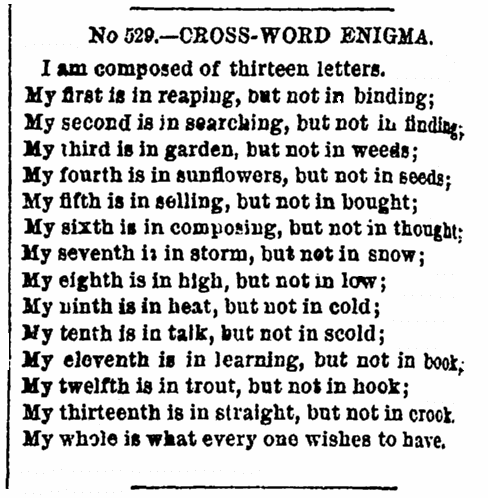 Answer to Puzzle No. 529:

Other newspapers around the country also published puzzles to challenge their readers. For example, this 1876 Illinois newspaper article printed another type of puzzle: the word square, in which the answers spell the same thing horizontally and vertically.
Puzzle No. 241: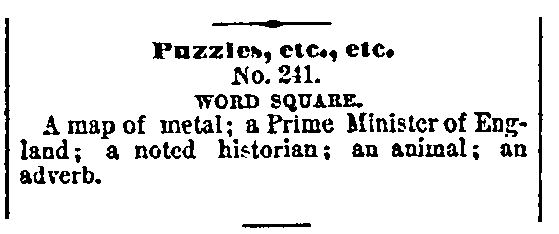 Answer to Puzzle No. 241: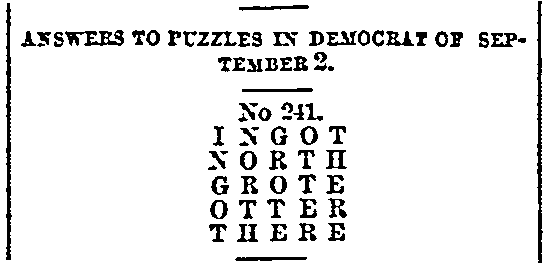 If you're looking for an intermission in your genealogy day, search GenealogyBank's Historical Newspaper Archives for brain teasers. There are many more than the few shown in this article!