Introduction: In this article – part of an ongoing "Introduction to Genealogy" series – Gena Philibert-Ortega discusses some basic genealogy questions you should ask yourself before beginning your family history research online. Gena is a genealogist and author of the book "From the Family Kitchen."
So, you've taken the first step: you've written down what you know about your family history, interviewed relatives, and searched for home sources (see: Genealogy 101: #1 Gather What You Know). Now you are ready to go online to do your family history research, right? Well not quite yet. What's the very first thing you should do before sitting down to your computer to search for your family history?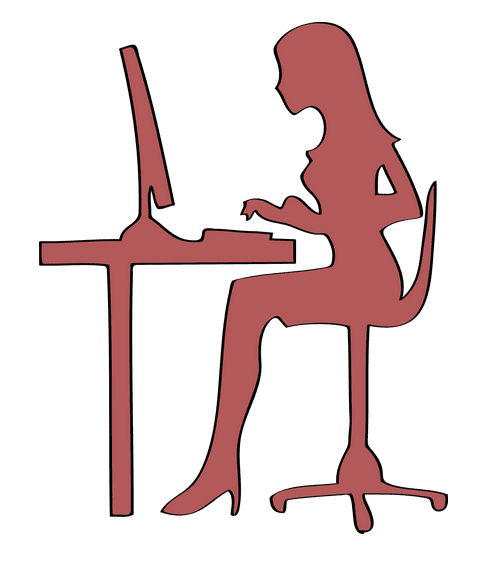 Ask a Question
Why should you ask a question? Well for one, consider what research is. According to Merriam-Webster, a definition of research is: "careful or diligent search." Part of that careful search requires you to have a question that you want answered. It can be tempting in seeking your family's history to jump right into trying to learn more about your family, or researching yourself back several generations – but ultimately, better research starts with a question.
What's Your Question?
Now don't get me wrong, not any old question will do. The question you ask needs to be specific and somewhat simple. So for example, wanting to trace yourself back to the 1500s isn't specific enough and ignores all the steps that would be involved in such a huge task. And quite frankly, you may not be able to do that. Asking a question like "Where were my paternal grandparents married?" or "What is my maternal grandfather's birthday?" are more appropriate research questions. Need some help with your question? Here are a few ideas:
Where was ____ born?
Where was ____ buried?
Where did my grandparents live in 1920?
Did my 3rd great grandfather serve in the Civil War?
Not sure where to start? I always recommend starting your research with yourself and working your way back. It may not seem as much fun as going straight to researching your Revolutionary War ancestor, but when you skip generations you can make mistakes which can lead to tracing a similarly-named – but ultimately wrong – family.
Joseph Chatham: An Example
If I wanted to learn more about my ancestor Joseph Chatham, I might start with the question: "When and where did Joseph die?"
To find that answer I need to search death certificates, a will or probate action, or an obituary. Turning now to my computer, I search GenealogyBank's Historical Newspaper Archives. After some searching I found his obituary published in the Sacramento Bee.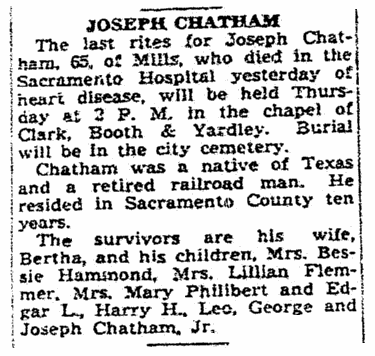 From this very helpful obituary, I not only learn when and where he died ("The last rites for Joseph Chatham, 65, of Mills, who died in the Sacramento Hospital yesterday…"), but also an important clue to his birth that I can follow up on ("Chatham was a native of Texas…").
In fact, obituaries usually provide many clues for further research – and in this case we have: his occupation, the cemetery where he is buried, what he died from, where his funeral was, how long he lived in Sacramento County, the city he lived in, and the names of his survivors.
So not only can I answer my original question "When and where did Joseph die?" with the day, place, and cause of death, but I can also now use what I've learned to ask additional questions like: "Where and when in Texas was he born?"; "What railroad did he work for?"; and "When and where was he married?" The clues in this obituary point me to other sources, like: the 1930 U.S. Census, a possible railroad pension, a marriage record, and birth certificates for his children.
Additional sources I could use to add to my information on his death include: a death certificate, a gravestone photo, and funeral home records.
What NOT to Ask
Notice that I asked simple, specific questions like "When and where was Joseph born?" I didn't say to myself: "I want to know everything about Joseph's life." Sure, that might be ultimately what I want to know, but it's going to take a series of other questions to get to that point. As I answer each specific question, I'll get closer to knowing more about his life. So, while it's tempting to start out with a huge question, you're better off starting with the basics – by answering those simple questions one by one, you will learn more and more about your ancestors.
Now It Is Your Turn
So, what is your question? How will you focus your research? I know you want to know everything about your family – but remember that asking specific questions keeps you focused, and leads to other questions to help you unravel the story of your ancestor's life.