Introduction: In this article, Melissa Davenport Berry writes about the family Bible of Edward Rawson (1615-1693), chosen the first secretary of the Massachusetts Bay Colony in 1650. Melissa is a genealogist who has a blog, AnceStory Archives, and a Facebook group, New England Family Genealogy and History.
The name Edward Rawson (1615-1693) has been popping up quite a bit in my research on the 17th century Massachusetts Quakers. He was not a favorite among the sect. However, Rawson was much beloved by the Puritan fold and chosen to be the first secretary of the Massachusetts Bay Colony in 1650, an office he held for 36 years.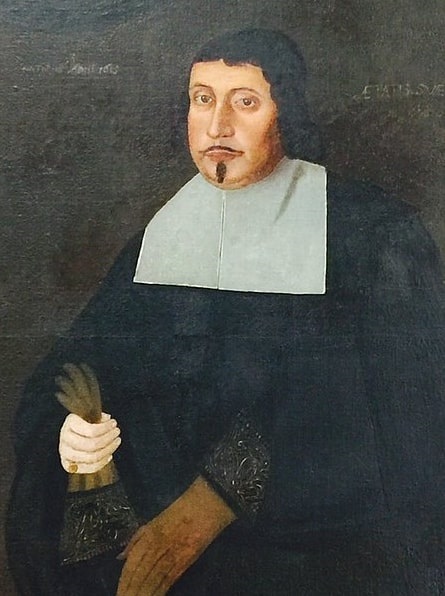 If you do a search in GenealogyBank's Historical Newspaper Archives, there are hundreds of articles on Rawson's celebrated career, potent pedigree, and even some spectacular scandals within his family. Edward married Rachel Perne, daughter of Richard and Rachel (Greene) Perne. His blood line can be traced back to the English nobles and the Archbishop of Canterbury. His descendants include American presidents, Hollywood celebrities, and famous artists.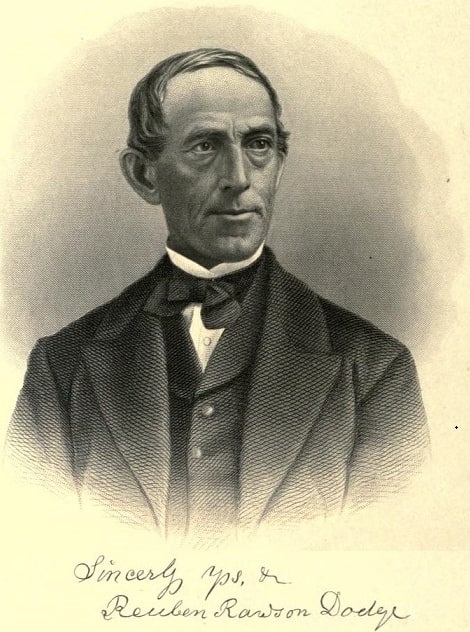 One descendant, Reuben Rawson Dodge (1817-1899), son of Jacob and Elizabeth (Rawson) Dodge, inherited a treasure trove from his Rawson ancestors including Edward Rawson's family Bible. He gifted the Bible to the American Antiquarian Society.
In 1860 the Christian Witness and Church Advocate provided some details about this rare holy book.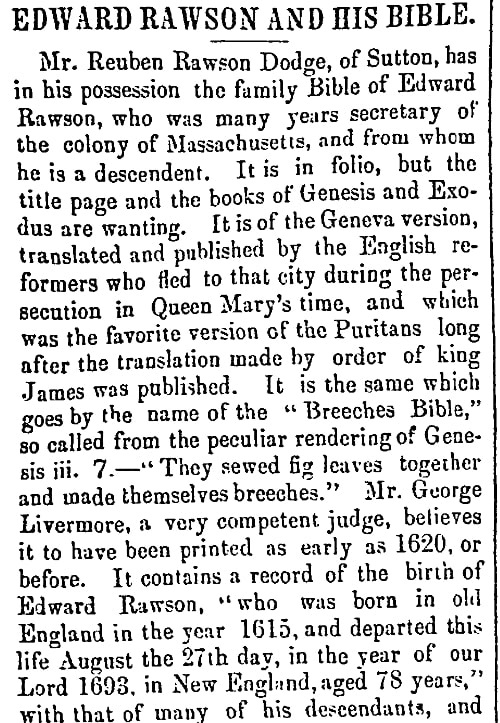 According to this article, the Rawson family Bible records vitals and testimonies of events about Edward Rawson and his descendants.
One of the entries in the Bible, "in the handwriting of Edward Tyng, one of the assistants and counsellors of the colony," reads:
"This is to certify all whomsoever this may concern, that on the 31st day of July, 1673, on a certificate I received that William Rawson and Ann Glover, ye daughter of Mr. Nathaniel Glover [and Mary Smith], had been duly and legally published. I joined them in marriage at the house and in the presence of Mr. Habakkuk Glover, his wife [Hannah, daughter of John Eliot, 'the Indian Apostle'], and Mr. Edward Rawson, father to the said William Rawson, and other friends, as witness to my hand."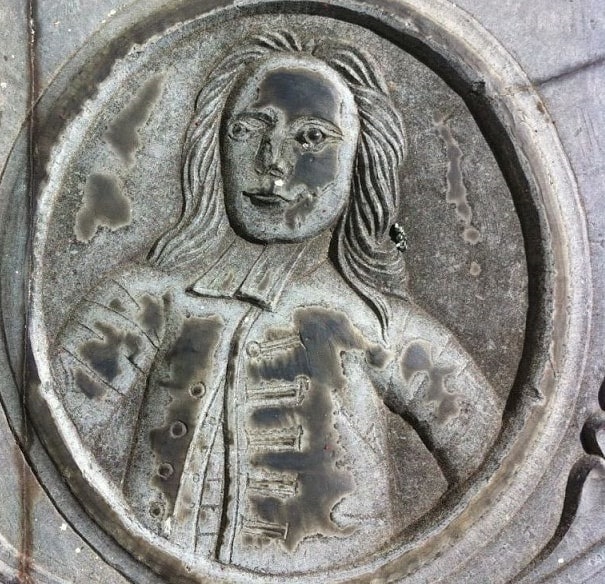 Another son of Edward and Rachels' who was mentioned in the Bible was Reverend Grindall Rawson, well known for his congeniality with the Indian tribes. He was a graduate of Harvard University and classmate of Cotton Mather.
The family treasure trove that Reuben inherited included an obituary for Gindall from a newspaper. It reads:
"Mendon, Feb. 7, 1714-15. Yesterday died here the Reverend Mr. Grindall Rawson, much lamented not only by the English but by the Indians also, to whom he preached in their own language, which he well understood. He was a very valuable man, [who] had his name given him for the sake of the amiable Archbishop Grindall, most primitive in all his conversation, to whom his father, Mr. Secretary Rawson, was related."
Grindall married Susannah Hooker, daughter of Rev. John and Sarah Hooker.
The article also reports that Reuben Rawson Dodge:
"…has also in his possession an original portrait of Rebecca, the daughter of the Secretary [Edward Rawson], whose history is of a highly romantic character."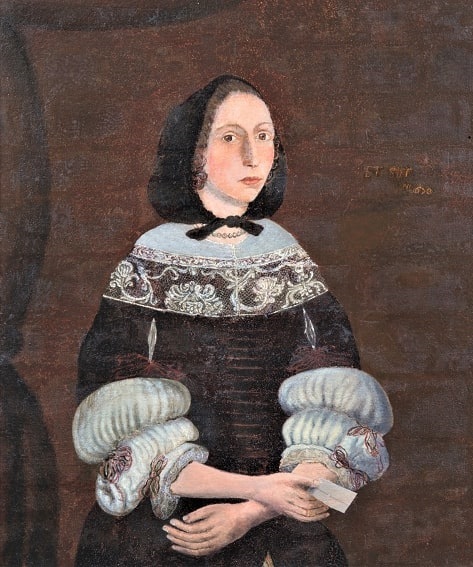 Edward and Rachels' daughter Rebecca Rawson created a buzz in the colony – though not by her fault. Reuben gifted the portrait of Rebecca to the New England Historic Genealogical Society (NEHGS) in Boston, who published this rare gem in "NEHGS Celebrates 175th Anniversary with Collections Book."
Stay tuned for Rebecca's story and other Rawson family ties to the Mayflower and more!
Related Article: