Introduction: In Part II of this article, Gena Philibert-Ortega uses a case study from her own family history research to show the importance of using more than once source. Gena is a genealogist and author of the book "From the Family Kitchen."
To recap: In Part I of this article, Gena began genealogy research one day with a notice she found about Dr. Henrietta K. Morris in an occupational source: the Woman's Medical Journal from June 1896. Intrigued, she searched a second occupational source for more information, then turned to newspapers to help fill in Dr. Morris' story. Part I concluded with her doing a very specific search and finding one obituary, but wanting more.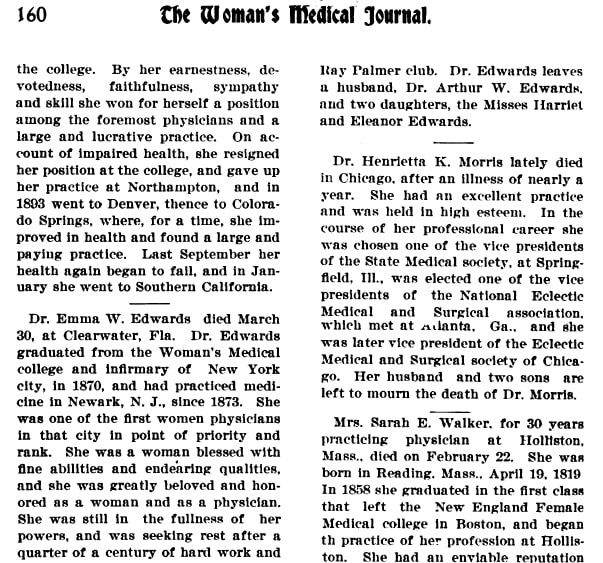 So, what now? Is that the end of my newspaper search? My initial search only yielded one result. I believed there should be more written about Dr. Morris in the newspapers, and so I decided to conduct another search using different search parameters.
I went back to GenealogyBank's Historical Newspaper Archives and simply searched on "Henrietta K Morris." No date, no state, and I placed that exact phrase search (her name inside of quote marks) in the "First Name" box of the search engine. This search yielded 36 results. I sorted the results by "Newest Publication Date" hoping to easily find articles from 1896 about her death.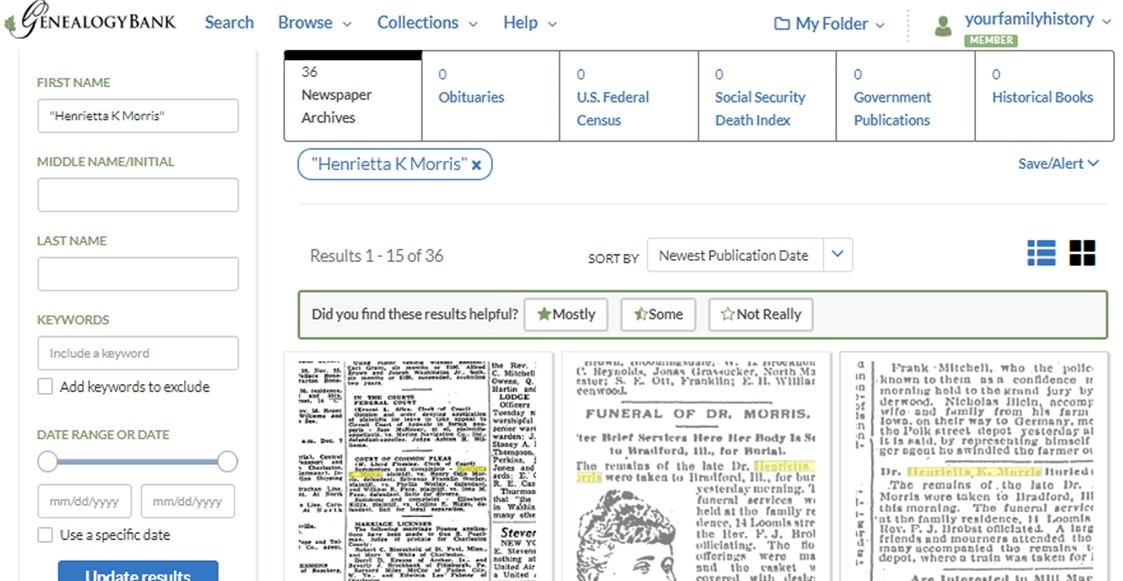 By not narrowing my search by a date range or place I run the risk of receiving results for similarly named women, and that was the case with one of the results. That would be a bigger concern with a more common name.
In those 36 results was a newspaper article about Dr. Morris' funeral published in the Chicago Record. And the best part of this result is that it included a portrait drawing of Dr. Morris.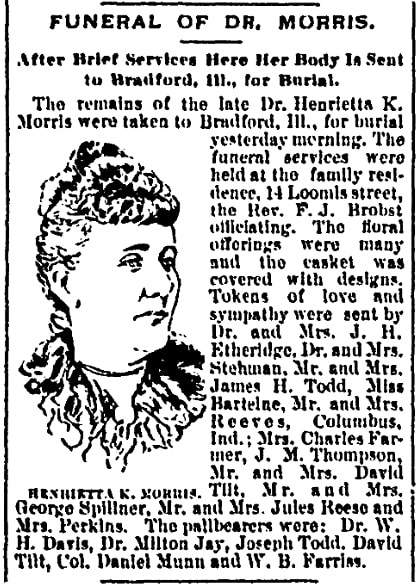 What do we learn about Dr. Morris from this newspaper article?
Her remains taken to Bradford, Illinois, for burial on Tuesday, 11 February 1896
Funeral held at family home, 14 Loomis Street
F. J. Brobst officiated
Various names of those who sent "tokens of love and sympathy" (should be checked for possible familial relationships)
Names of pallbearers (should be checked for possible familial relationships)
This article provides her likeness and a few more details, including the name of the minister who officiated at her funeral. It's possible he is from a church she attended, which would mean additional records to check. Other names listed could potentially be family members.
Because the Woman's Medical Journal said Dr. Morris was "held in high esteem," and her obituary stated "she was one of the best-known women physicians of the state," I expected to find other newspaper articles printed around the time of her death.
My results list did include additional newspaper articles, such as a Chicago Daily Record report of her funeral, with the mention that those in attendance accompanied her remains to the train depot for the journey to Bradford, Illinois.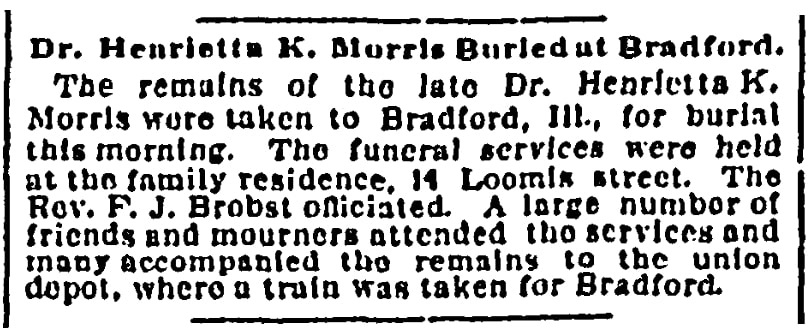 There were additional articles about Henrietta found in the Chicago Daily News and the Daily Inter Ocean. It appears this next Chicago Daily News article used the same portrait sketch printed in the Chicago Record article above.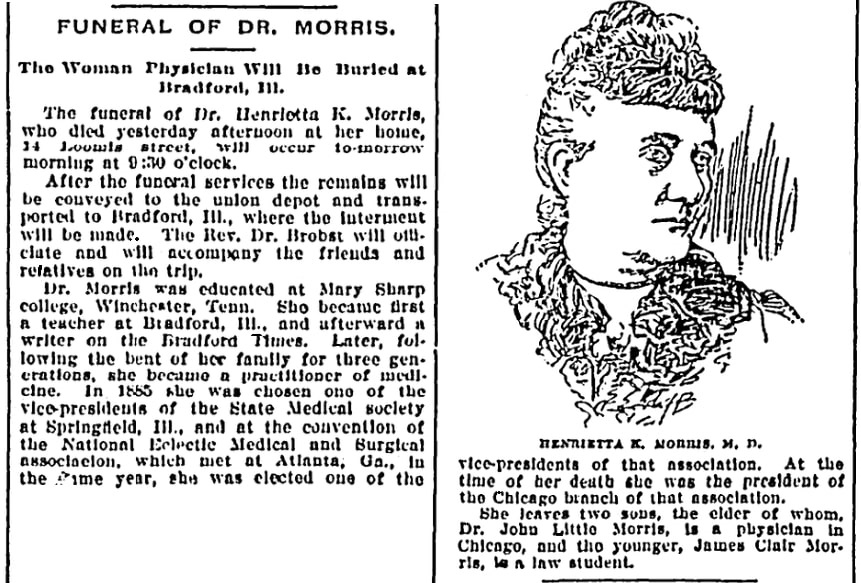 While this Chicago Daily News article largely sticks to information I found in previous articles, the Daily Inter Ocean article provides much more information.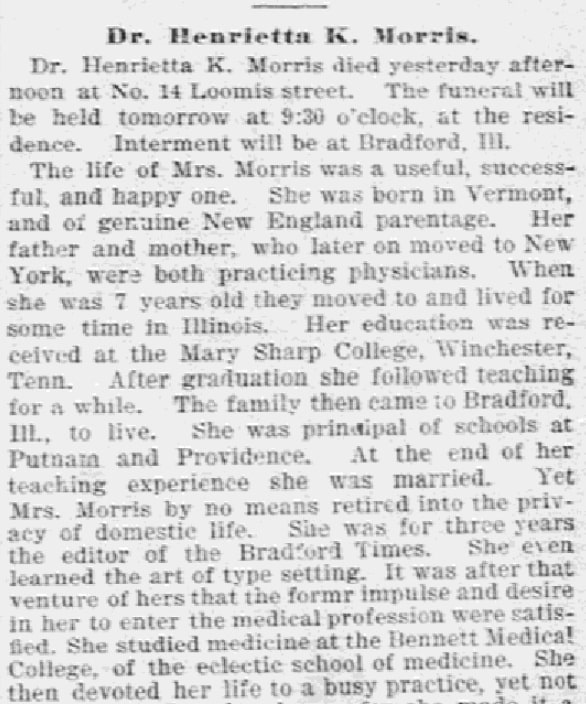 From it we learn these facts:
Died the afternoon of 9 February 1896 at 14 Loomis Street
Funeral to be held 11 February 1896 at 9:30 a.m. at residence
Interment in Bradford, Illinois
Born in Vermont "of genuine New England parentage"
Father and mother were physicians (who later moved to New York)
At age 7 family moved to and lived for some time in Illinois
Attended Mary Sharp College (Winchester, Tennessee)
Taught after graduating
Family moved to Bradford, Illinois
Principal of schools at Putnam and Providence
Married "at the end of her teaching experience"
Editor of Bradford Times for three years (learned type setting)
Studied medicine at Bennett Medical College (eclectic school of medicine)
Raised two sons, John L. and James Claire Morris, who were educated for the medical profession
Her mother was Dr. Susan B. Little
Vice President of the State Medical Society at Springfield (1885)
Vice President of the Eclectic Medical and Surgical Society of Chicago
Presented a talk titled "Women in the Medical Profession" at the National Eclectic Medical Association meeting in Hot Springs (1891)
Matron of the Order of the Eastern Star
Grand Vice Templar of Independent Order of Good Templars (Illinois, two years)
Wow! Aside from the additional facts we find in this obituary (such as her mother's name), there are some nice descriptions of Dr. Morris. ("In her appearance, Mrs. Morris looked a perfect picture of health. It was almost a cure in itself to come into her presence.")
As we look at this obituary it's important to remember that one of the problems with obituaries is we do not know who the informant is or who wrote it. It could be a family member or the newspaper combining information it gleans from family and other sources. But in this obituary, we hear from the deceased herself. Notice that there is a quote from her about how she came to be a physician, and providing information about her mother. So, we know that a portion of this came from Dr. Morris, but where the other information came from is unknown.
Another issue with what has been found thus far is what we still don't know. For example, we never learn Dr. Morris' father's name, thus her maiden name. Her mother is listed as Dr. Susan B. Little and it is possible Little is Henrietta's maiden name – but we would need to verify that since that could be her mother's name from a subsequent remarriage. Henrietta's maiden name might be found in her marriage license or the birth records for her two sons.
Because Dr. Morris is referred to as "Mrs." Morris in the Daily Inter Ocean obituary and her sons have the Morris surname, I'm assuming her husband's surname is Morris – but we also never read about him in her obituaries. Did he pre-decease her, or are they separated or divorced? Could she have been married more than once and Mr. Morris is her first husband, father of her children, and she kept his surname as her professional name? We can't make any assumptions.
Now, I've found some nice information using two occupational sources and several newspapers, but the one source that documents a death the best is a death certificate. Luckily for me, the index for this record is on FamilySearch and the actual image is online via a Cook County website. However, that website is currently offline. I do learn from the index that she:
Died on 9 February 1896 in Chicago, Cook County, Illinois, at the age of 48 years
Married
Buried on 11 February 1896 in Bradford, Illinois
Informant for death certificate was W. H. Davis.*
Like all sources, this index leaves me with more questions – such as the relationship of the informant, W. H. Davis, if any, to Henrietta Morris. Yes, more research is needed including accessing her death certificate. However, we will stop here because the purpose of this case study was to illustrate how ending your search with one source can be a big mistake. In addition, one search for an obituary isn't enough. You need to make sure to vary your search to include name variations. If you narrow your search by a date range and location, try another search where you don't narrow your search by a date or place.
The initial notice of death for Dr. Henrietta K. Morris in the Woman's Medical Journal was good but lacked details. The same is true of the other occupational source I searched, the American Medical Association's Deceased American Physicians, 1864-1970.
Starting with those two sources, I then turned to newspapers. Multiple obituaries and other articles helped to fill in important details, and provided other research avenues to explore such as possible archival records for membership lists for the various organizations she belonged to. Research is a process that takes multiple searches; when we limit how and where we search, we risk not finding the answers we need.
* "Illinois, Cook County Deaths, 1878-1994," database, FamilySearch (https://familysearch.org/ark:/61903/1:1:Q2MQ-MNJF: 8 March 2018), Henrietta K Morris, 09 Feb 1896; citing Chicago, Cook, Illinois, United States, source reference 12031, record number , Cook County Courthouse, Chicago; FHL microfilm 1,033,026.
Related Article:
Genealogy Tip: Use More than One Source; a Case Study, Part I