GenealogyBank is growing – it now has nearly 300 million items.
This morning I found this passenger list –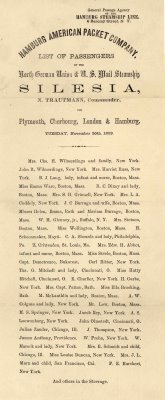 published as a souvenir handbill that was likely given to the passengers on the steamship Silesia when it left on Tuesday November 30, 1869 bound for Plymouth, Cherbourg, London and Hamburg.
In addition to the 3,800 newspapers – GenealogyBank has over 255,000 digital books, documents and early printed items – like this one page passenger list from 1869. It's amazing what you'll find in GenealogyBank.
On close inspection of the newspapers I also found these articles giving more details of the passengers, the progress of the ship to the various ports of Europe and even this interesting article about the value of the gold bars that the ship was carrying.
Brief article in a Cincinnati newspaper about local residents who were passengers on the Silesia.
(Cincinnati Commerican Tribune – 5 Dec 1869)
Notice of the gold bars carried as cargo on that voyage.
GenealogyBank is a core tool for genealogists – packed with the practical information you'll rely on for documenting your ancestor's lives.
Subscribe now
.
(Visited 413 times, 1 visits today)