Introduction: In this article, to help you celebrate Father's Day, Gena Philibert-Ortega searches old newspapers to find recipes our ancestors prepared for Father's Day. Gena is a genealogist and author of the book "From the Family Kitchen."

Tomorrow is Father's Day. What are you doing with dad? For many people, dad's special day will include a meal – so why not plan to eat in? Newspapers have plenty of examples of our ancestors' Father's Day menus.
I searched GenealogyBank's Historical Newspaper Archives and found special Father's Day menus beginning with June 1940 (the first Father's Day was celebrated in 1910 but it wasn't declared a permanent national holiday until 1972). What do newspapers recommend for that special once-a-year meal? Some of the recipes I found may be just what your dad would love!
Father's Day 1940
It's probably no surprise that Father's Day recipes would lean towards meat, dessert, and alcohol. In this case, a dessert made with alcohol. This example comes from a recipe contest and the winners not only had their names and recipes printed in the newspaper, they also won $2 (roughly $35 today). So, what were the winning recipes? They included Beef Tongue with Polish Sauce, Dad's Sauerkraut Pork Balls, and Mint Julep Ice Cream (with bourbon).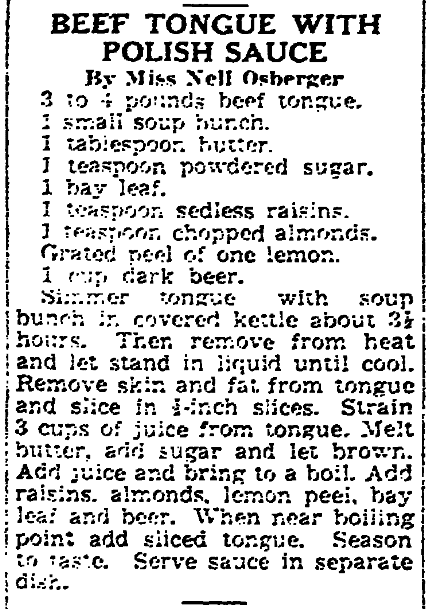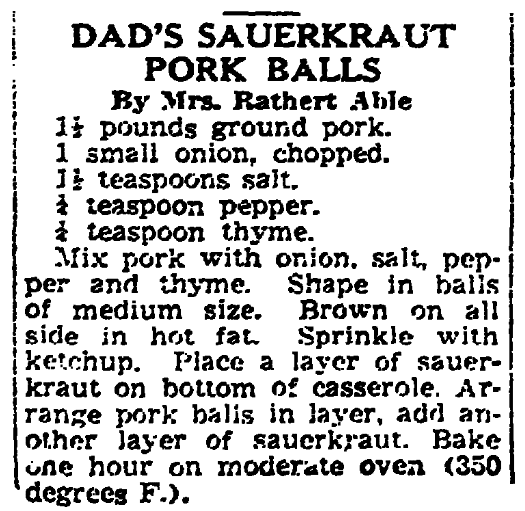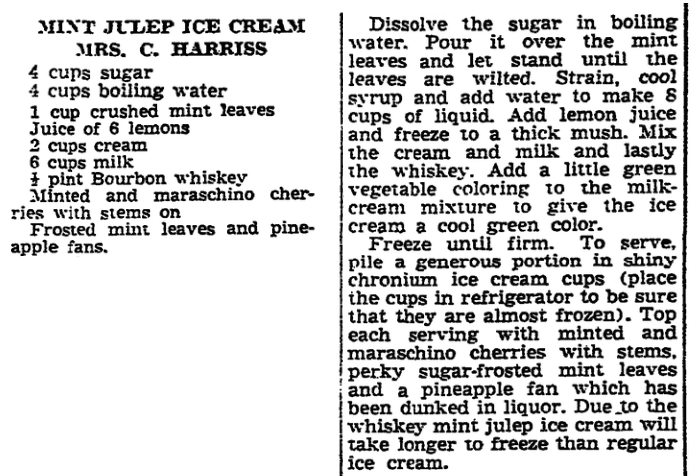 Father's Day 1942
I expected Father's Day recipes to reflect food rationing once the United States entered World War II, and I was right – at least in the 1942 newspaper articles I found. No meat recipes were there; instead there's a recipe for dinner rolls, "cheese pops," Indian pudding and gingerbread. There is also a recipe for Holiday Muffins that are a suggested breakfast that even dad can make, should he want to cook on his special day, since "breakfast is the meal most suited to the average man's rather limited culinary ability."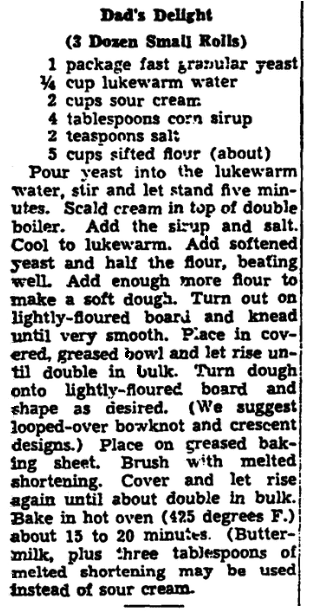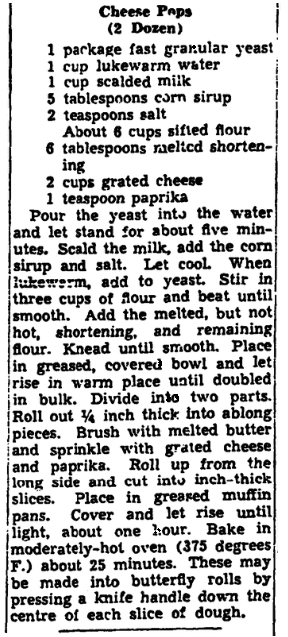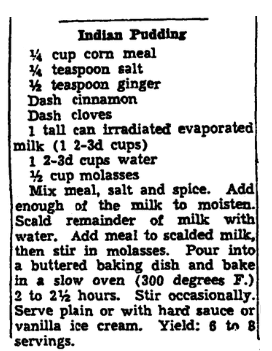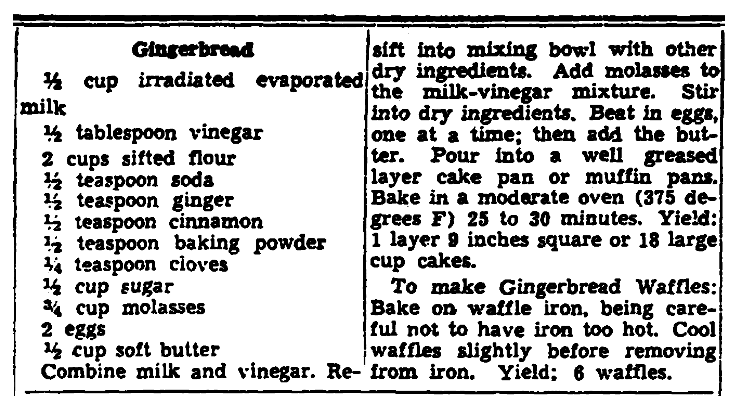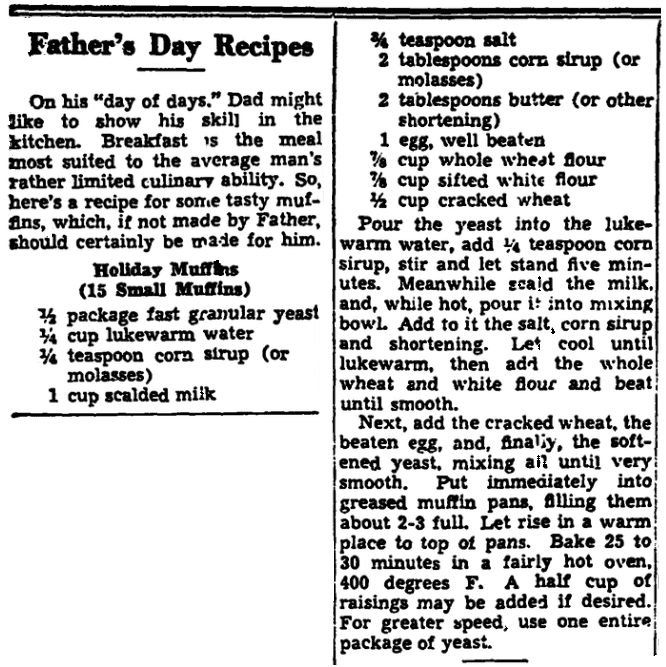 Father's Day 1965
This 1965 newspaper article featured Father's Day recipes suggested by the California Beef Council. Not surprisingly, these recipes focused on beef – namely, barbecue and chateaubriand. The article promises that any one of the accompanying recipes "would make Father's Day a special pleasure." While no other recipes accompany these dinner ideas, I found it ironic that the recipe in an adjacent column is for a low-calorie gelatin fruit salad. My guess is that that particular recipe wasn't meant for Father's Day.
Father's Day 1987
As I searched GenealogyBank's Historical Newspaper Archives looking for Father's Day recipes, I expected to see a lot of recipes for meat, especially beef. So, I was a little shocked to find a 1987 newspaper article that included the results of an impromptu survey of ten fathers at a grocery store. The men, dubbed "fathers in the enlightened 80's" by the author, were asked what meal they would most like for Father's Day. "Only two of the 10 named steak as their Father's Day choice. Two others came close, choosing prime rib and roast beef. The rest went off on tangents ranging from spaghetti to crab." Those 10 dads chose: crab, steak, barbecue ribs or chicken, brats, spaghetti, roast turkey, Jimmy Dean pork sausage (that dad worked for the company), prime rib, roast beef, and BBQ spareribs.
At least one of the fathers would have been happy with the article's recipes, which included spareribs.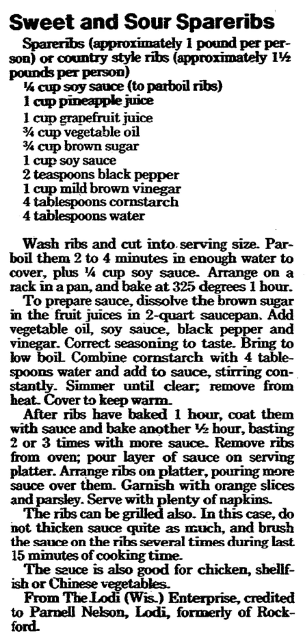 I did my own Father's Day meal poll via my Facebook friends and the answers weren't too surprising. They ranged from meals featuring beef (rib-eye steak, Texas style BBQ brisket, and Swiss steak) to other meats and dishes including pork, brats, enchiladas, and seafood. And of course, dessert was mentioned and included carrot cake, coconut crème pie, and sopapillas with honey (sopapillas are a fried pastry).
Father's Day 2018
So, what will it be at your house this year? Will dad request lots of meat and no veggies? Will he want to eat dessert first? Will you take advantage of the nice summer weather and host a barbeque? What has your family's past Father's Day meals looked like? Tell us about them in the comments section below.
Happy Father's Day!
Related Article