Introduction: In this article, Gena Philibert-Ortega writes about the origins of Father's Day as a national holiday, and the special honor "Father of the Year." Gena is a genealogist and author of the book "From the Family Kitchen."

What are your plans this Sunday for Father's Day? You might be surprised to learn that Father's Day is actually a fairly recent holiday. Although a celebration of fathers was held on 19 June 1910 in Spokane, Washington, it wasn't until President Richard Nixon signed a proclamation in 1972 that the third Sunday of June was permanently set aside as Father's Day, a national holiday.
Sonora Smart Dodd Starts Movement to Honor Fathers
The idea for Father's Day is credited to Sonora Smart Dodd who, after listening to a Mother's Day sermon at church, believed that her father William Jackson Smart – a Civil War veteran and young widower who raised 6 children – should also be honored.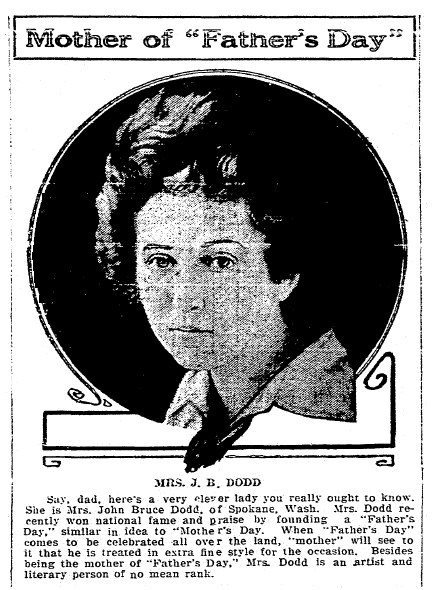 She encouraged Spokane churches to set aside a Sunday sermon in honor of Father's Day. They did that in June 1910 and preached about the importance of fathers. The movement grew from there and was discussed in newspapers across the country.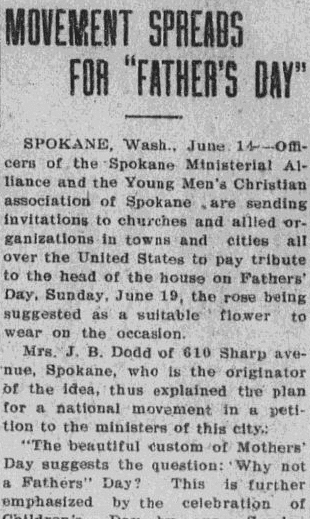 As the idea for Father's Day took off, others joined the effort to make a permanent national holiday honoring dads. The Father's Day Council was established in 1931 by concerned citizens and leaders who wanted to help achieve the "universal observance" of a Father's Day holiday. Later it was renamed the Father's Day/Mother's Day Council.
Father of the Year
In 1942 the Father's Day Committee was established, whose "sole purpose was to confer Father of the Year honors on leaders of society."
The Father's Day Committee set about choosing "lifestyle leaders" each year for their honorees. Starting in 1942 a select few dads were honored with the title Father of the Year. So who are some of the winners of this honor?
Probably not surprisingly considering that World War II was happening, the first honoree was General Douglas MacArthur. One of the fathers awarded the next year, 1943, was another general: Dwight D. Eisenhower.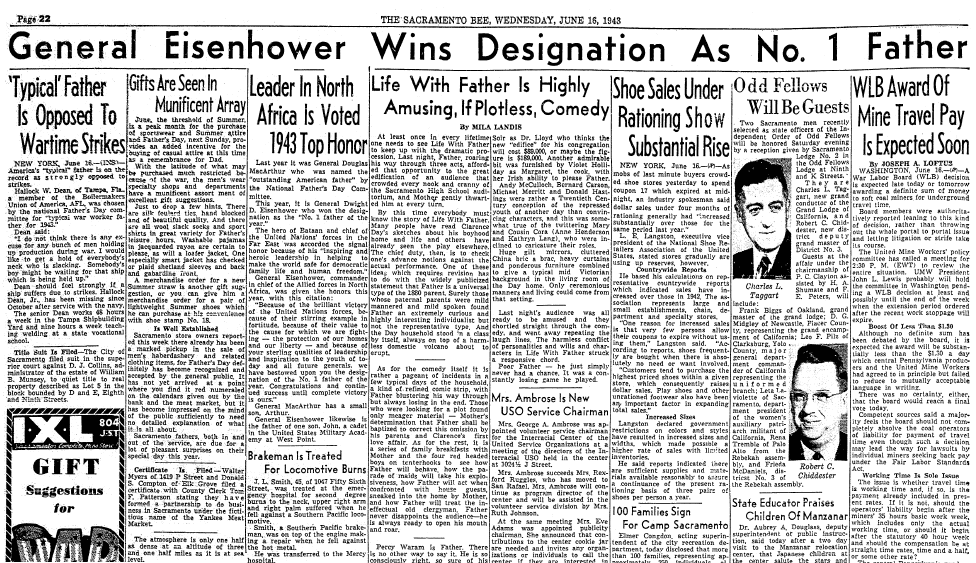 Eisenhower was bestowed the honor of number one father "because of the brilliant victory of the United Nations forces, because of their stirring example in fortitude, because of their value to the cause for which we are fighting – the protection of our homes and our liberty – and because of your sterling qualities of leadership and inspiration to the youth of today and all future generals." At the time of this award Eisenhower and his wife Mamie had a son, John D. Eisenhower, who was a cadet at the U.S. Military Academy.
Through the years, all kinds of celebrities and famous men were given the honor of the nation's #1 father. Presidents, movie stars, soldiers, ministers, athletes, musicians, and lawyers were honored. The title of Father of the Year was given to several men each year, all representing different walks of life. In 1960 Pat Boone was named Television Father of the Year, with additional awards going to Robert F. Kennedy, Charlton Heston, John Unitas (quarterback for the NFL's Baltimore Colts) and Art Linkletter.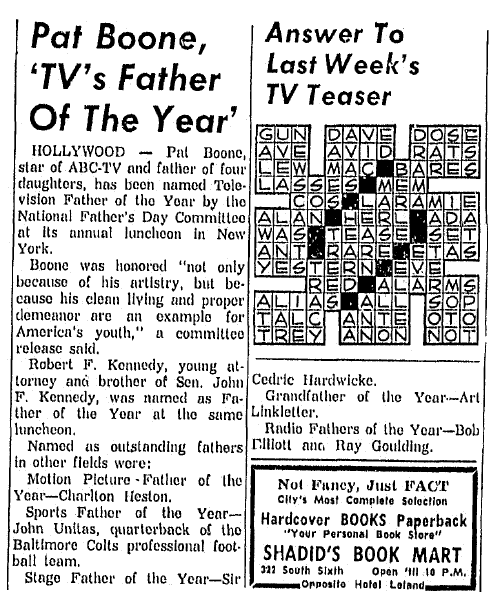 Every year the Father of the Year charity luncheon is held in the nominees' honor. This year's honorees include President George W. Bush, Morris Goldfarb and Ashok Sani. You can read more about this year's ceremony and The Father's Day/Mother's Day Council on their website.
Step Away from That Tie!
While your dad may never be officially named Father of the Year, he's probably number one in your life. Father's Day is a great way to show him how much you care, but let's face it – dads probably get the short end of the stick when it comes to gifts. Even before there was an official holiday, retailers were coming up with ideas about what to get dad for his special day. In this 1919 advertisement for the John Bressmer Company, gift-giving suggestions include a humidor and an Edison phonograph – but it wasn't too long before ties were the suggested gift.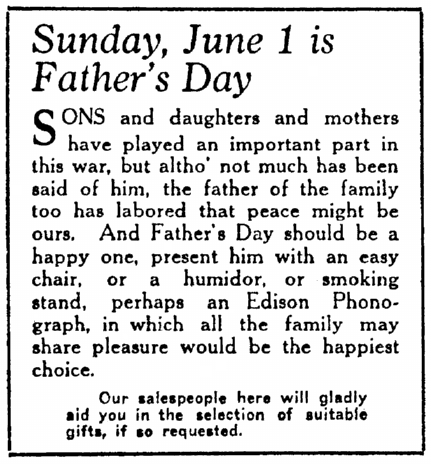 Probably the real problem with finding a special gift for dad is that moms are just easier to shop for. After all, moms are more associated with sentimental gifts. As this 1930 Mississippi newspaper article points out:
It would seem that gifting a tie has a long tradition.
That same newspaper article provided two poems for Father's Day: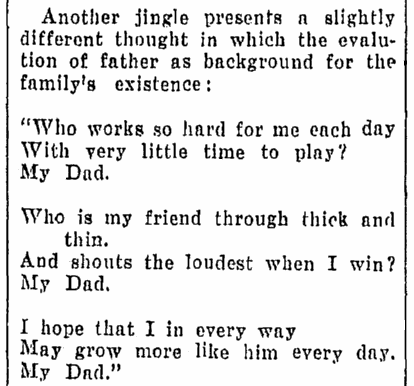 Spend some time making family memories with your dad. Honor those dads who have passed by writing and sharing their stories. Happy Father's Day!
Related Article: