Introduction: In this article, Duncan Kuehn searches GenealogyBank's newspaper archives to learn more about Anna Jarvis and her hard work getting Mother's Day established as a national holiday. Duncan is a professional genealogist with over nine years of client experience. She has worked on several well-known projects, such as "Who Do You Think You Are?" and researching President Barack Obama's ancestry.

Mother's Day is this Sunday. It is time to get the shopping for mom's gifts done. Buy a sweet card, get some flowers, maybe some nice jewelry or other token of your appreciation. You will probably call home or drive over for a visit with your mother. It is a day to celebrate mom. The fact that Mother's Day is a National Holiday is thanks largely to the efforts of Anna Jarvis, whose story can be found in the pages of GenealogyBank's Historical Newspaper Archives.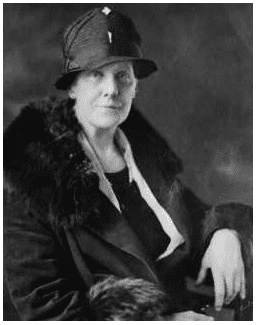 Anna M. Jarvis spent seven years pushing for a national holiday to celebrate mothers, after her own mother died. Congress finally passed the requisite law on 8 May 1914, and President Woodrow Wilson issued the official proclamation the next day. Anna began her efforts in 1907, and had successfully convinced 5-6 million people to join in the feel-good festival honoring mothers as early as 1908. They wore a simple white carnation as a token of appreciation for mothers.
Anna desired the holiday to celebrate her own mother, Ann Reeves Jarvis. Ann was also a social activist and had been the founder of a "Mother's Friendly Day to weld families split by the Civil War." Ann gave birth to 13 children, many of whom died very young. Ann and Anna were very close and when Ann died 9 May 1905, Anna mourned deeply.
Three years later she made her initial push for a larger memorial service to honor all mothers. The idea was a success and 5-6 million people were estimated to have participated in the celebration. They made a visual show of appreciation for their mothers by wearing a single white carnation.
Anna eventually quit her job in order to campaign for a national holiday. The idea caught like wildfire and just seven years after she began her campaign, the second Sunday in May was appointed by President Woodrow Wilson for the purpose. Nearly every country around the globe also began instituting its own version of a Mother's Day celebration. Although not the first to champion the idea for Mother's Day, Anna was probably more successful instituting it than she ever imagined.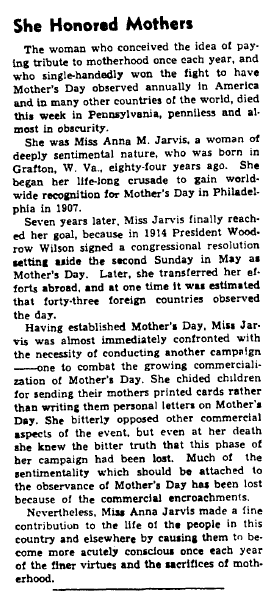 Despite being successful in her efforts to bring attention to motherhood, Anna was never able to participate in that experience herself because she never had children of her own.  Her endless efforts also led to personal financial challenges, because her seven-year campaign turned into a life-long no-holds-barred battle against the commercialization of the new national holiday, which absolutely horrified her. Anna's simple, heartfelt symbolic gesture of honoring mothers with a single white carnation was quickly overshadowed in the landslide of marketing campaigns around the new celebration.
Anna was disgusted by the commercialization of Mother's Day, the pre-printed store-bought cards, and the impersonal gifts. She campaigned hard, with the same energy she had devoted to the first seven years of getting the day recognized, to push her ideas of forgoing the shallow tokens in favor of making a heartfelt connection with one's mother. It was a battle she did not win. Mother's Day is one of the most lucrative holidays for phone companies, the travel industry, card makers, florists, spas, and more.
Anna "once threatened to sue Governor Al Smith of New York over plans for a gigantic Mother's Day meeting in 1923." She even "tangled with Mrs. Eleanor Roosevelt over a rival Mother's Day committee."
Sadly, Anna died a "lonely spinster…partially deaf, blind and penniless" at the age of 84.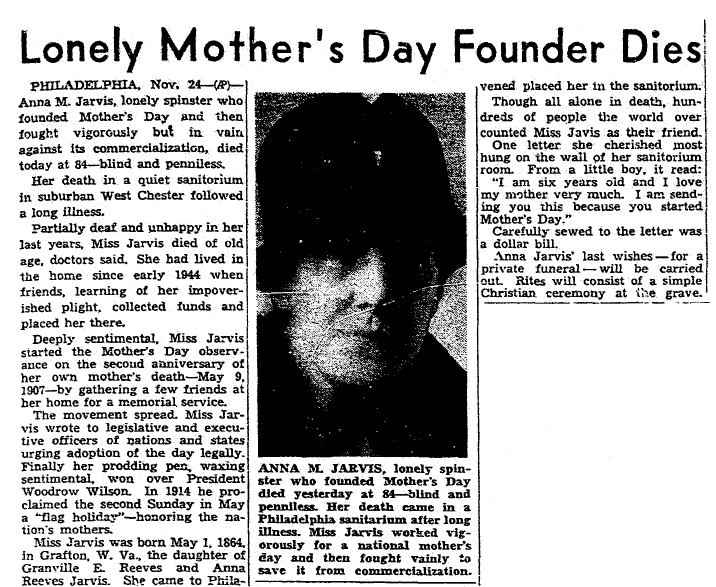 Perhaps this year a homemade card, a single white carnation, and some quality time together with mom might be the better way to celebrate mom and Anna Jarvis.
Related Articles: