Introduction: In this article, Mary Harrell-Sesniak searches old newspapers to find our ancestors' Christmas recipes. Mary is a genealogist, author and editor with a strong technology background.
Of Christmas past, it's fun to imagine what the ideal or perfect recipes tasted like. Luckily, we can still find our ancestors' holiday recipes in old newspapers – and in many cases, they are easy to follow and convert well to modern kitchens.
Make this Christmas special by including some of these drinks and sweets along with your own traditional dishes. And if they work for you, please share your comments with our readers.
The Wassail Bowl (1829)
A mainstay of the past was the wassail bowl, but have you ever heard how to prepare it?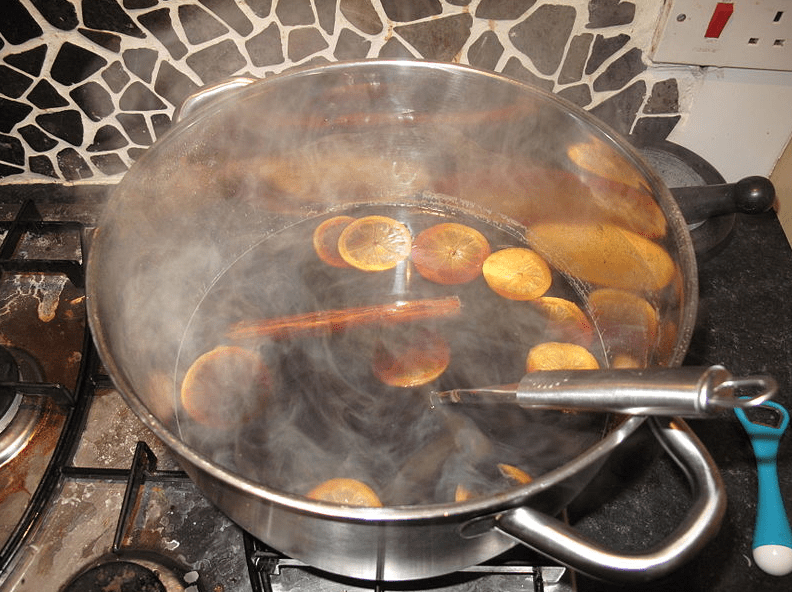 In 1829, the New Monthly Magazine provided a popular recipe which serves 12-16 persons. It seems simple to follow, so why don't you try it?
A large bowl
A small quantity of spices (cardamon, clove, nutmeg, mace, ginger, cinnamon and coriander) simmered in a teacupful of water for 15-20 minutes
Four bottles of dry wine or one that is not sweet
Add the spices and 1½ pounds of loaf sugar (up to a half box of sugar cubes will suffice) and heat
Beat the yolks of 12 eggs and the whites of six eggs
Take a tea-cupful of the wine sugar mixture and mix it in the egg mixture
Continue adding and mixing 3-4 cups of the warm wine mixture
Let it boil and add the rest stirring briskly so as to froth it
As soon as it froths toss in a dozen well-roasted apples and serve it as hot as possible!
Enjoy!
Snow Pudding (1885)
Take half a box of gelatin and half a pint of cold water
After soaking half an hour, add half a pint of boiling water
When cool, add the whites of 3 eggs, 2 cups sugar and the juice of 2 lemons
Beat for a half an hour or more
Make a boiled custard of the yolks of the eggs and 1½ pints of milk
Add sugar to taste
Wine in the solid part will improve the pudding
Serve the solid part floating in the custard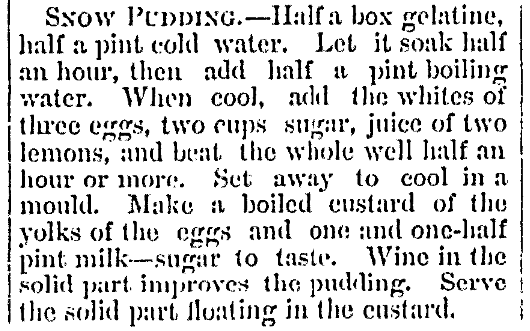 Eggnog (1905)
This is always a holiday favorite!
Beat the whites and yolks of 18 fresh eggs separately until both are as light as possible
While beating the yolks, stir in 18 tablespoons of pulverized sugar
Take 15 wine glassfuls of the best French Brandy, 6 of old Jamaica Rum and mix in a pitcher
Pour the liquor very slowly on the yolks of the eggs and the sugar, stirring until thoroughly mixed
According to the recipe, the process cooks the eggs
Add very slowly 1 quart of rich cream and 1 quart of milk until well mixed
Pour the mixture into a punch bowl and add the egg whites until all is perfectly blended
It will improve if kept an hour or two in a cold place (the refrigerator), occasionally stirring from the bottom of the bowl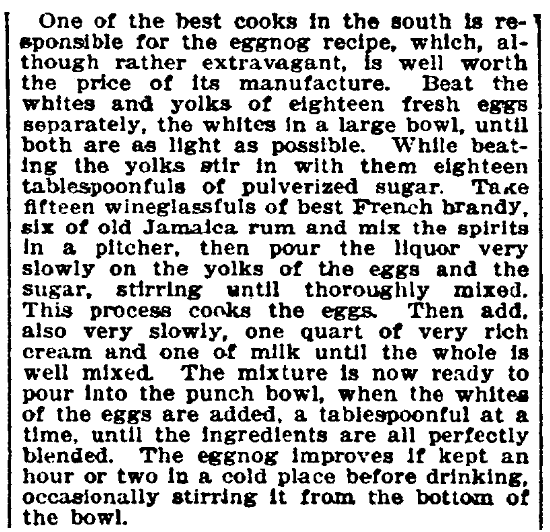 Fruit Cake (1920)
This recipe intrigued me because it includes a clever secret ingredient to a traditional fruitcake recipe: coffee!
Cream 1 cup of butter with 2 cups of powdered sugar
Add well beaten yolks of 6 eggs and beat hard
Stir in 1½ cups of sifted and prepared flour
Add ½ pound each of seeded and chopped raisins and cleaned and stemmed currants
Add 1 cup cold coffee, strong enough to make a decided flavor to the cake
Add ¼ pound of shredded citron – all the fruit plentifully dredged with flour
Turn into a deep tin, well-greased, and bake in a steady oven until a straw (after inserting) comes out clean from the thickest part of the loaf
Plum Pudding (1920)
I'd like to leave you with an adaptation of a widely published plum pudding recipe courtesy of Good Housekeeping.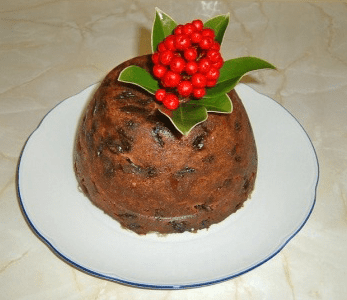 Chop until fine 1½ pounds each of currants and seeded raisins, ½ pound each of candied orange-peel and citron, and 1 pound of suet
Mix all together and then add the following:
1 pound of stale, but not dry, bread crumbs
The yolks of 8 eggs beaten until light
¾ of a grated nutmeg
¼ teaspoon of cinnamon
1 teaspoon of salt
1½ cupfuls of dark brown sugar
2 tablespoons of cider, white grape juice or coffee
The stiffly beaten whites of 7 eggs
Put the mixture in buttered bowls, cover with a flowered cloth or parchment paper
Tie down well and plunge into water which is boiling hard and cook 2½ hours or, if using steam, 2½ hours longer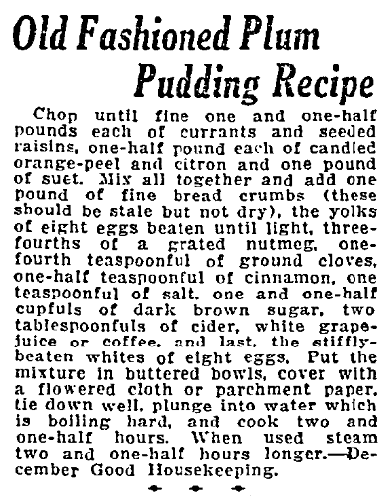 Note: An online collection of newspapers, such as GenealogyBank's Historical Newspaper Archives, is not only a great way to learn about the lives of your ancestors – the old newspaper articles also help you understand what food people at that time ate, how they celebrated their holidays, what clothes were fashionable, etc.
Related Articles: