Introduction: In this article, Gena Philibert-Ortega writes about a tradition that has been happening in hometowns for a long time: the annual Christmas parade. Gena is a genealogist and author of the book "From the Family Kitchen."
What traditions does your hometown have during the holidays? For many, an annual Christmas parade is part of the town festivities. Christmas parades have been around longer than you would probably guess.
Oldest Continuously Celebrated Christmas Parade
Peoria, Illinois, claims that its annual Santa Claus parade is the oldest in the country. This year is the parade's 130th year.*
Peoria may well host the oldest continuously celebrated Christmas parade. However, by searching GenealogyBank's Historical Newspaper Archives, I found other mentions of Christmas parades earlier than Peoria's – including this more informal 1871 Savannah, Georgia, street parade that ended with festivities at a park. That Christmas parade celebration seems to be missing only one thing: the inclusion of Santa.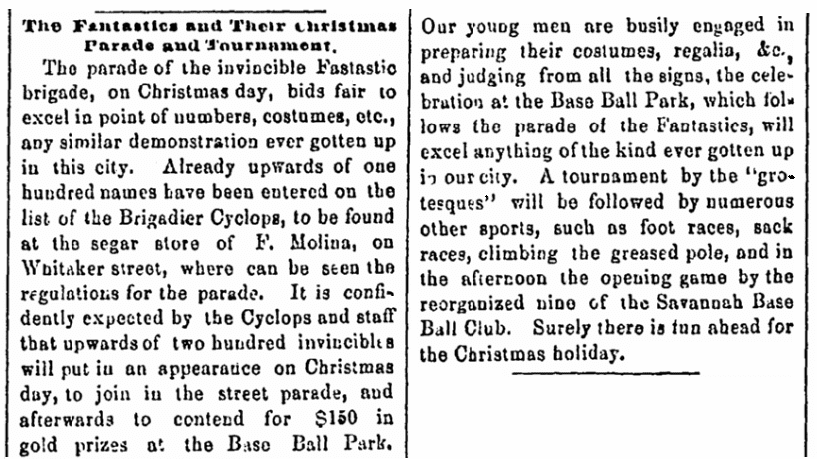 The addition of Santa Claus is part of the evolution of annual Christmas parades. For the most part, 19th century holiday parades like the Savannah, Georgia, one mentioned above were informal affairs that included "fantasticks" – costumed men whose behavior was anything but subdued. Descriptions of the costumes and antics seem more akin to Halloween than Christmas. Holiday parades evolved in the early 20th century to become Thanksgiving parades that marked the start of the Christmas shopping season and were largely "initiated by downtown department stores."**
California Christmas Parades
Growing up in Southern California, the city next to where we lived had an annual Christmas parade, and my middle school's marching band took part in the festivities. The city holding the parade didn't have a department store – instead, the parade was sponsored by a local organization.
Looking back at photographs of my marching band debut, I wondered if other ancestors living in California would have had Christmas parades near where they lived. Looking at GenealogyBank's newspapers gave me a few ideas.
Christmas Parade 1950
California has been home to a portion of my paternal family line since the early 1900s. Aside from living in the Los Angeles area, they also spent time in Sacramento. One of the parades they may have attended was the Sacramento, California, 1950 Christmas parade. This celebration was complete with government officials, marching bands, floats, and of course the man of the hour, Santa Claus.
As this 1950 newspaper article reports, one of the more unique aspects of the parade was:
"…giant balloons, which will dance, squirm and cavort to the delight of young and old. The big heads, which are four feet high, will dash about grotesquely as the huge balloon animals and other characters play their part to make the parade the biggest and best ever."
What I especially like about this article is the list of groups participating. Aside from the Boy Scouts who were guiding those large balloons, other groups included Forrest Long's Orchestra, Eagles Aerie No. 9 Drum and Bugle Corps, Grant Union Band and Marching Unit, Camelia City Band, O'Reilly-Bluett Post VFW Drum Corps, Cameronian Pipe Band, California National Guard 59th Army Band, Lieutenant Lansdale Post VFW Drum and Bugle Corps, American Legion Post No. 61 Band, George W. Manhart American Legion Post Drum and Bugle Corps, and the Mather Air Force Band. That list provides me with some ideas about possible groups my family may have been involved in.
A look at the parade 10 years earlier reveals an event more geared to the younger set. A singular photo of the Fireman's Band is shown as they prepared for the annual Christmas parade that is described as a "kiddies' costume and pet parade."
According to an August 1940 article in the Sacramento Bee, the November Christmas parade was one of seven official city events orchestrated by the Parks and Recreation Department that also included a Yuletide Pageant in December.
Today, Sacramento has a yearly Santa Parade that began in 1983, sponsored by a department store and a local television station.***
What Are Your Christmas Parade Memories?
Do you have memories of your hometown Christmas parade? Uncover any photos of your ancestor's parade? Christmas parades, whether more or less formal, have been a part of our family traditions since the late nineteenth century. Take some time to write down your memories, interview family about theirs, and look for information in historical newspapers.
———————-
* "Santa Claus Parade," Facebook Events (https://www.facebook.com/events/610306989166745: accessed 19 December 2017).
** Baker, James W. Thanksgiving: The Biography of an American Holiday. Durham, N.H.: University of New Hampshire Press, 2009. Available on Google Books: https://books.google.com/books?id=AL6-pCFBc28C&lpg=PA145&ots=DacZrYblu&dq=the%20fantastics%20nineteenth%20century&pg=PA145#v=onepage&q=the%20fantastics%20nineteenth%20century&f=false
*** Santa Parade (http://www.sacholidays.com/: accessed 19 December 2017).