Introduction: In this article, Gena Philibert-Ortega searches old newspapers to find Valentine's Day menus and recipes that our ancestors enjoyed. Gena  is a genealogist and author of the book "From the Family Kitchen."

Valentine's Day is Saturday, and one item associated with that holiday is food. According to the website History, it was after 1840 that Valentine's Day became associated with gift giving. British chocolatier Richard Cadbury introduced the idea of "eating chocolates," a byproduct from the making of drinking chocolate. He even designed boxes for the candies to come in. He's credited with creating the heart-shaped box that served as a beautiful gift package for the chocolates and provided a storage place for memorabilia.*
So what's on your Valentine's Day menu? Will your gift shopping involve the traditional heart-shaped box, or will you settle for a quiet night and a home-cooked romantic meal? If you're having a night in, there are plenty of ideas for Valentine's Day-themed foods in old newspaper articles to inspire you.
Valentine's Day Menus
This 1928 Valentine's-theme menu includes two gelatin recipes, one savory and one sweet: a heart-shaped salad and a strawberry soufflé.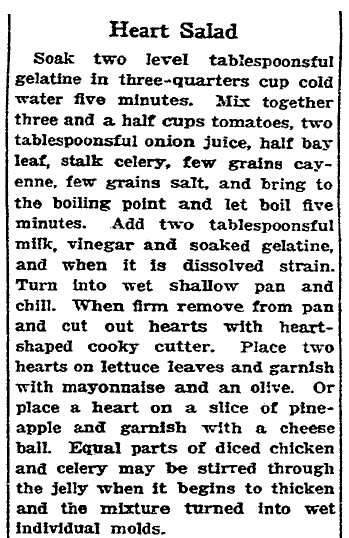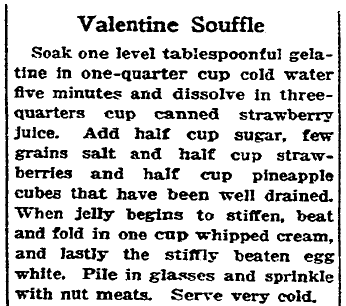 Like other holiday foods, Valentine's Day food is associated with certain colors, mostly red and pink. This old newspaper article from 1951 proclaims that "Food for Valentine's Day is probably as much fun to prepare as for any party because it is so pink and pretty." While that may or may not be true, there's no doubt that most people like the types of food described in these recipes, namely cookies and pie. The cookies described here are fairly easy to make, using a devil's food cake mix as their base. Red food dye, cranberry sauce and heart shapes help the meringue add to the dessert tray.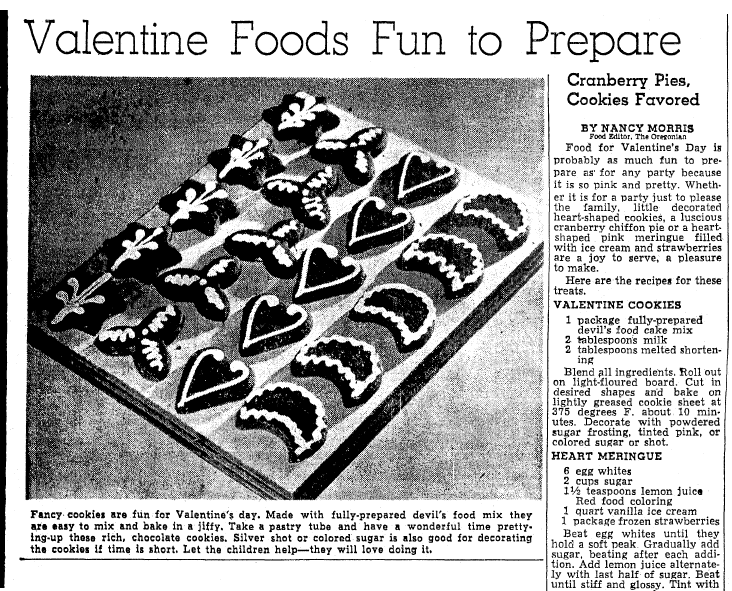 This 1941 Nebraska newspaper provides three possible menus for a Valentine luncheon, all with a different dessert. Depending on which menu you choose you could have "strawberry ice cream in meringue shells," "red raspberry chiffon pie," or "maraschino ice cream and petite fours."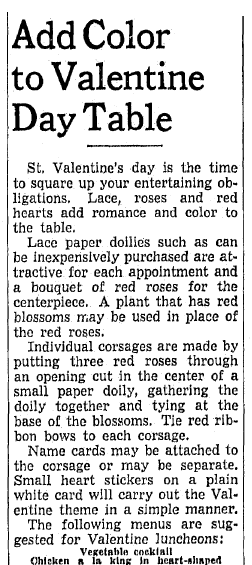 Start with Oysters & Salad, Then Eat Candy
Probably one of my favorite Valentine menus found in the newspaper is this one from 1915 entitled "Queen of Hearts Cook Book." In this early 20th century menu, oysters served on heart-shaped croustades are followed by a Love Apple Salad. From there the couple can have St. Valentine Sandwiches cut into heart shapes, and then they can move on to a dessert of heart-shaped candies dipped in chocolate. Of course like many Valentine menus, the ability to make all kinds of food heart-shaped is imperative. In this case the author instructs for the sandwiches: "…you will need a heart-shaped cutter which can be bought for about five cents."
Obviously Valentine's Day is the perfect time to serve heart-shaped foods. That tradition continues today and even my local pizza restaurants get in on the action by serving heart-shaped pizzas.
Bring on the Chocolate
Sure you can buy chocolate candies – but why not whip up a chocolate dessert?
In this 1977 collection of recipes, those who love chocolate can choose either Chocolate Amaretto Kisses or Thicker No-Egg Chocolate Cake. While there is a recipe for His Valentine Cookies which can be served with either jam, jelly, caviar or grated cheese, my guess is the men might prefer the Myers's Jamaican Rum Pie.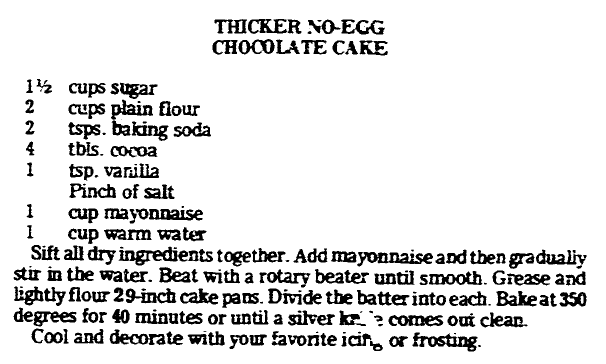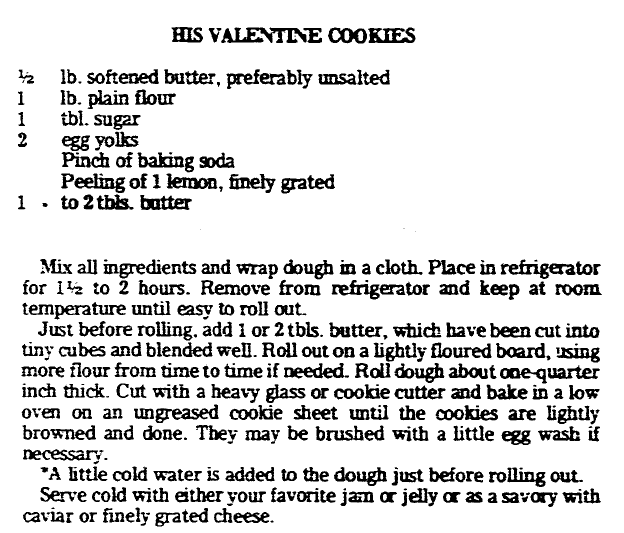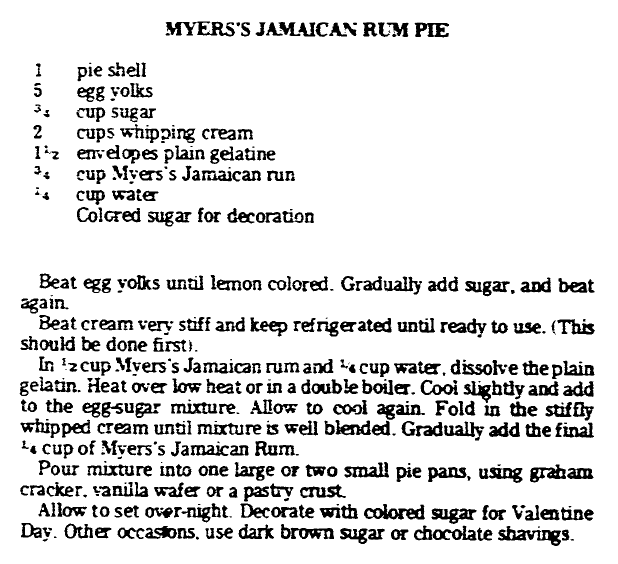 Do you have a traditional, old fashioned Valentine's Day recipe? I'd love to hear about it. Please share in the comments below.
Related Articles:
——————-
* Celebrating Valentine's Day with a Box of Chocolates. History. Accessed 8 February 2015.