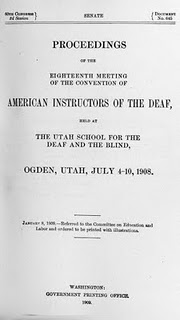 Congress has chartered many national associations – among them the American Instructors of the Deaf. Their annual reports routinely included details about the schools for the deaf and their faculty.

GenealogyBank has the back file of these reports.

Here are the obituaries that appeared in the 1908 report.

Deem, Charles S. (1861-1908). Jackson, Mississippi. p. 218
Israel, Ellen J. (1840-1908). Born – Morgan County, Ohio. Died – Brighton, Iowa. p. 218
Larson, Cora (Gunn). (1859-1905). Born – Buda, IL. p. 218-219
Mansur, Lida (O'Hara). (-1906). p. 219
Neal, J.C. (c. 1843- 1908). Died – Marion, NC. p. 219
Walker, Mary Ellen. (1852-1907). Born – Charlestown, MA. Died – Baton Rouge, LA p. 219
Yates, Frank B. (1863-1908). Born: Virginia. Died: Little Rock, AR. p. 219-220.
Tip: Associations routinely published detailed obituaries detailing the lives of their deceased members. GenealogyBank has information on more than 1 billion people – remember obituaries are not only in the newspapers. Be sure to search GenealogyBank's historical books and documents.
Proceedings of the eighteenth meeting of the Convention of American Instructors of the Deaf, held at the Utah School for the Deaf and the Blind, Ogden, Utah, July 4-10, 1908. January 8, 1909. — Referred to the Committee on Education and Labor and ordered to be printed with illustrations. Date: 1909-01-08; Publication: Serial Set Vol. No. 5407, Session Vol. No.20; Report: S.Doc. 645
.
(Visited 5 times, 1 visits today)