Introduction: In this article, Katie Rebecca Garner uses an example from her own family history research to show how important newspapers are to your genealogy. Katie specializes in U.S. research for family history, enjoys writing and researching, and is developing curricula for teaching children genealogy.
A good researcher will combine evidence from multiple sources to get a picture of what life was like for their ancestors. One such resource is an online collection of newspapers, such as GenealogyBank's Historical Newspaper Archives. Newspaper articles, especially obituaries and birth, marriage, and anniversary notices, can provide helpful clues in solving mysteries in one's family tree, sometimes providing that key piece to make the puzzle fit together.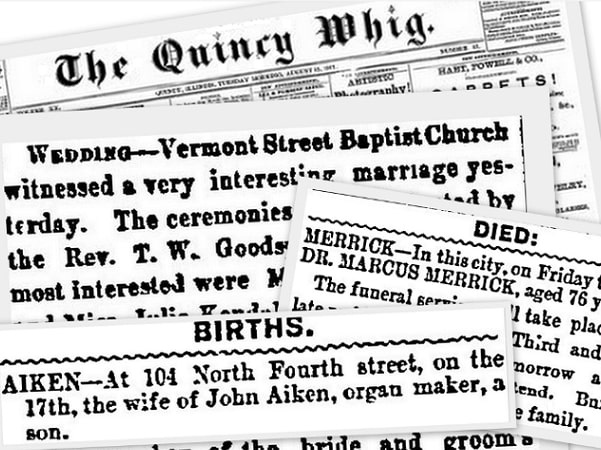 An example of this from my own research is the case of George Obermeier of Wisconsin. According to family lore, he changed his name to Oscar Boneck and moved to California because he was running from the law.
Census records and World War I draft registrations I found showed one version of his name or the other. Where one name appeared, a thorough search never yielded the other name. While this evidence supports the name change, it is not as strong as the evidence provided by newspaper research.
Oscar Boneck's 1983 obituary stated that he was born in 1899 in Washington, was a veteran of WWI, and had a sister named Ann Boneck in Wisconsin. I could not find any WWI information for Oscar Boneck.
Even though his obituary and other records of Oscar Boneck stated he was born in 1899 in Washington, I could not find a birth record for an Oscar Boneck from Washington. One running from the law would have motive to intentionally falsify their birth information, and this is what appears to be the case.
The most helpful evidence in Oscar Boneck's obituary is the connection to a sister in Wisconsin. Ann Boneck's 1984 obituary stated that her maiden name was Obermeier and that she was the daughter of Mr. and Mrs. George Obermeier, and the wife of the late Paul Boneck.
The 1910 census shows George and Francis Obermeier living with their children Annie, George, Walter, and Carrie Obermeier in Wausau, Marathon, Wisconsin. The ages for Annie and George on this census are close to the birth years given in their obituaries. Ann Obermeier had two brothers; the obituaries give proof that she is Oscar Boneck's sister, but no proof as to which of her brothers is Oscar Boneck.
I could not find a death notice for George Obermeier. I did find two obituaries for the other brother, Walter Obermeier, who died in 1953. Often when someone dies in a place other than where they reside, an obituary is published in the place they died as well as the place they resided; such was the case for Walter Obermeier. His obituaries mentioned two siblings in California: his brother George, and his sister Mrs. Paul Boneck. His obituaries, along with the ones for "Oscar" and Ann, provide proof that George Obermeier changed his name to Oscar Boneck.
Newspaper research also helped to narrow down the possible date that George Obermeier/Oscar Boneck changed names and migrated. The U.S. censuses were not helpful in this case because neither name was found in the 1930 census. The 1920 census was the latest one showing George Obermeier, and the 1940 census was the earliest one showing Oscar Boneck. This leaves a 20-year gap for a possible migration, which is too large for a researcher to reasonably work with.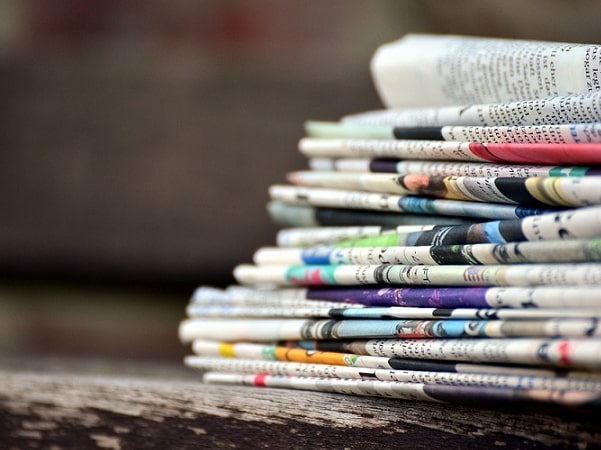 The earliest appearance I found of Oscar Boneck in California was in 1934, when he married Mary Ellena. The marriage license announcement stated that they both resided in Westwood, California. This implies that Oscar Boneck was in California by 1933.
The latest appearance of George Obermeier in Wisconsin was in 1926, when his mother Francis died. The surviving children mentioned in her obituary include Walter and George Obermeier of Wausau (Wisconsin) and Mrs. Paul Boneck. The combined evidence brings the 20-year gap to only 7 years (1926-1933), which is more reasonable to work with.
The family story about George Obermeier changing his name to Oscar Boneck and moving to California is apparently true, and could not have been as fully verified without newspaper research. The records that connected Oscar Boneck/George Obermeier to his family were obituaries and a marriage announcement. Those were the pieces that fit the puzzle together. In a similar way, newspapers can provide helpful clues for your own research.