Introduction: Gena Philibert-Ortega is a genealogist and author of the book "From the Family Kitchen." In this blog post, Gena shows some crossword puzzles and other games from old newspapers, giving a glimpse into the times our ancestors lived in—and, potentially, providing genealogy help because some of the names and addresses of contest winners were published in the newspaper.
Newspapers provide so much more than the news. Sure, there are the obituaries, legal notices, and vital record announcements that are so valuable to family historians. And as genealogists we all know the value of newspaper advertisements, social pages, and shipping news.
But there are also the bits that we don't normally consider having historical or genealogical value. It's important to remember that all parts of the newspaper contain not only a snapshot of our ancestor's time—but even the possibility of names and information appearing in places in the newspaper you wouldn't expect. One section that may not seem important is that containing games and puzzles.
Today, everyone is glued to their smartphones playing online games individually or with friends. Most likely you know someone who passes time playing Angry Birds, Candy Crush or Words with Friends. For our nineteenth and twentieth century ancestor, participating in a newspaper game or puzzle might have resulted in their name, and perhaps even address, being published.
Lone Ranger's Nephew's Horse: the Crossword
Although not the only type of puzzle found in the newspaper, crossword puzzles are probably the one we are most familiar with. The first crossword puzzle, which looks slightly different than the crosswords of today, appeared in the New York World in 1913. By the end of the 1920s, crosswords were found in newspapers nationwide.* While we might most associate the New York Times with newspaper crosswords, they actually didn't print their first puzzle until 1942.**
Here's an early crossword puzzle, from a 1915 Cleveland newspaper.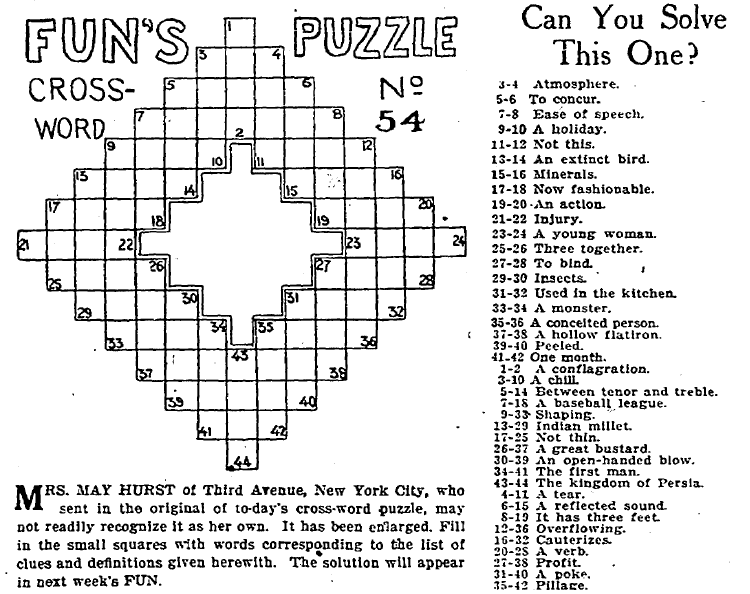 Crosswords were strategically placed in the newspaper, often next to advertisements. This placement forced readers to see advertisements, and potentially generate revenue for advertisers and the newspaper, as they searched for their beloved puzzle.***
It's probably no surprise to learn that puzzles, and clues to those puzzles, change over time and reflect current events. According to the book Curious History of the Crossword: 100 Puzzles from Then and Now by Ben Tausig, puzzle clues from the World War II era included geography questions and foreign currencies. In some cases, puzzles found in the newspaper focused on current events, as in this 1945 Military Maze which includes military titles held by men who would be marching in World War I Armistice Day parades.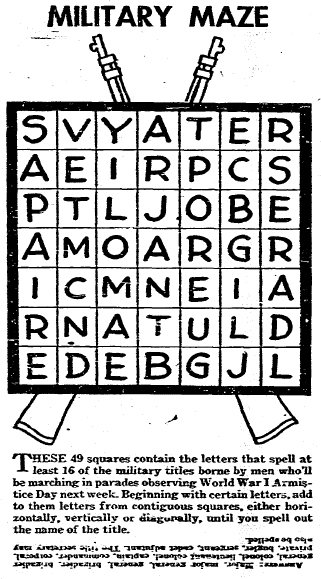 Puzzle Contests
Working a puzzle isn't just a solitary pursuit. In some cases the puzzle was also a contest. Newspaper contests provided cash prizes to children and adults.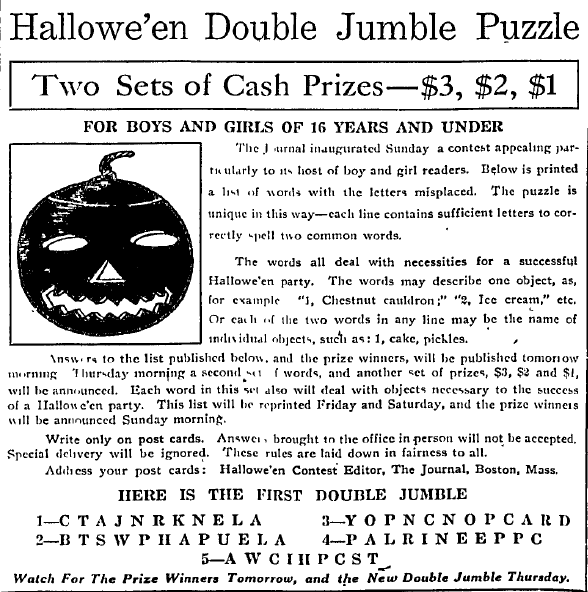 In some cases prize award announcements might include names and addresses of winners, as does this 1924 Dallas newspaper article announcing that Miss Hazel Cobb, living at 5201 Live Oak Street in Dallas, had won first prize due to her correct answers.
Children and Their Puzzles
Puzzle pages could also be found on newspaper pages dedicated to children. Marketing to kids has always been a successful advertising tactic, and with a page dedicated to kids that includes their names, social activities, games and jokes, the paper guaranteed itself revenue. This Massachusetts Boys and Girls Page from 1944 is a great example of what newspapers offered their child readers, including puzzles, riddles, stories, quizzes and scientific facts. One of the most interesting pieces on the page is the Defense Blunder which shows a cartoon of two women talking in the forest. Children are asked to name the mistake the women are making—keeping in mind that World War II was going on at the time. The answer reminds the children that forest saboteurs might be hiding listening for information, and they may be trying to set fire to precious timber/lumber supplies.
What newspaper games did your ancestors play? Better yet, what prize did they win by participating in newspaper games and contests?
Do you love solving crossword puzzles like your ancestors? Search the newspaper archives to find thousands of printable crosswords to have fun sharpening your wordsmith skills.
————
* American Crossword Puzzle Tournament. Brief History of Crossword Puzzles, http://www.crosswordtournament.com/more/wynne.html. Accessed 26 August 2014.
** About.com 20th century History. The first Crossword Puzzle. http://history1900s.about.com/od/1910s/qt/firstcrossword.htm. Accessed 26 August 2014.
*** Curious History of the Crossword: 100 Puzzles from Then and Now by Ben Tausig. p. 13.
Related Articles about Contests and Games:
[bottom_post_ad]