Introduction: In this article, Melissa Davenport Berry writes another story tied to the Winthrop Fleet of 1630, again focusing on the Avery family line. Melissa is a genealogist who has a blog, AnceStory Archives, and a Facebook group, New England Family Genealogy and History.
Today I continue with my "The Avery Family Line" story. As with Part 1, I want to take a closer look at the article "A Remarkable Ancestry" published in the Norfolk Weekly News-Journal in 1905. The Avery family history was told to the press by a member of the Nebraska Society of Daughters of the American Revolution.
The "Norfolk Daughter" was Mrs. Frances Avery Haggard (1846-1907), a direct descendant of Christoher Avery. He arrived in Salem, Massachusetts, on 12 June 1630, on the flagship Arbella, part of the "Winthrop Fleet" that sailed from England to Massachusetts Bay under the leadership of John Winthrop.
To recap: Mrs. Haggard was born to Daniel and Elizabeth (Haxby) Avery. She was the wife of Dr. James Robert Haggard. When her D. A. R. chapter was organized, she had the honor of choosing its name as she had the most ancestors who fought in the Revolutionary War.
She chose the name of her gr. great grandmother, Deborah Avery (1742-1825), daughter of Lieut. Col. Ebenezer Avery (of the Eighth Connecticut Militia) and his wife, Lucy Latham.
Sixty of the Avery clan's men fought for the flag. Many took part in what is known as the Battle of Groton Heights (though, when it happened, it was dubbed the "Fort Griswold Massacre").
It was one of the last battles of the American Revolution and occurred on 6 September 1781. Eighty-eight brave men lost their lives. Most of them were slaughtered after the fort was surrendered.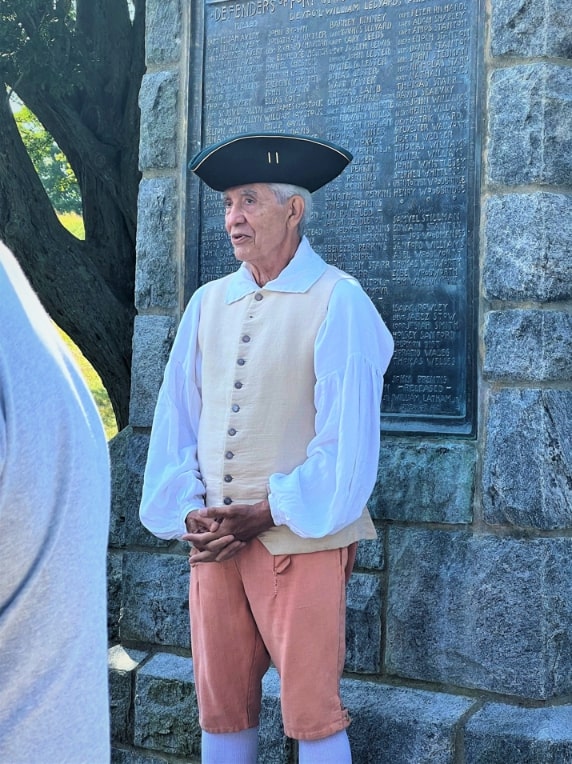 The fort was attacked by Bendict Arnold, and the garrison of 167 men was commanded by Col. William Ledyard. Several Avery men either born with the name or married into the family lost their lives that day.
Every Avery who fought in the battle in Groton, Connecticut, descends from Captain James Avery, the only son of Christopher Avery.
According to the story Mrs. Haggard shared with the newspaper, Christopher Avery resided in Boston in the business district, a location that is now the post office building. It was not far from the John Winthrop estate, and the families remained close.
Christopher's son James settled in Gloucester, Massachusetts, and later moved his family to Groton, Connecticut.
I cited several Avery men who fought at Fort Griswold in my last story, and here are more according to Mrs. Haggard. I added genealogy and information.
This article reported:
Among the garrison at Ft. Griswold was Deborah Avery's husband, Ensign [Daniel] Avery [who was in Capt. Gallop's company in 1776], and his brother Sergeant Solomon Avery, and her brother Lieutenant Ebenezer Avery [who left descendants with wife Rachel Denison, daughter of Daniel Denison and Rachel Starr], all of the Eighth Regiment, together with thirteen of her cousins. [A full list of fighters can be viewed at Fort Griswold.]

Of these, her husband, her husband's brother, her brother, and cousins Captain Elijah Avery [son of John Avery and Elisha Morgan, who left descendants with his wife Prudence Avery]; Captain Elisha Avery [son of Parke Avery and Mary Latham, no issue]; Sergeant Christopher Avery [son of George Avery and Eunice Schofield, no issue]; Sergeant Jasper Avery [son of Parke Avery and Mary Latham, who left descendants with wife Elizabeth Smith, daughter of Nathan Smith and Elizabeth Denison]; David Avery [son of James Avery and Elizabeth Smith, who married Elizabeth Lord]; and Thomas Avery [son of Park Avery and Hannah Morgan] were killed.

Her cousins Lieutenant Parke Avery [wounded and lost an eye, son of Parke Avery and Mary Latham, who married Hannah Morgan, daughter of James Morgan and Mary Osborn. He left descendants including son Thomas, named to honor his brother Thomas who was killed at Fort Griswold. He married Sally Rogers, daughter of Amos Rogers and Sarah Phillips, leaving descendants]; Ensign Ebenezer Avery [severely wounded, beaten with the butt of a musket, son of Parke Avery and Mary Latham, who married Elizabeth Smith, widow of his brother Jasper Avery, 2nd Elizabeth Coleman, daughter of John Coleman and Deborah Ledyard, and 3rd Elizabeth Green]; and Amos Avery [wounded and taken prisoner. View his pension here at Fort Griswold] were wounded and left for dead.

Sergeant Rufus Avery [son of James Avery and Elizabeth Allyn, who married Hannah Lord, daughter of Asa Lord and Abigail Mumford, and left descendants]; Peter Avery [son of John Avery and Sarah Mary Belton, who married Hannah Avery, daughter of Park Avery and Hannah Morgan, and 2nd Nancy Ann Smith, daughter of Oliver Smith and Mary Noyes Denison, and left descendants]; and Nathan Avery [wounded, son of Simeon Avery and Sarah Niles, who married Anna Ayers, daughter of John Ayers and Abigail Cooke, and left descendants] were carried off as prisoners.

After the battle the wounded were carried to the home of Ebenezer Avery, which was at the foot of the heights where many of the dead and dying were identified by their friends. The blood stains are still to be seen, as the owner will not consent that they should be washed out.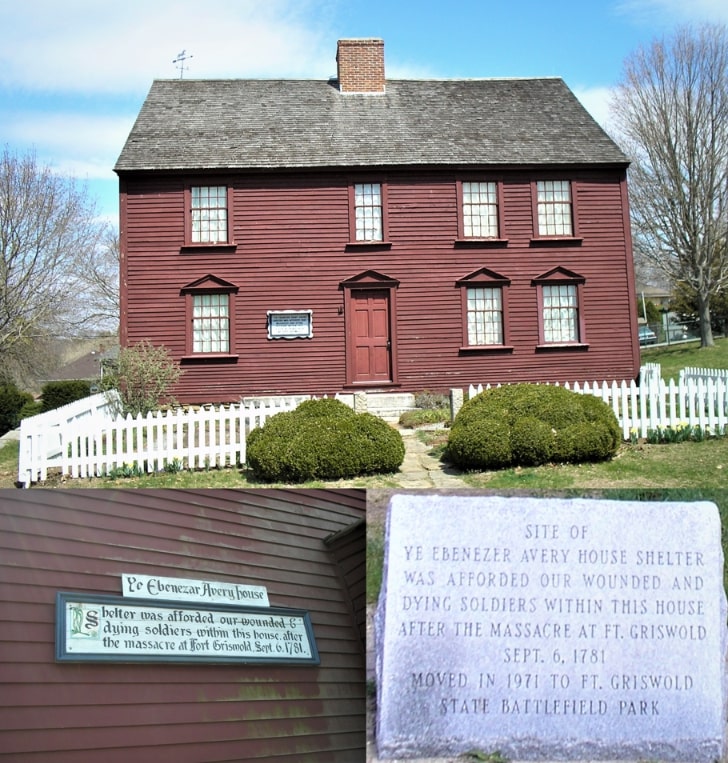 The historical marker on the house reads:
Ye Ebenezer Avery house. Shelter was afforded our wounded & dying soldiers within this house after the massacre at Fort Griswold, Sept. 6, 1781.
The stone historical marker reads:
Site of ye Ebenezer Avery house. Shelter was afforded our wounded and dying soldiers within this house after the massacre at Ft. Griswold, Sept. 6, 1781. Moved in 1971 to Ft. Griswold State Battlefield Park.
The Norfolk Weekly News-Journal article also reported:
Deborah Avery was thus left to rear a family of eight children, all of whom were an honor to the mother. They were never allowed to even take a walk for pleasure on the Sabbath day.

Ensign Daniel Avery, father of Dr. Dudley Avery [married Mary Ann Brown], was my [Mrs. Frances Avery Haggard's] great-great-great grandfather. As has been seen, he was a soldier of the revolution together with fifty-nine relatives of the same name. At Fort Griswold he was killed and eight others of the family who bore the Avery name fell with him.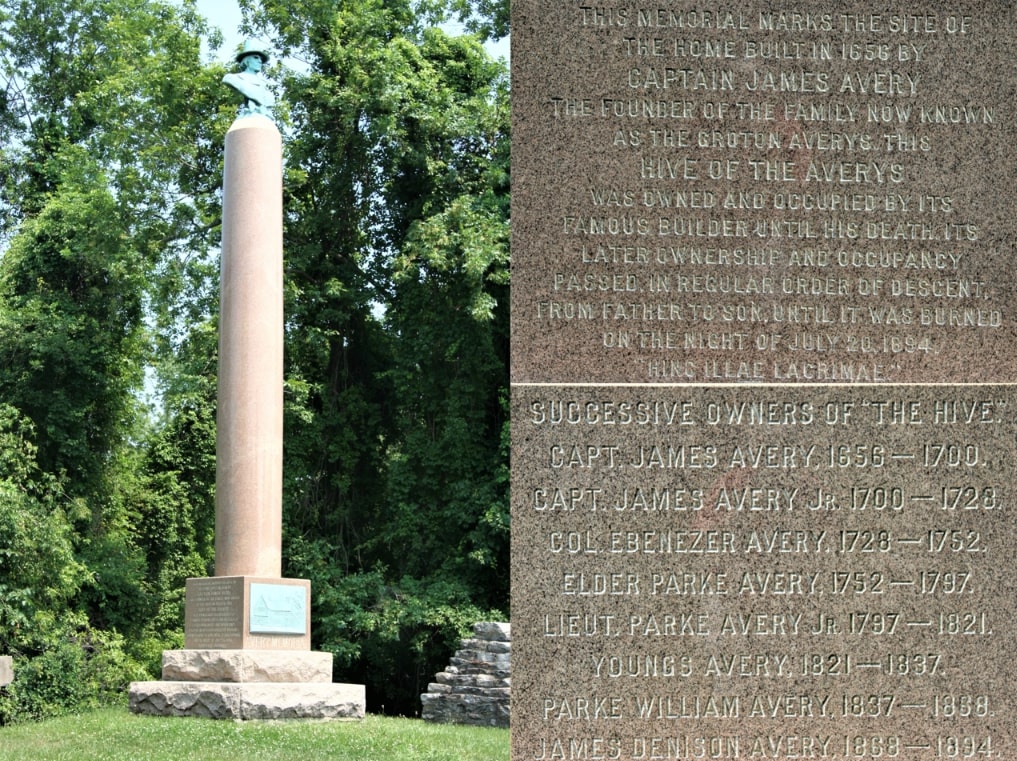 The first marker reads:
This memorial marks the site of
the home built in 1656 by
Captain James Avery
the founder of the family now known
as the Groton Averys. This
Hive of the Averys
was owned and occupied by its
famous builder until his death. Its
later ownership and occupancy
passed, in regular order of descent,
from father to son, until it was burned
on the night of July 20, 1894.
"hinc illae lacrimae" [hence those tears]
The second marker reads:
Successive owners of "The Hive."
Capt. James Avery, 1656-1700.
Capt. James Avery Jr., 1700-1728.
Col. Ebenezer Avery, 1728-1752.
Elder Parke Avery, 1752-1797.
Lieut. Parke Avery Jr., 1797-1821.
Youngs Avery, 1821-1837.
Parke William Avery, 1837-1868.
James Denison Avery, 1868-1894.
Explore over 330 years of newspapers and historical records in GenealogyBank. Discover your family story! Start a 7-Day Free Trial
Note on the header image: this replica of Arbella was built in 1930 for the 300th anniversary of the Winthrop Fleet's arrival at Salem on 12 June 1630, in conjunction with Pioneer Village, where it is now located. Credit: the Tichnor Brothers Collection, Boston Public Library, Print Department.
Related Article: