Introduction: In this article, Melissa Davenport Berry continues her story about the 1933 discovery by a Nevada street-sweeper of his extraordinary family history. Melissa is a genealogist who has a blog, AnceStory Archives, and a Facebook group, New England Family Genealogy and History.
I recently wrote about Thomas Severence Delano, a Nevada street sweeper who discovered he was a cousin of Franklin Delano Roosevelt (FDR) and descended from a long line of impressive palatial pedigrees dating back centuries (see Nevada Street Sweeper Discovers Plymouth Colony and Royal Heritage).
Today I will cover a Mayflower line which Tom descends from, and a meet-up with his cousin Anna Roosevelt Dall in Nevada.
Tom only discovered his connection when he was reading a newspaper article on Sara Delano Roosevelt, FDR's mother. Tom always pronounced his surname "deLAYno," while the Roosevelts pronounced it "Dellano." Tom's curiosity sent him on a hunt through family letters and papers. He remembered the romance stories of the Delano sea captains in his early Massachusetts line.
As it turned out, Tom shared a direct line with FDR's mother through Jonathan Delano and Mercy Warren. Jonathan's father, Philippe de Lanoy [Delano], arrived in Plymouth in 1621 onboard the Fortune, the first ship to arrive in Plymouth after the Mayflower.
The Captain Warren Delano house in Fairhaven, Massachusetts, was a sacred place for the Roosevelt clan. The house made many headlines through the years – including in 1903 when, following Thanksgiving dinner, Franklin announced to his mother that he had become engaged to (Anna) Eleanor Roosevelt.
This home is but one of the historical landmarks that represent the Delano family. Tom's line had many impressive, colorful stories which made the pages of the annuals. His 3rd great grandfather Richard Delano (grandson of Jonathan and Mercy Warren Delano) married his cousin Mercy Taber (daughter of Jonathan and Lois West Taber). Lois West was the daughter of Mercy Cooke West, daughter of John Cooke and Sarah Warren.
Richard Delano built a home in 1773 and, during the onset of American Revolution, moved some of his household effects for safekeeping, according to History of New Bedford and Its Vicinity, 1602-1892. His loaded wagon, in charge of a lad named Look, was met on the road to the woods by a British soldier who, after saluting the boy with a blow, mounted the wagon and ordered the lad to drive on.
When they reached the house of Mr. Alden, they found it in possession of the British, and the soldier entered. The lad quickly made his escape and, returning home, told his adventure to Mr. Delano. The Delano family fled – and on their return, found that their home had been invaded by the enemy, and their furniture destroyed. The marks made with a bayonet in opening the house revealed evidence of General Grey's orders to use the bayonet at all cost.
I found an obituary for Richard Delano by searching GenealogyBank's Historical Newspaper Archives.
I also found this notice of his estate.
His son Richard, Tom's 2nd great grandfather, was the executor. He married Drucilla Freeman, also a Mayflower descendant. More on that line later.
Back to Tom Delano. In 1934 Tom met up with Anna Roosevelt Dall, his 6th cousin.
She was the daughter of Franklin and Eleanor Roosevelt. According to the New Orleans Item, Anna was filing for divorce from Wall Street financier Curtis Bean Dall. The "first White House divorce" raised some scandal, so Anna had taken her two children to the secluded Arrowhead D Ranch in Nevada, owned by New York socialites Mr. and Mrs. William D. Shepard.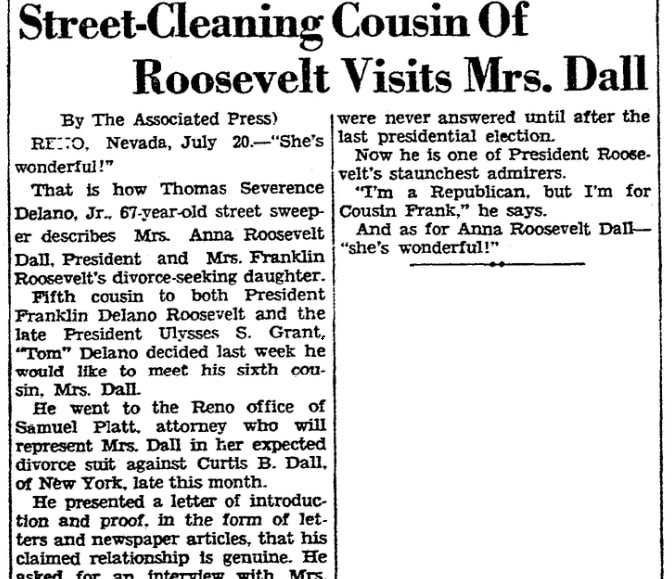 Tom caught wind of Anna's locale and contacted her lawyer Samuel Pratt in Reno to seek an introduction. Tom was armed with letters and newspaper clippings from the Delano family in Massachusetts to prove his credentials. Pratt arranged a meeting, and it was a success. Anna made a good impression, and Tom told the press: "She's wonderful!"
He also told the press: "I am a Republican, but I am for cousin Frank!" and remained one of President Roosevelt's staunchest admirers.
Stay tuned for more on the Delano lines and a special antique relic from the family.
Related Article: