Introduction: In this article, Gena Philibert-Ortega writes about how she and some of her friends just celebrated New Year's Eve/Day – perhaps you'll get some ideas for next year! Gena is a genealogist and author of the book "From the Family Kitchen."
When I was a teenager my mom began our family's food tradition of eating black-eyed peas for New Year's Day. Every January 1st we knew that our dinner menu would consist of black-eyed peas and cornbread. The idea behind that specific meal choice was that eating it would give you good luck for the coming year. I'm not so sure it worked, but it became a family food tradition nevertheless.
What food traditions does your family have for New Years? Many times, we focus on the food traditions of Thanksgiving or Christmas, but the New Year brings its own traditions as we say goodbye to the previous year and hello to the new.
Hoppin' John and Good Luck
I am not the only one who grew up eating black-eyed peas on January 1st; many of my Facebook friends told me that was their tradition as well. According to the Dictionary of American Food and Drink:
"Hoppin' John (or Hopping John) is a southern dish made of cowpeas and rice, served traditionally on New Year's Day to ensure good luck for the year. The origin of the name is obscure, but several stories abide, [including that of] an old ritual on New Year's Day in which the children in the house hopped once around the table before eating the dish. The first mention of the dish by name was in 1838."*
While it is a dish known to include black-eyed peas (a subspecies of cowpeas), you can actually use a different type of bean if you prefer. This 1994 Brunswick News article includes a recipe for both Hoppin' John and Corn Bread, which some of my friends say is a must when eating this dish.
This Southern dish can also include greens (turnip or collard). Because it is a Southern dish, it is probably no surprise that this 1969 recipe from the Charleston News and Courier mentions that for the meat that accompanies the beans you can use salt pork, hog jowl, or bacon. One of my friends mentioned that her family enjoys fried hog jowls with their meal.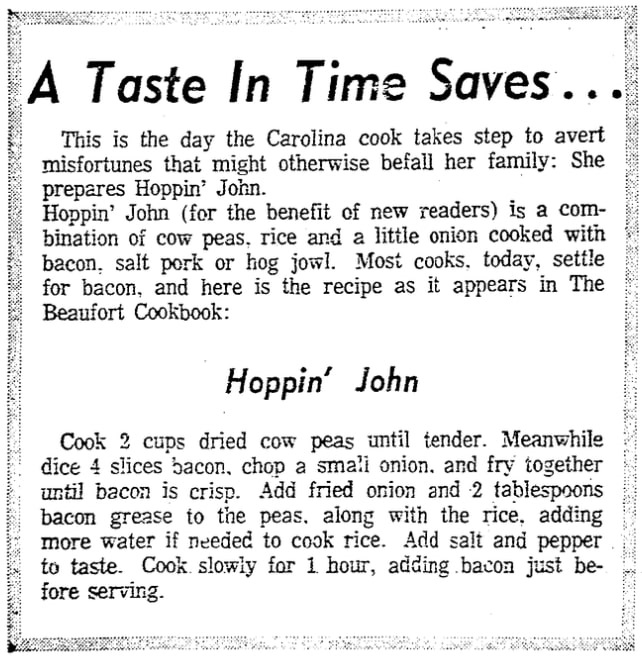 Pork and Sauerkraut
Just as Hoppin' John is a Southern New Year's Day dish, Pork and Sauerkraut is a Pennsylvania Dutch tradition. Genealogist Peggy Clemens Lauritzen remarked that her family's tradition came:
"From their parents, and their parents. There was a lot of German ancestry in the eastern part of Kentucky and Appalachia. Mom and dad grew cabbage specifically for that New Year's dinner, with mom chopping the cabbage up using an empty can of Pet Milk. Dad would have a huge crock (his mother's) ready with the brine for the cabbage to ferment in. He plunged the cut cabbage down into the crock, placed an upside-down dinner plate on it, and placed a wrapped brick on the plate to hold it down. After a period of several days/weeks, it was good. Then they bottled it up and canned it for the winter."
Does your family enjoy Pork and Sauerkraut on the 1st? Do they go to the trouble of making the sauerkraut or do they purchase it from the store? Peggy mentioned her parents' process for making the sauerkraut, but later remarked that she and her husband purchase theirs. This 1955 recipe from the Dallas Morning News is just one way to consider serving this dish on New Year's Day.
Around the World
People all around the world celebrate New Year's with special meals and other traditions. Here are a few examples.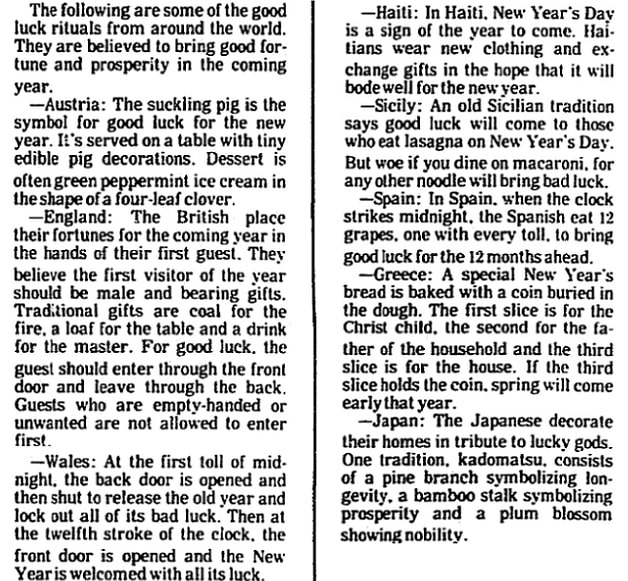 Why Not Start Your Own Tradition?
My Facebook friends told me about all of the different ways they ring in the New Year with food, including: serving only appetizers; Maine lobster (flown in for the occasion); clam chowder; shrimp cocktail; blood sausage; Japanese noodles (zaru soba); and chili. And of course, everyone has their favorite drink of choice to toast the New Year. (Thanks to all my Facebook friends who provided me ideas for this article.)
If your family doesn't have a specific meal planned for January 1st, you could start your own New Year's Day food tradition based on your family's background, country of origin, or even whether you stay up all night and want to eat breakfast very early in the morning.
Whether you have a family food tradition or not, Happy New Year!
* Mariana, John F. The Dictionary of American Food & Drink (New Haven: Ticknor & Friends, 1983), p. 197.