Introduction: In this article, Melissa Davenport Berry continues her story from the family line of author Nathaniel Hawthorne, this one having a possible connection to "The Scarlet Letter." Melissa is a genealogist who has a blog, AnceStory Archives, and a Facebook group, New England Family Genealogy and History.
"Let her cover the mark as she will, the pang of it will be always in her heart."

–Nathaniel Hawthorne, The Scarlet Letter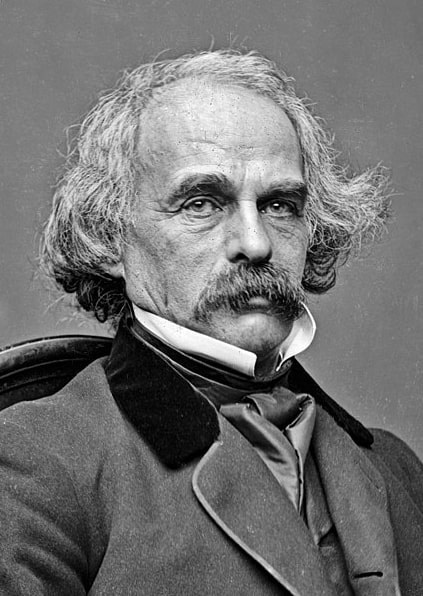 As described in my last article, I came across a court case that perhaps provided a hot source for Hawthorne's novel The Scarlet Letter. The Manning family case is a genealogy link to his maternal ancestral line through his mother, Elizabeth (Betsey) Clarke Manning.
To recap: in 1680 three Manning children born to Richard and Antice Manning were charged with incest. A complaint was filed by Elizabeth (nee' Wickes) Gray Manning, the wife of Captain Nicholas Manning. She claimed Nicholas was carrying out illicit sexual acts with his two sisters Margaret Palfrey (wife of Walter Palfrey), and Anitice, a single woman.
The case was weak, and no real evidence of actual crime was given in the court transcript; nevertheless, the Manning siblings were found guilty. The court ordered a punishment of public humiliation known as "branding."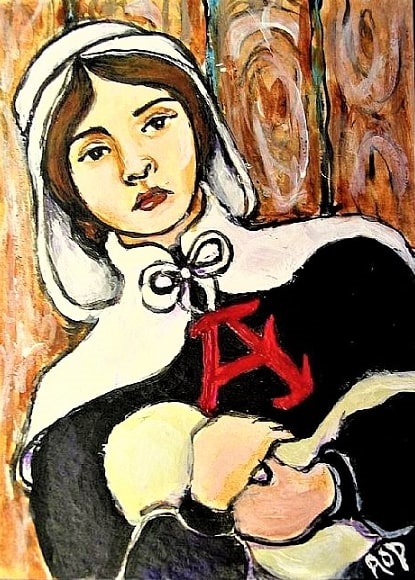 Nicholas fled the scene, but his sisters Margaret and Antice were made to stand or sit upon a high stool on lecture day in front of the meeting house with a paper upon each of their heads, with their crime written in capital letters [INCEST, My Whorish Carriage].
You can read the transcribed court files on the University of Virginia website "Records and Files of the Quarterly Courts of Essex County Volume VIII."
Since Margaret was pregnant when accused, one can only image the persistent gossip buzzing on who was the daddy – the colony must have been one big hornets' nest.
The sting of this incident never altered Margaret's husband Walter, who stood by her side through it all and paid the hefty fines for both his wife and Antice to spare them the whip.
Margaret delivered Richard on 7 May 1681. He married Hannah Harris in Salem in June 1704. Their daughter Hannah was born in 1706; she married cabinetmaker Samuel Collins.
Margaret and Walter had more children, and many descendants are still around today. Sydney Perley, in History of Salem, Massachusetts, Volume III, noted:
"His [Walter Palfrey] posterity left their imprint upon the history of the town in commerce, trade, and journalism." (p. 150)
Walter was the grandson of Peter "the Pioneer" Palfrey, who was among the original Planters who settled Salem in 1626 with others like Roger Conant, John Woodbury, William Trask, and John Balch.
Nathaniel Hawthorne references Peter Palfrey in his stories "The Maypole of Merry Mount" and "The Puritans and the Lady Arbella."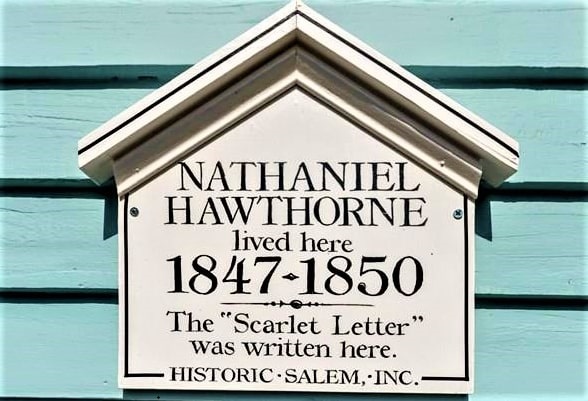 Other children born to Walter and Margaret married into the Downing, Hunlock, Phippen, Derby, Grafton, and Giles family lines.
Margaret's sister Antice Manning married James Poland.
When the three siblings were accused in 1680, Nicholas Manning fled, leaving his sisters to bear the brunt of the scandal on their own. He went to Maine and scored a new lass, Mary Mason, daughter of wealthy landholder Captain John Mason – who became his business partner. Nicholas tied the knot with Mary Mason in 1686.
Elizabeth had obtained a divorce from Nicholas on grounds of the incest case.
One conjecture on what may have triggered this tragedy was made by Vernon Loggins in his book The Story of the Seven Generations of Hawthornes. Loggins believed Elizabeth Manning, being much older in years, suffered from desperate jealously.
Whatever the cause of her making the incest charge against her husband and his sisters, it certainly appeared vindictive in nature. The sisters' humiliating public branding was public indeed. Loggins noted that there was not one absence from church the day the Manning sisters were sporting the "I" badge outside the meeting house.
Hawthorne's mother Elizabeth (Clarke) Manning descends from Thomas, the brother of Nicholas, Margaret and Antice. More on that later.
Phillip Young's book, Hawthorne's Secret: An Un-Told Tale, was published in 1984. Young investigated Hawthorne and discovered his dark family past where incest, guilt, and shame lurked in the shadows.

Young believed Hester Prynne's dishonorable "A" (for adultery) in The Scarlet Letter really reflected the "I" for incest from Hawthorne's family shame. Young references the Manning court case
This newspaper review says that in his book:
"He [Young] theorizes that the fictional 'Scarlet Letter' was really a cover-up for Hawthorne's personal longings [for his sister Elizabeth] and knowledge of a dark family past [the Manning scandal]."
The reviewer concludes:
"All great fiction is statement by concealment. If Hester Prynne had worn the letter "I," the novel would have been smaller in scope. With the current idea of "A" as American as apple pie, Hawthorne created a story that lives on."
Stay tuned for more sources from the archives…
Related Article: