Introduction: In this blog article, Gena Philibert-Ortega shows a potentially rich source of family history information for genealogists, printed years after the deceased's death date: Mother's Day memorial notices in newspapers. Gena is a genealogist and author of the book "From the Family Kitchen."
Celebrating Mother's Day Sunday got me to thinking about researching female ancestors. I remember that, years ago, our local newspaper had a special section that was printed in May for Mother's Day. Readers could purchase an "ad" that could include a photo, a written sentiment of a few lines – and for an extra fee they could add a decorative color image like a balloon or heart. This newspaper feature allowed readers to honor their loved one publicly in print. Messages tended to include declarations of "I love you" and "thanks for all you do."
Mother's Day is a bittersweet time for some people. While some of us spend the day taking our mom out for a meal or giving her a gift, what happens to those whose mothers have passed away? How do they honor their moms? Placing flowers on her grave is one option, but for some another way to remember mom was by placing a special memorial in the newspaper on Mother's Day.
These Mother's Day memorials can be a real treasure for family history research. Look for them in an online collection of newspapers such as GenealogyBank's Historical Newspaper Archives.
Newspaper Memorials
As we look for our ancestors in the newspaper we tend to have a very narrow focus when we search. But Mother's Day newspaper memorials illustrate an important point to consider in our research: our ancestors can appear in print years after their death. When I think of researching a person's life I tend to think that there is an "end date" for searching newspaper articles. That end date is probably shortly after they passed away. I may not spend a long time searching newspapers after the person's death date unless there was an accident or crime involved, or a probate action. Otherwise, I often think that newspaper articles about the person will probably stop somewhere around the funeral date.
But this isn't necessarily the case. A few years – to over a decade or more – after her death, you may find that the family placed a memorial to their deceased mother or grandmother in the newspapers for Mother's Day. These memorials may include her date of death and the names of family members left behind. Often, they also include a poem expressing their sorrow. While some of these poems were penned by a loved one, the majority were from another source. Newspapers provided sample poems that could be chosen to make the task easier.
Remembering Mom
In this 1943 Mother's Day edition from a Washington, D.C., newspaper, tributes to moms and other loved ones appear. Susie Byrd, who died 14 years prior, is remembered by her daughter Nellie Butler with a short verse.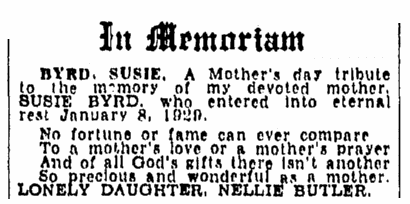 This Special Mother's Day "In Memoriam" section from a 1944 Louisiana newspaper even includes some photos of moms who have passed away. The poetic tribute for Beatrice Ragusa was penned by her son Frank P. Ragusa, who was serving in the United States Navy at the time.
His poem in part reads:
I always have you treasured in my heart and mind, mother.
As an ever loving angel.
You have often, mother, very often, made us happy.
Why? Because you loved us.
Yes, each and every one of us.
Today I am far from home.
But not from you, mother.
You're closer to me now than ever before.
Though often these memorials contain more sweet sentiment than genealogical data, there are exceptions – including this one in honor of Mattie W. Wade from a 1946 Virginia newspaper, which provides her birth (unfortunately, only the month and day) and death date.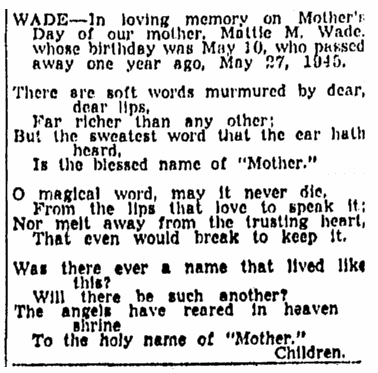 In Honor of Moms Everywhere
There's no doubt that there are some standard newspaper articles that honor living moms, but don't forget possible mentions of moms who may have passed away years or even decades prior. Newspaper memorial notices printed on Mother's Day provided families the opportunity to honor their deceased loved one in a lasting way – and potentially create a rich source of family history information for genealogists.
Related Articles: