Introduction: Mary Harrell-Sesniak is a genealogist, author and editor with a strong technology background. In this guest blog post, Mary follows up on one of her earlier blog posts by presenting more of the funniest, quirkiest, or most touching sayings about genealogy that she's encountered in her career as a family historian.
After the GenealogyBank Blog article Genealogy Humor: 101 Funny Quotes & Sayings for Genealogists was posted, we noticed many of you liked them so much that you shared the humorous quotes across social media sites such as Facebook, Google+ and Pinterest to spread the laughter around the genealogical community.
So here are a few more funny genealogy sayings to give you a chuckle and brighten your day!
Funny Genealogy Expressions & Slogans
Definition of genealogy: When a step backward is true progress!
Don't let your family tree suffer from root rot!
Finding a new ancestor is a blast from the past!
Genealogist's favorite game: Ancestor Hide and Seek.
Genealogist's favorite game show: Family Feud.
Genealogist's hunting season: 12 Midnight 1 January — 11:59 P.M. 31 December.
Genealogist's least favorite activity: Pruning the family tree!

Genealogists are always in a family way!
Genealogists are family tree huggers!
Genealogists are forebear hunters!
Genealogy is not done until the "past lady" sings!
Genealogy is simply TREEific!
Genealogy disease: Gensomnia.
How a genealogist greets a stranger: "Are you sure we aren't related?"
How a genealogist greets another genealogist. "Would you like to join my famclub?"
How a genealogist introduces his children: "I'd like you to meet my descendants!"
How a genealogist introduces his parents: "Have you met my ancestors?"
I'm ancestrally challenged!
If you want to have some fun, say "Who's your daddy?" to a room full of genealogists and watch the heads turn.
It's hard to be humble with ancestors like mine!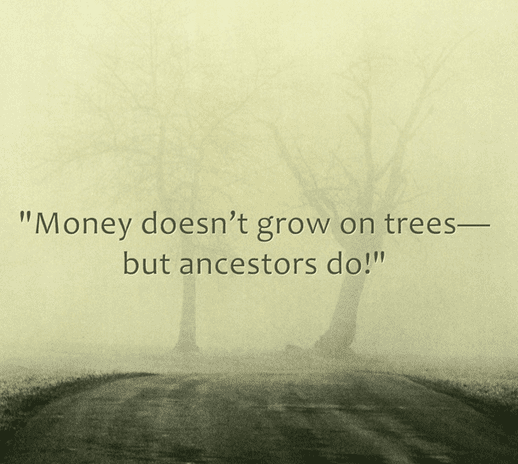 Money doesn't grow on trees—but ancestors do!
Murphy's law of genealogy: After solving a dead end ancestor mystery that consumed your entire adult life, your sister reports, "I could have told you that!"
Murphy's law of genealogy: Paying for a vital record and then finding it right under your nose!
Old genealogists never die. They just haunt archives.
Organization to help with genealogy addiction: AA (Ancestors Anonymous).
Popular sign in a cemetery: "Dead End."
The best ancestors want to be found!
The "mother lode" of genealogy is discovering a great grandmother's maiden name.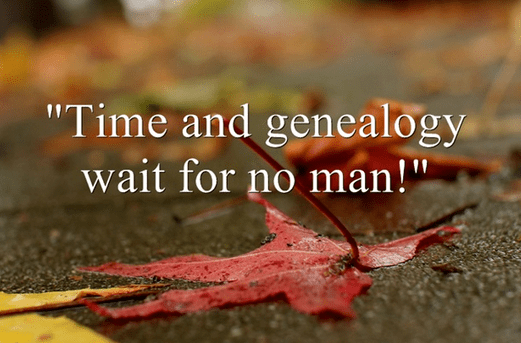 Time and genealogy wait for no man!
To a genealogist, the expression "Mother Nature" takes on a whole new meaning!
Transcribers of headstones generally work the graveyard shift!
True genealogists wonder why the Academy Awards don't have a category for best microfilm!
Ultimate success to a genealogist: Proving that Elvis isn't dead!
What a genealogist should not say on a blind date: "Isn't it great? I did your tree and we're related!"
You know you're a genealogist if you find the certainty of ancestral death and tax records exciting. (Paraphrased from Ben Franklin's "Certainty? In this world nothing is certain but death and taxes.")
If you think Castle Garden is something out of a fairy tale, you're probably not a genealogist!
More Family History Funnies from Our Readers
The following hilarious comments were shared by readers after the first funny genealogy quotes blog post went live. If you have some of your own humorous quotes and sayings for genealogists, please share them with us in the comments!
1) Here is an old epitaph bromide: On an old tombstone was the following quote,
"Pause stranger, when you pass me by, As you are now so once was I. As I am now, so you will be. So prepare for death and follow me."
Below that epitaph someone scratched the following, "To follow you I'm not content, Until I know which way you went."  —from David on 7 March 2014.
2) Headstone epitaph: "This is the damndest thing I've ever done."  —from George on 26 January 2014.
3) "You know you're a genealogist when you watch a movie that has a scene in a graveyard, and you're distracted from the plot by trying to transcribe the tombstones." —from Kay on 23 January 2014.
GenealogyBank's Genealogy Quotes Pinterest Boards
If you'd like to laugh a little and enjoy more genealogy sayings and quotes, be sure to follow our GenealogyBank Pinterest boards listed below.
Follow Genealogy Bank's board Genealogy Humor & Funnies on Pinterest.


Follow Genealogy Bank's board Genealogy & Family Quotes on Pinterest.


[bottom_post_ad]