Introduction: In this article, Scott Phillips searches old newspapers to find stories about how Mother Nature affected his ancestors' lives—and discovers some important genealogy clues. Scott is a genealogical historian and owner of Onward To Our Past® genealogy services.

With the strength of this current winter, I don't have to remind you that our dear Mother Nature can have a significant impact on our families and ourselves. Just the other day I got my car stuck in the snow in my own driveway! While I was "mumbling" about it to myself, I got to thinking about how long, harsh winters would have been even more challenging for our ancestors. That evening I decided to take a look at my family tree and see how Mother Nature's hand had impacted some of my family members. Instinctively I turned to GenealogyBank's online Historical Newspaper Archives and, naturally, I wasn't disappointed.
Ancestor Obituary Clue
While researching one branch of my Phillips family, I uncovered an obituary about my ancestor Elijah Poad in a 1910 Montana newspaper.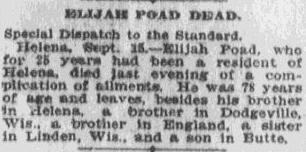 Elijah had married Catherine Phillips, and shortly thereafter they emigrated from Great Britain to settle in the United States. Certainly one of my first questions was: "What would cause a Cornishman from St. Blazey, Cornwall, to go to Montana in 1885?"
Mining in Montana
I think I found my answer when I read another article from the Anaconda Standard, this one from 1899. This article begins "E. Poad, a miner at the Gagnon, was seriously injured yesterday by getting a fall in the mine." While there wasn't "gold in them thar hills," there was silver and copper in the Montana hills—and the discovery of both had caused a huge rush to the Anaconda area, including my miner ancestor. Mother Nature at her finest, offering the temptation of riches!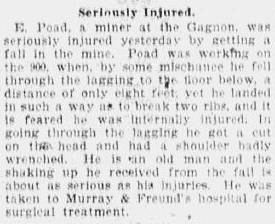 More Mining for Genealogy Clues
While I was still reading the Anaconda Standard, another article from 1899 caught my eye due to its headline: "The Mesabi Range. Tremendous Possibilities of the Great New Region." This was indeed a very interesting find to me. You see, my wife's grandfather, Pasquale D'Aquila, had emigrated from Italy to Canada and then to the United States. I have found his border crossing record from 1915 at Eastport, Idaho. As the miner he was, could Pasquale have heard talk just like the news in this article about the iron ore riches of the Mesabi Range in Minnesota? Could an article just like the one I was reading have been what drew him there? Yes, or no, it is certainly evident that once again Mother Nature was wielding her influence.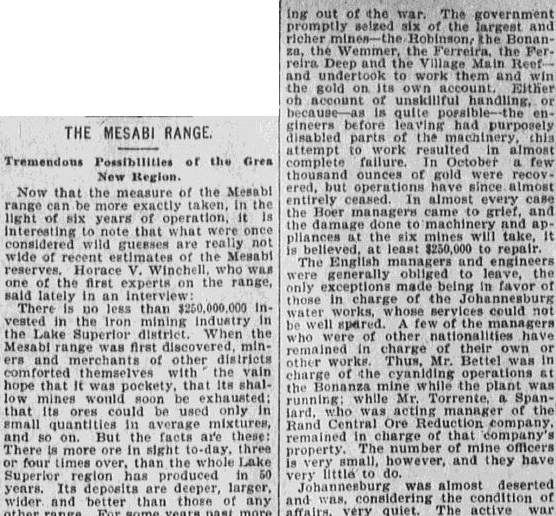 News Flashback: the Polio Epidemic
It wasn't long after this that I came upon a totally different and far less desirable impact of Mother Nature. I discovered two articles side-by-side in a 1952 Ohio newspaper. They had huge headlines blaring "Ohio Now Has 232 'Sure' Polio Cases" and "'Iron Lung' Supply Runs Short Here."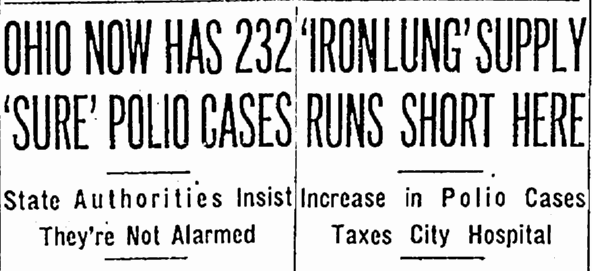 Now here was an impact of Mother Nature that I did not need an ancestor to illustrate for me, since I vividly recall the polio epidemics of my youth. I remember all too well that, just as the first article reported, "Swimming pools have been closed and other precautionary measures taken." Our local swimming hole was posted with a sign in big, red letters that read: "Closed due to polio." I also remember that the mother of one of my best friends was confined to a wheelchair due to polio, and I'll never forget the ever-present (at least in my mind) threat of living your life in an "iron lung."
I next found an article from a 1962 California newspaper with an even larger headline.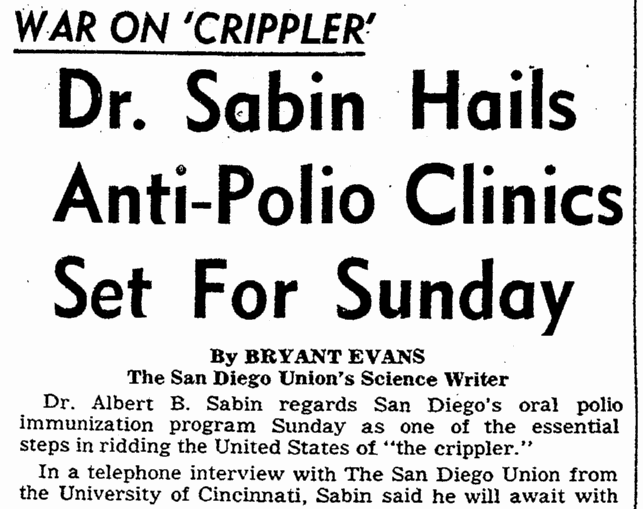 How well I remember these clinics! I recall standing in a long line in the hot sun, with my entire family, awaiting our turn to get our "sugar cube" and incessantly questioning my father as to whether or not it was true that we would not get a "shot" but rather a sugar cube as we were told! (I really hated any shots as a kid!) And to think, especially now, that Dr. Sabin forwent patenting his discovery in order to keep the cost down and make his "wonder drug" available to everyone.
Then for some reason I searched the newspaper archives on "historic blizzard," but when I saw there were 95 results I got too depressed at the thought of reading about any more winter. That's when I made the only rational decision any genealogy fan could make.
I went back to the 1910 obituary that I had found in the newspaper for Elijah Poad since it also included this line: "He was 78 years of age and leaves, besides his brother in Helena, a brother in Dodgeville, Wis., a brother in England, a sister in Linden, Wis., and a son in Butte." You see, while I have Elijah's siblings in our family tree, I had no genealogy clues—until this obituary—as to where to search for them. Thank you, Mother Nature!