I have been pulling newspaper articles about my relatives who served in the military, from the colonial wars down to cousins who died in recent wars. So, I was pleased to see my grandfather listed in this master list of WWI veterans who served from Stamford, Connecticut.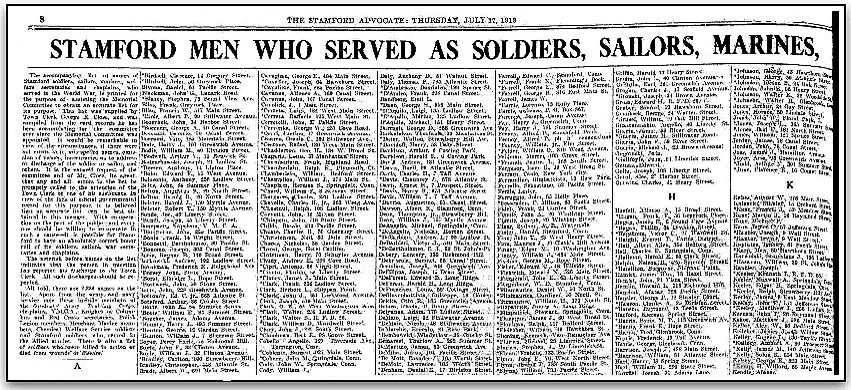 This list of 2,336 individuals who served in the war was compiled by the Town Clerk, George R. Close. It was published in the town newspaper to celebrate their service and to enlist the public in making sure that the list was complete and accurate. These names would be inscribed on the war memorial monument that was planned to be dedicated on Veterans Day 1920.
According to this article:
"With co-operation on the part of the public – and everyone should be willing to co-operate in such a cause – it is possible for Stamford to have an absolutely correct honor roll of its soldiers, sailors, war secretaries and chaplains."
The article explained:
"The asterisk before names on the list indicates that the person in question has reported his discharge to the Town Clerk. All such discharges should be reported."
I knew that my grandfather had served in World War I. In fact, the Stamford Advocate had written about his service the year before.
Genealogy Tip: Newspapers are a good source for the military service of your relatives. Newspapers are the record of every day of their lives.