Sometimes the facts in records do not agree.
For example, in this engagement announcement I found in GenealogyBank's Historical Newspaper Archives, it says that my grandmother married "John H. Kemp."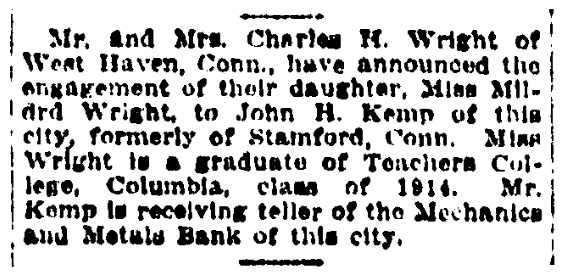 John Kemp is actually my great-grandfather. My grandmother married Willard H. Kemp.
What are the clues in this article?
The format of the engagement announcement can be an indicator that a name has been omitted.
This announcement is made by the fiancée's parents, "Mr. and Mrs. Charles H. Wright of West Haven, Conn." – that is traditional.
It then gives the name of the bride to be: Mildred Wright.
The article gives the name of the future groom: John H. Kemp – but does not list his parents' names. That can happen, but it is more traditional to include their names.
Clearly the newspaper simply didn't include the name of the fiancé, Willard H. Kemp – but conflated the names of both him and his father, using his father's name: John H. Kemp.
Additional Information
What other information can we learn from this article?
We know that their engagement was likely announced in February 1918 – more than a year before their wedding.
It says that [Willard Kemp] was "of this city, formerly of Stamford, Conn." and that he "is receiving teller of the Mechanics and Metals Bank of this city."
So – in 1918 he was living in New York City and working at a bank.
It also tells us that she was a "graduate of Teachers College, Columbia, class of 1914."
Excellent clues to work with.
1920 Census
Knowing that they were married 100 years ago, on 5 August 1919, I looked for them in the 1920 U.S. Census in GenealogyBank. Here they are: Willard – not John – and Mildred Kemp living at 2565 Grand Concourse in the Bronx, New York. In column 26 it says that he was a "receiving teller." Yes, that matches.

But look at the nativity information for his mother: Mary Ann (Brown) Kemp. It says in columns 23 & 24 that she was born in Scotland and that her mother tongue was Scotch.

Hmm. That is also wrong.
She was born in Lisbellaw, County Fermanagh, Ireland, and her "mother tongue" was English. Column 25 tells us that both of them spoke English.
Genealogy Tip: Errors happen. You want to corroborate the facts in each source and, just like DCI Vera Stanhope and every other detective, you want to sort the conflicting information to confirm the details of your family history.