Family historians love Roll Calls – where everyone shares their family tree. It is a great way to find your cousins and fill in your family tree research.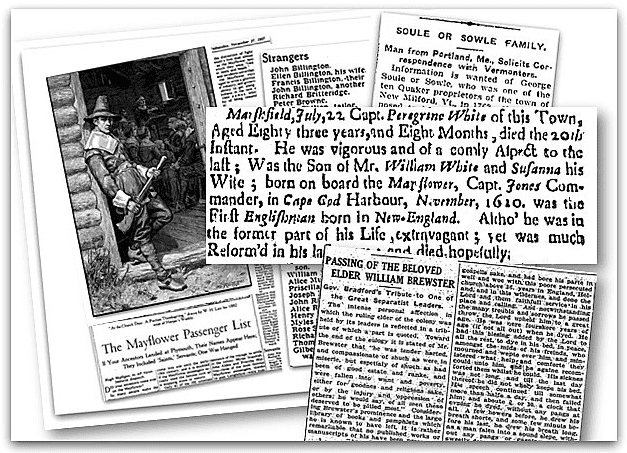 So, with the 400th anniversary of the arrival of the Mayflower fast approaching, we are hosting a Mayflower Roll Call.
Please post your Mayflower line here and find your cousins.
Here are just a few of the thousands of Mayflower cousins that I have found in GenealogyBank's Historical Newspaper Archives. We've included the name of the newspaper and the exact page where you can find an article about that cousin.
Abbott, Sarah F. 
Mayflower Ancestor: John Alden, Priscilla Mullins
Cincinnati Post (Cincinnati, Ohio), 24 July 1903, page 9
Abraham, Frank Thomas, Jr. (1953 – 2017)
Mayflower Ancestor: John Alden
Houston Chronicle (Houston, Texas), 19 February 2017
Abramson, Mary Lou (1928 – 2016)
Mayflower Ancestor: William White
Kearney Hub (Kearney, Nebraska), 22 December 2016
Adams, Charles Francis 
Mayflower Ancestor: John Alden
Boston Herald (Boston, Massachusetts), 30 March 1896, page 10
Boston Herald (Boston, Massachusetts), 26 October 1913, page 29
Adams, James D. 
Mayflower Ancestor: Richard Warren
Boston Herald (Boston, Massachusetts), 26 October 1913, page 29
Adams, Kenneth F. (1919 – 1999)
Mayflower Ancestor: Stephen Hopkins
St. Petersburg Times (St. Petersburg, Florida), 19 March 1999
Adams, Raymond G. (1923 – 1999)
Mayflower Ancestor: Stephen Hopkins
Union-News (Springfield, Massachusetts), 4 November 1999
Adams, Raymond G. (1950 – 2017)
Mayflower Ancestor: Stephen Hopkins
Republican (Springfield, Massachusetts), 11 October 2017
Alden, A.E. 
Mayflower Ancestor: John Alden, Priscilla Mullins
Boston Herald (Boston, Massachusetts), 29 August 1902, page 8
Alden, Abel 
Mayflower Ancestor: John Alden, Priscilla Mullins
Kansas City Star (Kansas City, Missouri), 3 March 1912, page 5
Alden, Abner 
Mayflower Ancestor: John Alden, Priscilla Mullins
Denver Post (Denver, Colorado), 20 May 1904, page 4
Alden, Alesia Parke (1907 – 1997)
Mayflower Ancestor: John Alden, Priscilla Alden
Sun (Baltimore, Maryland), 10 September 1997
Alden, Augustus E. 
Mayflower Ancestor: John Alden, Priscilla Mullins
Boston Journal (Boston, Massachusetts), 8 August 1907, page 7
Alden, Bertrand 
Mayflower Ancestor: John Alden, Priscilla Mullins
Kansas City Star (Kansas City, Missouri), 3 March 1912, page 5
Alden, Charles ( – 1937)
Mayflower Ancestor: John Alden, Priscilla Mullins
Plain Dealer (Cleveland, Ohio), 9 October 1955, page 15
Alden, Charles E. ( – 1917)
Mayflower Ancestor: John Alden, Priscilla Mullins
Philadelphia Inquirer (Philadelphia, Pennsylvania), 1 December 1920, page 5
Alden, Charles M. 
Mayflower Ancestor: John Alden, Priscilla Mullins
Grand Rapids Press (Grand Rapids, Michigan), 30 March 1916, page 11
Alden, Charles S. 
Mayflower Ancestor: John Alden, Priscilla Mullins
Boston Journal (Boston, Massachusetts), 8 August 1907, page 7
Alden, Clayton E. (1911 – 1993)
Mayflower Ancestor: John Alden, Priscilla Alden
Akron Beacon Journal (Akron, Ohio), 8 September 1993
Alden, Earl 
Mayflower Ancestor: John Alden, Priscilla Mullins
Denver Post (Denver, Colorado), 20 May 1904, page 4
Alden, Eleazer 
Mayflower Ancestor: John Alden, Priscilla Mullins
Kansas City Star (Kansas City, Missouri), 3 March 1912, page 5
Alden, Ezra 
Mayflower Ancestor: John Alden, Priscilla Mullins
Kansas City Star (Kansas City, Missouri), 3 March 1912, page 5
Alden, F.H.
Mayflower Ancestor: John Alden, Priscilla Mullins
Cincinnati Post (Cincinnati, Ohio), 24 July 1903, page 9
Alden, Franklin W. 
Mayflower Ancestor: John Alden, Priscilla Mullins
Cincinnati Post (Cincinnati, Ohio), 24 July 1903, page 9
Alden, Fred H. 
Mayflower Ancestor: John Alden, Priscilla Mullins
Denver Post (Denver, Colorado), 20 May 1904, page 4
Alden, George A. 
Mayflower Ancestor: John Alden, Priscilla Mullins
Boston Herald (Boston, Massachusetts), 29 August 1902, page 8
Alden, George D. 
Mayflower Ancestor: John Alden, Priscilla Mullins
Cincinnati Post (Cincinnati, Ohio), 24 July 1903, page 9
Alden, George W. 
Mayflower Ancestor: John Alden, Priscilla Mullins
Boston Journal (Boston, Massachusetts), 8 August 1907, page 7
Alden, George W. 
Mayflower Ancestor: John Alden, Priscilla Mullins
Boston Herald (Boston, Massachusetts), 29 August 1902, page 8
Alden, Gustavus F. 
Mayflower Ancestor: John Alden, Priscilla Mullins
Boston Journal (Boston, Massachusetts), 8 August 1907, page 7
Alden, Henry LeRoy 
Mayflower Ancestor: John Alden, Priscilla Mullins
Kansas City Star (Kansas City, Missouri), 3 March 1912, page 5
Alden, Henry William (1820 – 1905)
Mayflower Ancestor: John Alden
Times-Picayune (New Orleans, Louisiana), 22 March 1905, page 3
Alden, Jared 
Mayflower Ancestor: John Alden, Priscilla Mullins
Boston Herald (Boston, Massachusetts), 29 August 1902, page 8
Alden, John 
Mayflower Ancestor: John Alden, Priscilla Mullins
Kansas City Star (Kansas City, Missouri), 3 March 1912, page 5
Alden, John 
Mayflower Ancestor: John Alden, Priscilla Mullins
Denver Post (Denver, Colorado), 20 May 1904, page 4
Alden, John C. (1930 – 2010)
Mayflower Ancestor: John Alden
Sun (Lowell, Massachusetts), 30 July 2010
Alden, John W. 
Mayflower Ancestor: John Alden, Priscilla Mullins
Boston Herald (Boston, Massachusetts), 29 August 1902, page 8
Alden, John, Jr. 
Mayflower Ancestor: John Alden, Priscilla Alden
Daily Advocate (Stamford, Connecticut), 24 November 1983, page 32
Alden, Joseph 
Mayflower Ancestor: John Alden, Priscilla Mullins
Kansas City Star (Kansas City, Missouri), 3 March 1912, page 5
Alden, Joseph 
Mayflower Ancestor: John Alden, Priscilla Mullins
Denver Post (Denver, Colorado), 20 May 1904, page 4