Introduction: In this article, Melissa Davenport Berry continues her series on Mayflower descendants, focusing on Charlotte Helen Winslow, a lineal descendant of Edward Winslow (one of the first governors of Plymouth Colony). Melissa is a genealogist who has a blog, AnceStory Archives, and a Facebook group, New England Family Genealogy and History.
Today I continue with my series "Mayflower Descendants: Who's Who" with a focus on Charlotte Helen Winslow (1904-1993), a lineal descendant of Edward Winslow (one of the first governors of Plymouth Colony). Charlotte gave America quite an earful on her Royalist ancestors during a newspaper interview she gave. She considered her Winslow line to be on the "right side" – the ones sporting Redcoats during the war of the American Revolution.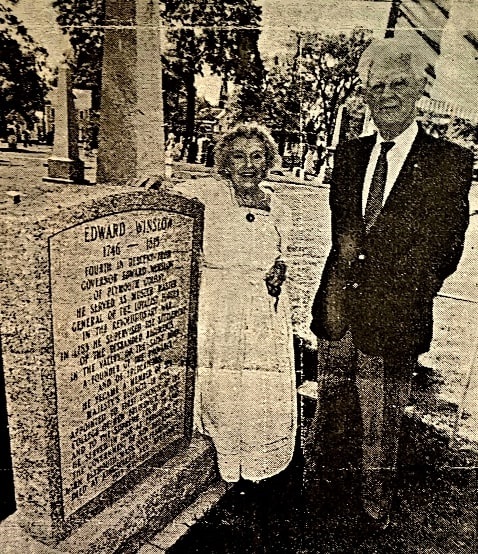 Charlotte was born in Woodstock, Carlton County, New Brunswick, Canada, and has other Mayflower passengers in her family tree as well. Below is her lineage from her 23-foot-long family tree – note the many Edward Winslow's.
She gave her interview from the family home, a large Victorian overlooking the Saint John River, where she was a 72-year-old retired schoolteacher living at the time with her sister Marian Gertrude Winslow, 82, and nephew John Edward Connell Winslow, son of Major John Douglas Winslow and Mary Gretchen Connell Smith.
Lineage:
Charlotte Helen Winslow
John Norman Wentworth Winslow and Ella Gertrude VanWart (a direct descendant of Mary Dyer and Anne Hutchinson as well as Sir Edward Coke)
John Coffin Winslow and Charlotte Lusby O'Donnell
John Francis Winslow and Jane Caroline Rainsford
Edward Winslow and Mary Symonds
Edward Winslow and Hannah Howland, daughter of John Howland and Elizabeth Southworth; granddaughter of Mayflower passengers John Howland and Elizabeth Tilley
Isaac Winslow and Sarah Wensley
Josiah Edward Winslow, 13th governor of Plymouth Colony, and Penelope Pelham
Edward Winslow and Susanna (nee Jackson) White, widow of Mayflower passenger William White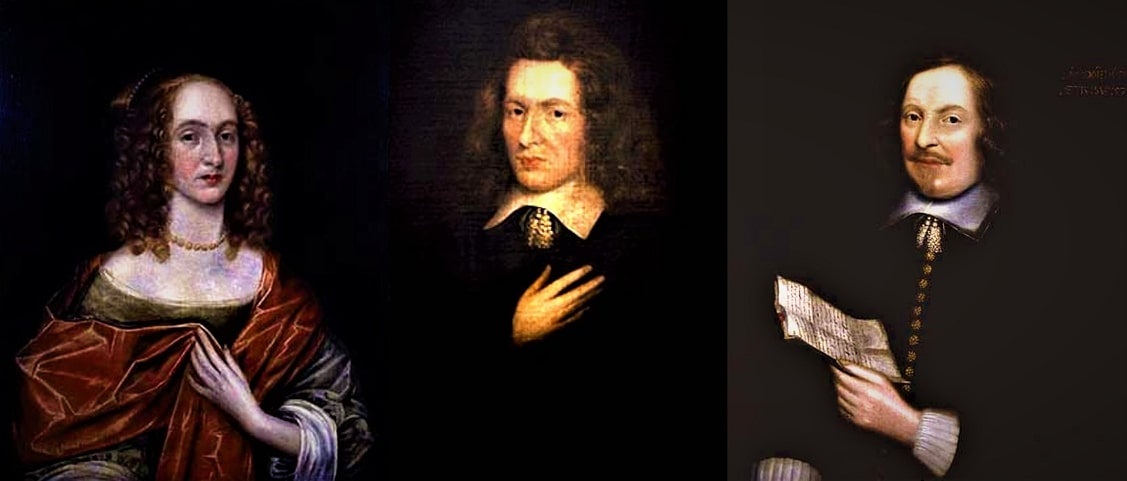 According to her interview in the Wichita Falls Record News, Charlotte "has a distinctly un-American theory about the Revolution," and does not hold back her "Royalist" opinions.

This article reported:
She [Charlotte] thinks the real heroes were the ones who sided with the British.

Plymouth was, after all, a British colony. Its descendants in 1776, she maintains, owed their first allegiance to the crown. It was simple patriotism, and Charlotte Winslow has not forgotten.

"A lot of people think of the Loyalists as being rebels, but they weren't," says Miss Winslow. "I'd call George Washington a rebel. The Loyalists were the patriots."

It is because of the Loyalists that Miss Winslow and her forebears going back almost 200 years live in this small New Brunswick town in Canada instead of Plymouth, Mass.

In her Victorian home overlooking the Saint John River, Miss Winslow likes to unroll a 23-foot-long family tree on her living room floor. Then, on her hands and knees, she points to all the Edward Winslows.

Together, they represent an often overlooked segment of American history. As American as it was possible to be then, the family gave it all up and moved to Canada rather than submit to the idea of government without a king.

The first Edward Winslow, born in Droitwich, England, came over on the Mayflower. He was the first man married in Plymouth, signed the first treaty with the Indians and became the new colony's third governor. [He also signed the Mayflower Compact with his brother Gilbert Winslow.]

Four generations later, another Edward Winslow led the American soldiers who fought with the British against Washington. Later, he fled to Canada and helped establish the province of New Brunswick…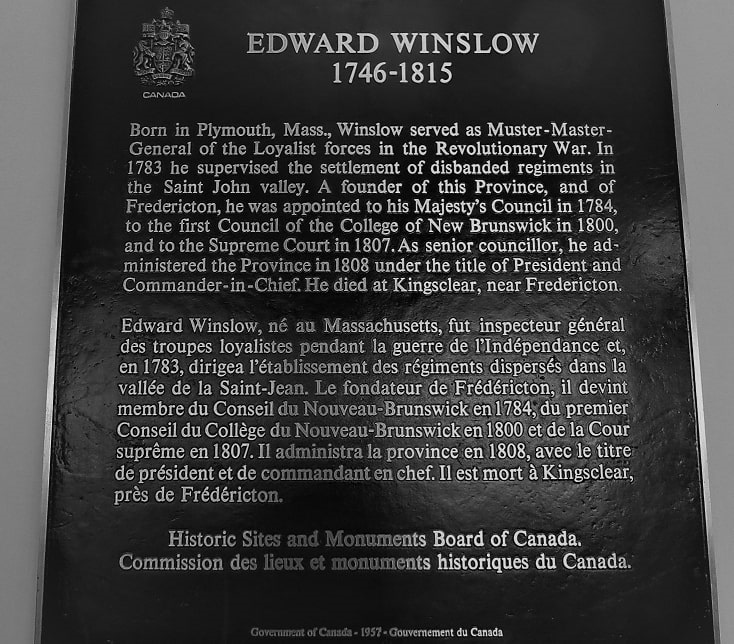 "I am a member of the United Empire Loyalists Association," she says. "I also belong to the Society of Mayflower Descendants."

The Loyalist group is the opposite of the Daughters of the American Revolution. It is for the offspring of the other side. Miss Winslow says she has six ancestors who qualify her for membership in the Mayflower society.

…The Winslows live comfortably in Woodstock, though no longer prominent in New Brunswick affairs.

It is one of the few American families that played significant roles both in early settlement of the New World and in the War for Independence.

The Edward Winslow who fought for England in the Revolution was the son of another Edward. The elder Winslow, whose house still stands in Plymouth, Mass., was register of probate and clerk of the Court of Common Pleas, and employed his son as an assistant.

When skirmishing broke out in 1775, both sided with the British – and lost their jobs. Young Winslow became an outspoken English sympathizer in Boston, a town of fervent anti-British feelings.

Winslow was the guide who led British reinforcements the day war broke out in Lexington and Concord.

Loyalist Americans organized their own military companies to fight beside the British soldiers, and Winslow was their muster-master-general.

When the war was lost, he helped obtain land for Loyalist troops in Canada and settled himself in Nova Scotia. With other transplanted Americans, he lobbied for the organization of a new Loyalist province, New Brunswick, and was appointed to its first council.

In 1807, he became a judge of the New Brunswick Supreme Court.

His son, grandson, and great-grandson were all named John Winslow.

The first John moved the family to Woodstock, about 130 miles up the Saint John River from the Bay of Fundy. He was the first high sheriff of Carlton County.
There are many Winslow descendants from these branches still around today. And don't worry peeps, I will serve up the Continental-side Winslow clan. Stay tuned!
For more on the Winslow line, including family papers, see: Americana-Archives.
Explore over 330 years of newspapers and historical records in GenealogyBank. Discover your family story! Start a 7-Day Free Trial
Note on the header image: Winslow House, 129 Union Street, Woodstock, New Brunswick, E7M, Canada. Purchased by Carleton County Sheriff John Norman Wentworth Winslow in 1887, the house remains in the Winslow family today. They were direct descendants of Edward Winslow, prominent New Brunswick Loyalist, and Governor Edward Winslow of the Plymouth Colony, Massachusetts. Courtesy of Canada's Historic Places.